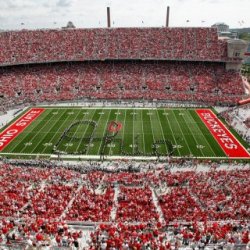 buckeyes763
---
from Beavercreek
MEMBER SINCE April 18, 2011
Favorites
SPORTS MOMENT: Cie Grant swinging Ken Dorsey to the ground to win the big one.
COLLEGE FOOTBALL PLAYER: Troy Smith
COLLEGE BASKETBALL PLAYER: Mike Conley
NFL TEAM: Cincinnati Bengals
NHL TEAM: Red Wings
NBA TEAM: Cavs
MLB TEAM: Cincinnati Reds
Recent Activity
Let me guess... 9/11 was an inside job too?
Great round up of data, very interesting to see. Is there any macro data that rolls up into the overall score (similar to a Madden rating) that justifies an increase or decrease, or is it all very arbitrary?
On the overall team average, it looks like the value should be overwhelming positive as opposed to -13. Am I misreading the table?
Yupp you can guarantee if my kid played for TTUN I'd be the biggest TTUN fan. Luckily those athletic genes don't exist in my family and I don't have to worry about that
If Fields and Wade are 100% healthy and stay that way throughout the game I like our chances. Our defense has been lights out when Okudah, Arnette, and Wade all take the field and I think it stays that way.
Had about the same thing other than Hankins over Bennett at DT but that's a toss up. MLB was about the only position where the amount of talent over the decade wasn't overwhelming .
Read somewhere Utah has 4-5 DBs in the league.
Ohio State-Iowa in 2003, my dad worked all week to find tickets and finally got some off eBay the morning of the game. We sat in the top row of C-deck. Jenkins returned a punt for a touchdown in a very Trsselball like game. I think Troy Smith was a kick returner at that time as well. Great memory
Seems like being pegged as a potential breakout player is a curse these days and rarely comes to fruition. Hoping Gill bucks that trend next season.
Incredible that 1, 3, and 4 have all been proven and literally nobody cares cause Dabo is just a good ole Boy
Exactly. Turn conference championship games into playoff play in games (with top G5 conf as well), then every conference gets two teams in the playoff automatically. Two conference winners with the toughest out of conference schedule gets bye week.
Solves the committee and chickenshit Saturday problems all at once. Boom.
Georgia built their "elite" defense against 5 backup quarterbacks and 1 WR starting as QB. They have no offense and never should have been close to the #4 spot
I like Ohio State by 35 vs either of these teams.
Honestly my favorite stat might be the 80%+ free throw percentage.
like the UNC game, this game was in reach with about 10 minutes left in the game before the Bucks poured it on. These guys are able to play complete games and close teams out in competitive games, makes you feel real good about the rest of the season and into March
Florida and Bama in the top ten is a joke
Only way to end the BS is for all the other conferences to win the next 10 nati's, it's not happening in one season.
LSU beat bama and in the committee's eyes nothing else matters and no one else can top that. Once we accept that fact, we can stop wasting our time debating who will be ranked #1
Florida and Auburn both being used to prop up the SEC and not sure both those teams aren't trash. Auburn has a defense but no QB on offense, and Florida is a paper gator. There's a big drop off between 3 & 4, then 4-10 I think are all very close. Not a surprise SEC gets the top two "quality loss" teams at 4/5.
Georgia beating LSU and Oregon winning out would be a heck of a debate for the 4th spot
Would love to see a study comparing how far SEC teams drop in rankings after losses compared to every other conference. Every year the SEC champ is gifted one mulligan
I understand it, but they've got to be the first team to ever score 70+ and drop in any ranking
Only reason Minnesota isn't 4 is because their name is Minnesota and not Alabama, Georgia, or Oregon. Undefeated with a better win than any of those teams.
One of the truly great comments I've seen around here
I don't understand why people on here continually say the committee doesn't value scheduling tough non-conference games. The only reason Ohio State made the playoff in 2016 is because they beat Oklahoma. You don't and shouldn't get credit for losing those games
In all fairness to Isaiah Prince, it was J.B. Shugarts who patented the false start.
To be fair, we still claim LBU even after all of last season...