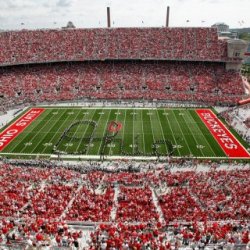 buckeyes763
---
from Beavercreek
MEMBER SINCE April 18, 2011
Favorites
SPORTS MOMENT: Cie Grant swinging Ken Dorsey to the ground to win the big one.
COLLEGE FOOTBALL PLAYER: Troy Smith
COLLEGE BASKETBALL PLAYER: Mike Conley
NFL TEAM: Cincinnati Bengals
NHL TEAM: Red Wings
NBA TEAM: Cavs
MLB TEAM: Cincinnati Reds
Recent Activity
In all fairness to Isaiah Prince, it was J.B. Shugarts who patented the false start.
To be fair, we still claim LBU even after all of last season...
I made a post about this a few years ago on how frequently Ohio State gets jumped in polls a few years ago. They're the only elite school that gets treatment. Bama barely gets jumped if they lose a game.
Maryland stomped a top 25 team yesterday, thought they'd be a decent amount higher than 25.
I think this will be a closer and lower scoring game than most, something like 24-13 good guys.
Bold prediction: lots of talk about this being the year Ohio State turns the TE position loose but it isn't actually the year Ohio State turns the TE position loose
I was thinking the same thing, but outside of football in 02 and 14, it might not be a pretty picture
I can't believe Mack is a senior already, seems like yesterday he was getting his black stripe removed. Always rooted for the guy to have a big year since
I keep waiting for them to find their stride and string some wins together. They've been so close to getting back to .500 then they'll lose 2-3 in a row. I imagine 0.500 is the ceiling for this team, which is disappointing with the pitching they've got so far. Frustrating is a good word to describe them, but I'm still checking scores in June which is more than I could say the last 5 years. Just need them to get me to training camp...
Would I be concerned? No, I'd figure our coaches got in on a talented player before a lot of other schools recognized him for what he's worth. Why do we assume the recruiting services can more effectively and accurately evaluate 10,000 high school athletes than our coaches can pick the 25 best suited for their own program?
PSU and Meatchicken Ohio State liked him so probably under rated
FTFY. We don't need other programs to recruit the same players to validate our coaches evaluating and recruiting
A very overrated ND
To eliminate redundancy we just say ND
Will Muschamp. He's the Brian Kelly without the 2 seasons of success
Thanks, Todd. I've been big into the Historical Biographies lately from the Revolutionary and Civil War eras (Washington, Adams, Hamilton, Jefferson... Lincoln and Grant), and I have one on Stonewall in the library. I'll definitely check out the one on Sherman.
I haven't read historical fiction before, but I had heard good things about Jeff Shaara's writings and added some of those to my queue. I'll do the same with those you mentioned, appreciate the input.
My wife got it for me a couple years ago for Christmas. I was daunted by the size of the books (each volume is around 800 pgs) so put off getting into them for awhile. But I made it my resolution to finish the whole set this year, which means reading only 6-7 pgs per night. I usually don't want to put the book down and end up reading 10-20 pgs a night, and I'm almost finished with Volume 1.
What Civil War books are you reading/have you read and recommend? I've read Grant by Chernow, Lincoln: A Team of Rivals (did Audible for both of those), and I'm currently in the three volume set of The Civil War by Shelby Foote.
That LB unit has more 5 stars than almost any program in the country. It's On Davis that he couldn't develop them and was left with an 80% Borland as his best option
we don't need another dude who is mostly famous for his controversial Twitter takes anyway
The last QB who was famous for tweets delivered our only National Championship we had under Urban. Just sayin'...
This wasn't bashing Martell, this was pointing out how fans want confident/cocky players and then bash them for being that the minute that player decides that maybe Ohio State isn't the best place for him.
As far as quality writers at 11W, Johnny has been here as long as I can remember (I started lurking in 2011 during tatgate) and is the most creative writer this website has. He writes with a snark and frequently sarcasm that you won't find from regular old beat writers, or anywhere else on 11w since DJ left. They are usually light hearted pieces that are more so meant for pure enjoyment and maybe make the reader laugh a bit. I don't think he puts at as many articles as he used to do maybe new people aren't as familiar with his style, but he is truly one of the great writers out there.
but the lure to Ohio State was too strong with his family, especially after Urban Meyer left.
Really interesting tidbit about the recruitment of Zach Harrison.
From reading this it's hard to say if these were "homerun" hires or not. It seems more like "serviceable" is the appropriate word, which is still an upgrade from last year but obviously we are hoping for more than that. Certainly time will tell and these coaches now have more talent at their disposable than ever before, and I'm excited to see what they can do with that.
He will be the new Jon Gruden of coaching searches until he accepts 20 mil/year from Notre Dame in 2035
How did McMurphy not make this list?
No one person leaving is a disaster for this program. For crying out loud, Urban F Meyer is leaving and no one thinks it's a disaster.
Bama was tied 10-10 with the citadel at the half. What's the difference? You think that will get mentioned if Georgia wins today and Bama joins the one-loss debate? Not a chance
Is the purpose of the committee to pick the four best teams, or to pick the four that will produce a true champion? If bama loses to Georgia on a neutral field and still gets in, leaving out OSU and OU, and three power 5 conference champs, then we do not have a system that produces a true champion. That's the committee picking bama as the champion and letting 3 other teams attend the celebration.