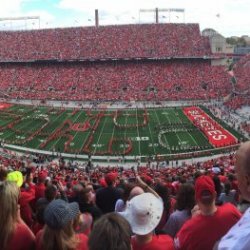 Buckeyes44
---
Member since 09 October 2011 | Blog
Recent Activity
You guys working for Mr Smith?! Guess we should count our "blessings".
That's exactly the point! Who the hell is buying this crap?! If you think this kid was gone a month ago then I would suggest your fit to be the AD at The Ohio State University. And 10 million dollars?! Give me a break. How much more does having Thad around actually cost the university? There has to be a number put on that. At this point wanting to be good is lost. Hell I just want to appear respectable! And somewhere in between there it would be nice to be told the truth in this matter. Now way that kid was gone a month ago.
For those of you trying to find the silver lining here please stop. Your just making yourself sound stupid. This kid quits the team a month ago and we are just finding this out now?! Come on! We lose a bench warmer who has not seen the light of day and 11w is on it. I don't know what we are not being told here but we are missing a big part of the story here and it's not being told to us for a reason. There are also rumblings of NCAA issues as well from some reliable sources. Start digging 11W because where there is smoke.......
LOL! Evaluate?! Let me "evaluate" this situation. He's not good. He is bad on a bad team. That entire team is not good and he less than stands out. Good luck buddy. The NBA is just doing for a big that averages 5 and 5. When does football start?!
This team is so hard to watch.
You need to reconsider your stance on the band director. I only say this after seeing who is actually backing him and hearing the facts. TBDBITL Alumni president met with OSU president yesterday with a full legal in support of Waters. This organization is THE voice of all past band members and risks quite a bit if they would be found on the wrong side of the fence. I'm not sure who is right or wrong here but it is becoming more and more clear that OSU did not conduct a fair investigation.
Non chain! Gallos on the corner of Bethel and Olentangy has some of the best sauces in town.
Walt buck nailed it. That lineup puts us up 11 points. Then we sub in starters and just like that it's tied. Neither option is stellar but I'll take the one that produced points. Hell I'll take anything that produces points on this team!
Smith I will pay you to stop shooting the ball!!!
Run clock!
X-ray negative. Just spoke to trainer.