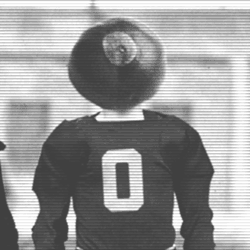 buckeyes411
---
Member since 29 April 2012 | Blog
Recent Activity
Allerik, come play with your former teammate from Findlay!
I have a good feeling that he's coming to OSU.
I agree 100% with your paragraph about how good players should want good competition when in practice.. even if Duke is Duke and Coach K is Coach K..
Come play with your childhood friend from Mississippi!
Deshaun is going to be really good this year. I am honestly thinking that this team could be great and super well rounded. No Sullinger = less of an automatic scoring threat down low, but Amir adds defense. Sullinger never played D.
Well def be really good.
Indiana has a small PG coming in this year (Kevin Ferrell) that is roughly that size. I think David eluded that Hall could be a scout team replica of Ferrell! Pretty funny!
I've seen Adolphus in person and he's a beast. He is just way bigger, stronger, and more athletic than the guys that guard him but he's a little bit rough around the edges meaning that he's not a smooth bball player..he doesn't spot up for 15 footers or anything..he goes straight to the hoop.
I'd be nervous that he'd injure someone on our team! Glad he's going to be hurting opposing QBs!
Ditto, I definitely love the basketball coverage. It seems that there is a lack of Buckeye basketball coverage out there and you can only get bits and pieces via the Dispatch (Baptist specifically) and message boards.
This gives me a chance to get updated on hoops and have appreciated your stories big time.
it's tough to choose, not a bad thing!
Shocked Espn didn't do additional investigations on the woody incident.
Do the Bucks lock down hood?
Craft over Conley?
I am a firm believer that Sullinger's early commitment helped the program out in ways we do not see. He being committed helped draw attention from other top prospects and allowed the staff to focus on other needs as well.
Right, that's why I was confused. I can't remember when Butler committed, so it obviously could've been either of what we mentioned.
Who do you think could be on this list come year 9 or 10? I'm feeling someone like Sam Thompson or Amir breaking in..
Was Jamar Butler a Thad recruit or was he committed before Thad came in?
Butler could probably be a mix of a top 8 and a dud. Guy was a bum one day and a star the next...
Love the bball articles
Forgot to mention how much I hate the city of Philly, but love ET. It's a tough situation.
Do I root for ET but hope the 76ers lose?
I'm sure AC and Cashmere Wright beat Clark and Kasich like H to H-O-R-S-E
Great find! Always appreciate the Sunday morning Skull Sessions while I casually have my joe.
Do we side with Urban or the ADs? I'm going to go with Coach.
I really wish we took Hollowell. Kid seems like he would have been a Buckeyes. We do have good depth at the wing especially with Loving coming in in '13 but 3 open spots! What are we going to do with them?
Lovin' the skull sessions and the 100's of comments they've generated the last few days. It has given me a time waster (sorting through the threads). Thanks Jeff and Dave for the last two!
Been loving your Skull Sessions so far, David!
I took the kids down to Disney earlier this year in Orlando and wore a Buckeye hat to protect my bald head from burning. People, even with their kids in strollers, booed me and shouted some insults my way.
Most of the comments were funny and I was thankful no one swore at me in front of my kids, but sheesh. Definitely way different than my Michigan co-workers when we playfully bash each other, then go back to just being work buddies.
Don't you usually have your Skull Sessions on Sundays? Will we get one from you then too?
I also feel like certain players on IU that had good years (refer to: Will Sheehey) will fall off big time. These guys played with extreme momentum post-UK and I really believe they were not a true B1G contender. The talent was not on the team last year and they played way about their abilities.
I could definitely see IU starting #1 or #2 and losing a bunch of games away from home.
It will be interesting to see how they use Hulls and Ferrell. It was often mentioned that Hulls is among the worst defensive players in the country but they can't reduce his minutes per game or it'll hurt their offense.
Anzalone needs to return!
Indiana looks like they are going to be really good for the next few years and Purdue will be good again in a few years from now.
I still don't think Michigan will be good. I've watched McGary a few times this year and he doesn't really impress me besides being big.
MSU is my team to beat though in 2012. McGary is awesome and will definitely dominate if he stays for a while in the conference.
Love the bball recruiting coverage.
Love the basketball coverage!
He is nearly fluent in English but you can definitely tell it is a second language for him.
You can see a different video interview here and he is short with his answers too.
Awesome! Skull Sessions are great but Sundays may be my favorite from now on!
Go Bucks from Cali.