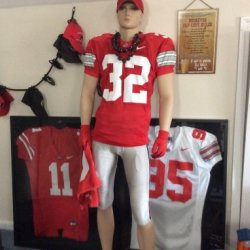 Buckeyes01752
---
Marlborough, MA (via Worcester, MA)
MEMBER SINCE October 06, 2015
Born and raised in Central MA. My favorite color is red and I was given a red Ohio State sweatshirt for Christmas when I was 10.
Favorites
SPORTS MOMENT: Red Sox winning the World Series in 2004.
First Ohio State football game in the 'Shoe: Ohio State vs Troy in 2008 (Pryor's first start)
COLLEGE FOOTBALL PLAYER: James Laurinaitis, Michael Thomas & JT Barrett
COLLEGE BASKETBALL PLAYER: Jamar Butler & David Lighty
NFL TEAM: Patriots
NHL TEAM: Blackhawks
MLB TEAM: Red Sox
SOCCER TEAM: NE Revolution
Recent Activity
Disagree with the quitting on his team part.
At least there's some positive PR coming out this time.
But undefeated with a 69-0 win....
You might be reading into some articles more than you should.
But "Natives" would cover ALL of that...no?
What about the H&H with Boston College? They are P5.
I have no connection to Ohio State. I was born in Worcester, Massachusetts. I've always loved red. Got a scarlett sweatshirt for Christmas over 20 years ago because of the color. Been a fan since. Gets more severe every year.
Glad you're taking this seriously 3 months later.
If anyone from UM respected the rivalry, this wouldn't have happened.
I'm just here for the upcoming shitshow of comments.
This will, hopefully, die out over the spring and summer months.
At least UCONN is FBS...for now.
A woman I work with has a daughter that was taking her CPA exams. She failed by 2 points on one part of the test. Two days later, her mother died. She was talking about how bad of a week that was. So I, with the straightest face I could imagine, and with almost no time to stop myself and think said, "Well, at least one of them passed."
She had to run to tell my wife (we work together) and I said, "I'm coming with you," and I just kept laughing at how horrible a person I was.
She actually admitted it was clever and funny. That was my most proudest moment at work.
I'm staying at the Graduate when I come down in September. I'm definitely keeping an eye on this one.
Due to my lack of experience on High Street and what I do know, I'm going Shake Shack. I love me some Shake Shack.
New England is labeled 100% correctly.
Just booked my flight and hotel for the opener. Bringing my son to his first game at Ohio Stadium!
I had a wet paper towel, just water in it, and I told my 7 year old son to come give me a hug and when he did, I squeezed it on his head. He ran to dry it off. He came back and said he needed a hug. I thought he was going to do the same thing to me, but instead, he slapped me in the face pretty damn good. Touche little one.
For the Boston Buckeyes: The game watch location has changed from Tony C's to the Hard Rock over by Faneuil Hall.
That RB never stopped talking about that game.