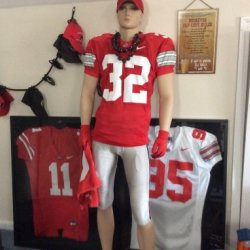 Buckeyes01752
---
Marlborough, MA (via Worcester, MA)
MEMBER SINCE October 06, 2015
Born and raised in Central MA. My favorite color is red and I was given a red Ohio State sweatshirt for Christmas when I was 10.
Favorites
SPORTS MOMENT: Red Sox winning the World Series in 2004.
First Ohio State football game in the 'Shoe: Ohio State vs Troy in 2008 (Pryor's first start)
COLLEGE FOOTBALL PLAYER: James Laurinaitis, Michael Thomas & JT Barrett
COLLEGE BASKETBALL PLAYER: Jamar Butler & David Lighty
NFL TEAM: Patriots
NHL TEAM: Blackhawks
MLB TEAM: Red Sox
SOCCER TEAM: NE Revolution
Recent Activity
New England is labeled 100% correctly.
Just booked my flight and hotel for the opener. Bringing my son to his first game at Ohio Stadium!
I had a wet paper towel, just water in it, and I told my 7 year old son to come give me a hug and when he did, I squeezed it on his head. He ran to dry it off. He came back and said he needed a hug. I thought he was going to do the same thing to me, but instead, he slapped me in the face pretty damn good. Touche little one.
For the Boston Buckeyes: The game watch location has changed from Tony C's to the Hard Rock over by Faneuil Hall.
That RB never stopped talking about that game.
I took a pitch to the back of my helmet in High School baseball and it somehow bounced off and caught my spine or a nerve somewhere. My whole body went numb and I folded over onto home plate. I lay there a motionless for about a minute and feeling came back and I was able to walk off the field on my own power. Scariest moment of my life.
Three weeks of rest before the biggest games of the season...a QB is about to die on the field.
Dude's gonna be mighty rested for the stretch run...Those poor QBs.
Every Ohio State game matters to me, no matter what.
And he's now with the Patriots, whom you all hate.
Just bought my ticket for the alumni tailgate. Can't wait!
Flying in from Boston with my 7 year old son for his first game.
Thanks for the share on this. Didn't know about it.
We need to have an Evanston edition of DubGate this year.
He was also highly involved in the Toys R Us liquidation.
Is this happening this week?
This book is going to be a lot of hype and then be a letdown.