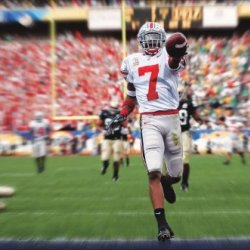 BuckeyeRy4
---
Mingo Junction, OH (via Wintersville, OH)
MEMBER SINCE September 13, 2014
Favorites
SPORTS MOMENT: Paying back my wife for the '98 scum ticket she gave my brother by taking her to the '06 scum game.
COLLEGE FOOTBALL PLAYER: ED-D!
COLLEGE BASKETBALL PLAYER: Dennis Hopson
NFL TEAM: Cleveland Browns
NHL TEAM: Pittsburgh Penguins
NBA TEAM: Cleveland Cavaliers
MLB TEAM: Cleveland Indians
SOCCER TEAM: Whichever team on which my daughter plays
Recent Activity
Great moments, Andy!
Atta, boy. Excited for awards to come.
Kid just came from high school where I assume there were no 10 minute walks between classes? *shrug*
Thanks for playing for the good guys, Chase! Come back and get that degree, someday! Best of luck, Buckeye!
Baby steps...
Good question, but it's more than likely a troll, or the dude up above that said this was bad timing.
This comment deserves more than an upvote. Luke Fickell also agrees.
I bet this out-draws the national championship game.
Upvote for what I was coming here to say. Lawrence is a tool. He milked that call.
Just when you thought...
Shaun should've been given credit for a 2-hand tap sack, because what else was he supposed to do?
I typically like these columns, too, since each one this season has had some semblance of reality. This one seemed as dismissive as the rest of the national media leading up to this game.
Jumped on today for fun, awaiting the next round of family gathering, and what to my wondering eyes did appear, but a Christmas Situational, and talk of bourbon, not beer!! Thanks for a Very Special Situational, Ramzy! Merry Christmas to all! Let's go get that first victory over a Tigers team.
I think you meant athlete-scholar...
My kids would never agree. Christmas can last as long as possible!
53% the Holiday Bowl was the only one for which I was absolutely sure! LOL!
I know it won't happen, but could you imagine a scenario where both stay for the duration and compete, contribute, and enjoy being Buckeyes? That would be nice.
This is gonna be a slugfest. I am thinking something along the lines of the '14 Sugar Bowl.
This is a very nice story. Stuff like this sticks with you as you watch a layer throughout his tOSU career. Good luck, Gee and Jerry!
No, he was going for the English-Spanish translation. It's burro, though.
Own it. You are not alone.
14? That's all? I was thinking closer to 24, maybe 25 if long-snappers get a spot. ;)
Nice parallel story, guys! Nicely written piece.
Reading Ramzy's Situational last week, that's exactly what Coop did in 1992.
Precisely! Anyone think Meyer had at least 15 years as tOSU HC? I did. Maybe I was naive, but that would have out him in a perfect timeframe for a career. Retirement at the right time from his dream job. But it didn't work out that way. Day was named the interim HC last year for a reason. Better to have someone take over that you have trained personally to do the job than to roll the dice on someone new. I know we all love LJ, and one of the main reasons is that his unit.loves him, too. Their play showcases that. Kenny sounds like he is the type of man/coach that realizes that the love for coach/player will drive performance. That's the kind of person I want taking over for LJ. Sooner, later, whatever. Train your replacement. The military is built on those tenets.