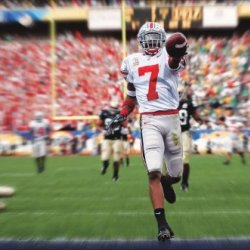 BuckeyeRy4
---
Mingo Junction, OH (via Wintersville, OH)
MEMBER SINCE September 13, 2014
Favorites
SPORTS MOMENT: Paying back my wife for the '98 scum ticket she gave my brother by taking her to the '06 scum game.
COLLEGE FOOTBALL PLAYER: ED-D!
COLLEGE BASKETBALL PLAYER: Dennis Hopson
NFL TEAM: Cleveland Browns
NHL TEAM: Pittsburgh Penguins
NBA TEAM: Cleveland Cavaliers
MLB TEAM: Cleveland Indians
SOCCER TEAM: Whichever team on which my daughter plays
Recent Activity
Way to go, KJ!
Nate Ebner wins the internet, 12-7-19
I know it's been said a bunch before, but your little news drop was one of the coolest tidbits I've ever read in a skully if yours, and that's saying nothing about your skullies! What great news! Congrats and prayers for a lifelong partnership and lots of mini, scarlet-clad Kevin's on campus in 20-25 years!
I was following the brackets yesterday and was impressed to see so many young Bucks picking up victories. Glad to see all the effort has positioned us for a strong team finish. We need an Ethan upset today!!
If you go the mgoblog and read the article "Obligation", you would be led to believe that we are the worst fraud of an institution in the history of man. I have never seen such an example of "Michigan touting SAT scores" before in my life.
Like a shoe from a Wolverine player?
In a rematch game, which team would you rather be? The team who won first and may feel annoyed to have to play a team they have already beaten, or the team that lost with a chance for redemption? Thanks for being a Buckeye!
Yeah, I think you went in the wrong direction. Take it at face value. It gets funny, then.
Nice job of player preparation by our staff. It speaks to how much it means to all of us.
Yes, let's get the man some rest.
Are you kidding me right now?
Maestro, my compliments.
Prayers for a speedy and full recovery, TP.
In Kevin's defense, how many of you were sitting there at halftime, with legitimate, verifiable claims that it AT LEAST, should have been 28-0? He was right on with his talent disparity prediction, just couldn't account for the mistakes and things that happen throughout the course of the game.
Gosh, I hope not. Unlike the 38-17 better. That would be entertaining, but also keep me from feeling like I'm coming out of my skin for 3.5 hours.
Wanted to say the same thing. Carton looks so young! I hope giving back makes an impression on our young Buckeyes!
This is not a good take...
Coincidence that Ryan Day is the keynote speaker for the Nagurski banquet? I think not!
Great, content-filled Skully today. Thanks, Kevin!!
Kirk Pengilly FTW! Thank you, Ramzy. I asked, you delivered.
Nice job, grapplers! 23-12 V-I-C-T-O-R-Y!
Take that, Herbie, and your source of 4 games!
We are better. -drops phone-
Logic and details? Who invited that into these rants? ;)
LOL!