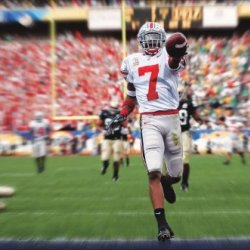 BuckeyeRy4
---
Mingo Junction, OH (via Wintersville, OH)
MEMBER SINCE September 13, 2014
Favorites
SPORTS MOMENT: Paying back my wife for the '98 scum ticket she gave my brother by taking her to the '06 scum game.
COLLEGE FOOTBALL PLAYER: ED-D!
COLLEGE BASKETBALL PLAYER: Dennis Hopson
NFL TEAM: Cleveland Browns
NHL TEAM: Pittsburgh Penguins
NBA TEAM: Cleveland Cavaliers
MLB TEAM: Cleveland Indians
SOCCER TEAM: Whichever team on which my daughter plays
Recent Activity
What a great article. Easy to write when you have a great subject?
Andy, thanks! A comprehensive review, look at incoming talent, and that way-too-early lineup projection for next year! Just what I wanted!
Thank you, Andy! When can we expect a way-too-early prediction article for next year's lineup?
Great respect for a great wrestler and Buckeye. We are proud of you, Myles!
Congrats to Joey, Micah, and Kollin. Good luck this morning to Luke and Myles. Still feeling a bit stunned after Martin's loss, but I think the familiarity helped Dean more than it did Myles last night.
Thank you. And I try not to be too hard on the guys either. I have no idea what they go through, or even if they're going through something personally. Just felt off watching him yesterday.
Andy, can you please give some insight to the effort of Hayes's final match? He appeared listless and disinterested. I felt bad for him, wondering what might be wrong... To the rest, keep it up, guys! 5 finalists would be sublime!
It's funny how so many things are cyclical. As a kid, I remember being in a shotgun formation was the exception, never the rule. Even shotgun formations started with the quarterback being under center, then moving back, indicating a "for sure" passing play. I can't see how a mix would hurt, so long as all the exchanges are done well.
Only dopes... use dope.
Caught my attention, too. Nice vocabulary!
Your points are all valid. However, you're being a little over the top with your assertion that the 11W writers have anything to do with who starts and who does not. The point that there should be a QB competition is not being challenged.
While still wrestling, looking to folks off the mat while sticking out your tongue and nodding your head? Call me old, but that is cocky. I have taught my son never to be that way and to always respect your opponent.
Mark Stall. Oh my word. That is glorious. Is there a word that rhymes with Mark that is synonymous with cocky/arrogant? Then we'd have it nailed.
Just wondering? That was a little direct.
Have try-outs. 1st world problems.
I gotta say, I agree with your sentiment. However, his destination is a program I have hated for decades. This is different from Burrow. Joe was an Ohio kid. Never ran his mouth to the press. Quietly went down to z LSU. This situation has a lot of smack talk, followed by a transfer to one of the douchiest programs in history. Is it still classy if I say that this seems like a perfect pairing?
I think you misread his comment.
A la Antonio Smith? Remember him? Sometimes experience pays off.
First, Go Buckeyes. Second, although the post to which you were replying was rather ridiculous, yours seemed pretentious and haughty. Don't make assumptions about the experiences of others. Until you know someone, you just don't know and come off as, well, a know-it-all.
Going out on a limb, but you forgot your sarcasm font.
Mo Hall scored the winning TD against TTUN in '02.
He has such a better product to peddle to our recruits, now. What a promotion!
There ain't no doubt, Barf is on the take. 1st post with KJ?! Come on, son?!
Schiano's pre-Grinch defenses were rated higher than this year's. On the other hand, I was looking to see if he could turn this thing around, given the chance. I hoped he would trust the process and put in his time, but a 500K raise is nothing to scoff.
Wow! Build a strong brotherhood!