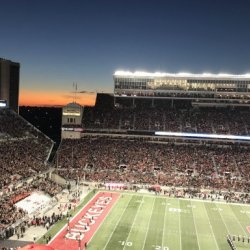 BuckeyeRocket
---
MEMBER SINCE December 13, 2014
Favorites
COLLEGE FOOTBALL PLAYER: Archie
Recent Activity
Will we max out on night games after the NW game?
Another Bosa sack on Mayfield in the 4th quarter.
We just lost a safety to the transfer portal. Why not move White to FS so we have an experienced player there if Fuller gets hurt?
That's the play, Zimmy. ASU running back now singing soprano.
I'd like to root for Sparty but after seeing a brutal punch to the nuts of an already-down Sun Devil, I just can't. Please put MSU's dirty play in the "10 things to hate about Michigan State" feature 3 weeks from now.
Would like to see the Bucks play Kentucky instead of Western Kentucky. Could live with a home and home.
Bucks beat Vermeil's UCLA team decisively earlier in 1975 in LA. The Rose Bowl was a re-match that year.
Hell of a game with lots of ex-Buckeyes featured. Worth watching....
I thought I saw 4 LBs out there. When is the last time we showed that look?
You are right. The ND loss I was looking at was in 2016 not in 2017. Still that was a 10-3 Army team. ... and Michigan still sucks.
A little recent history: OSU played a very good Army team just 2 years ago. We won 38-7. Army only lost 3 games (ND, OSU and a 3point loss to N Texas).
When the DJ played Earth Wind and Fire, the crowd seemed to enjoy it. Other than that, the DJ music was a non-factor, IMHO.
Matt: Thanks for running this series. Great research and a wonderful way to get through the summer.
"Did we win?" Asking for a friend.
First game in the Shoe was in September 1972, against UNC. A freshman wearing #45 had quite a coming out party that day. Arch had about 246 on the ground. Who was the tailback (maybe left halfback) that Archie supplanted that day? I think it was Morris Bradshaw, but who knows?
JT had rushing touchdowns against TTUN in 4 straight years.
Let that sink in.
Three great RBs: Tony Dorset, Herschel Walker and (I hate to say this). OJ Simpson.
Did the Bucks have any shot at the Mass. LB that just committed to TTUN? We could use a LB or 2.
No offense to Mike Datish, but I think Doug Porter ( Youngstown) was the long snapper 1975-77.
I would use Demario the same way we used Curtis Samuel. Let him line up as a wingback then move to a RB position and give the D two different runners to worry about.
Oh, and throw him the ball on the wheel route too.
Cedar Point does have a college football connection. Gus Dorais and Knute Rockne, of Norte Dame, worked there in the early 1900s and perfected the forward pass. They used it to beat Army one year. Used to be a historic marker on the beach there commemorating this.
The early 60s. Basketball team had Lucas and Havlicek. Football team had Warfield, Ferguson and (of course) Woody. Listening to games on radio and reading of their accomplishments in the newspaper. Our young brains had to fill in the blanks because the games were rarely on TV.
Keying on #20 and #14 in the first clip. On this play —and many others last year — the LBs and DBs seem to have a predetermined route or spot that they run to without looking at the ball. That led to many big plays when they guess wrong. Hoping that can be fixed in 2019.
Draymond Green is the dirtiest player in the history of the NBA. He's worse than Laimbeer, worse than the hatchet men of the 50s and 60s.
I was screaming at the TV when he was in the Finals against the Cavs. Just watch him; you will see what I mean.