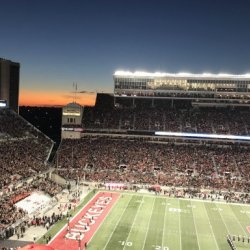 BuckeyeRocket
---
MEMBER SINCE December 13, 2014
Favorites
COLLEGE FOOTBALL PLAYER: Archie
Recent Activity
Live by the 3, die by the 3
Talking about the kickoff time for Penn State made me wonder:
When was the last time OSU lost a noon kickoff game?
Have we seen a press before?
Why not foul these guys? Make them set up and burn clock.
Why not foul these guys? Make them set up and burn clock.
Hang on, Sloopy, hang on!
In 2005, Texas really had a good turnout. Their fans didn't haggle over ticket prices; they just paid and cheered. Fairly classy group of fans as I recall, as well.
What an offense. More turnovers than field goals in the first half.
I ran through TTUN's list. No Ohio players. (unless you count Ed Warinner's kid who transferred from MSU). Yea!
JK DID catch one of those two passes.
Muhammad, Walker and Washington are 3 of 22 from the field.
Poor shooting and no movement without the ball equals bad offense.
Andre is playing his ass off.
Gant, Pope and Mitchell all have high ceilings. Could we rotate 6 at LB like we do at WR?
Kaleb with the block gets into the head of the UW center
At the top of the screen, Clemson's #1 holds the receiver (Victor) as well.
Herbstreit mentioned Venables name 750 time tonight. Are they dating?
Make no mistake: this game wasn't decided by the refs on the field but the replay officials.
Wow I haven't seen such crappy safety play since Grinch was was coaching our safeties last season. (remember Maryland?)
My first game in the Shoe: Archie ran for 239 against North Carolina as a freshman. Sept. 1972.
Wait a Michigan fan gave YOU shit about how OSU looked in the first half against UW?
You might want to remind him that OSU was not down 35-0 like UM was in September to the Badgers.
Stopped rooting for the Knicks when Frazier, Reed, Bradley, Lucas and DeBuscherre retired.
However I will root for the Buckeyes until I die.
A little more positivity: We have 13 wins and 9 of those wins are against teams playing in bowls. We have been tested and we've passed every test. Go Bucks!
THIS team from up north was like a tampon yesterday: Only good for one period, with no second string !