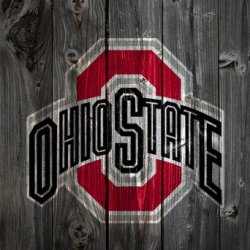 BuckeyeRick
---
Pataskala, OH
Member since 27 August 2012 | Blog
Recent Activity
Josh Allen. 6-5. 230 lbs.
Sam Darnold. 6-4. 220 lbs.
Josh Rosen. 6-4. 220 lbs.
Ben Roethlisberger. 6-5. 240 lbs.
Josh Allen is your next Big Ben.
Rumor has it, he was just fired by Tennessee, so it looks like he's available. He's got great ties to Urban and Ohio State. He could step right in and make an impact. It's like our defense was made for him... Schiano to Ohio State. Let's make this happen!
That damn Iowa loss...ugh.
She meeting with Jon Gruden...wasn't she?
Kevin Bacon has a band that recently played in Nashville.....Tennessee. Boom! All Makes sense now. Gruden to Tennessee!
Well, you said the sun came up and the creek didn't rise. I was sarcastically pointing out, the creek did rise, because of all the rain and the sun came up at a different time, because of daylight savings time.
These people that call for Urban to retire or leave...what do they want? Do they not see what a risk that is to a program like this? Ask any MeatChicken fan, Nebraska fan, Tennessee fan, Florida fan, Texas fan, LSU fan, Miami fan, or the fans of several other good programs that made 1 or more bad hires, and ruined their program for years, or in some cases, decades. All because they weren't satisfied. Be careful what you wish for...
Well would you look @ that, the Sun rose this morning and the creek didn't rise.
Speak for yourself. It rained a lot this weekend. The creek behind my house rose quite a bit. Also, the sun didn't rise at the same time, unless you forgot to change your clocks. End of times are near.
"If you want to run with the big dogs, you can't pee like a puppy."
I would love to see them add Steve Spurrier to the cast. He can take over Corso's position when he leaves. They need another crazy ex-coach, to replace Corso, and Spurrier is that person.
What the heck? 4 hours after this story was posted and 54 comments in....Nobody has said a word about Jim Harbaugh doing a can-opener into a pool with his khakis, polo shirt, and ball cap on? Seems right...
No way they escape this...just a matter of time.
How do you come up with this stuff?
Kentucky has a football team? Ah, they must be talking about Louisville, right?
Had to log in just to give a +1 on the Waycracken comment.
By the way, when is Ryan Timmons being inducted into the NCAA Football Hall of Fame? I haven't looked, but I'm sure his Kentucky highlight reel is lengthy and filled with awe inspiring plays.
Jack Lenihan "The Lenhian Factor". 5'11". 145 lbs. WR. Barrington High School in Illinois.
NOBODY could stand on a sideline or warm a bench, better than he could! This kid created a recruiting video for the ages. It made national news.
Get off my lawn, but is anyone else sick of the term "GOAT"?
Yeah, I was just logging in to say it was Jerry Emig, but you beat me to it.
Wait...Kentucky has a football team? Are you sure?