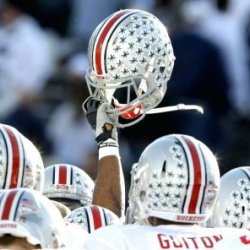 BuckeyeRealist13
---
Central, O-H-I-O (via Columbus)
MEMBER SINCE April 12, 2013
Favorites
SPORTS MOMENT: 85 Yards Through the Heart of the South
COLLEGE FOOTBALL PLAYER: Brendon White
COLLEGE BASKETBALL PLAYER: Accepting Applications Once Again
NFL TEAM: Dawg Pound Nation
NHL TEAM: 1st Ohio Battery
NBA TEAM: CavsNation!
MLB TEAM: RollTribe
SOCCER TEAM: Columbus Till I Die
Recent Activity
That was actually an incredible game and atmosphere.
If I were a betting man, and I am, I would take Oklahoma -8.5
Where Baylor would be in the B1G standings is a matter of opinion. What is known and is a fact is that Baylor is ranked #7. It would be a huge win for OU.
If Clemson loses, then who are they putting in? Georgia coming off a loss or Wisconsin? I think Clemson is in regardless of what happens today.
Spend just a second on another teams forums, and everyone would appreciate the work that you guys do Navy. I was just looking through TigerDroppings to gain a sense of what LSU fans are saying and it is disgusting over there. Made me appreciate how clean we keep these boards. Hell you'll have 15 different topics over there on the same exact thing. Complete anarchy!
Thanks for the write up Spartan. The matchup lost a little muster for me when I realized Herbert wouldn't be there, but this write up got me excited for the big time matchup in Autzen again.
Westerville North and South are so bad lol, combining them wouldn't do much. Same with Grove City.
Sure the same could be said for Hilliard and Olentangy, but Pickerington would be by far the best of all suburbs if combined.
I'm all about what's best for the conference. Good for PSU, good for the B1G. I want Penn State / Ohio State to continue being one of the premier games of the year every year.
Football is better with Urban it it. Hopefully he takes the job, although I have reservations about how successful he would be in the NFL. As a Buckeye, I will always support Coach Meyer.
It would be cool to see Baylor make the playoffs. I'm all about historic programs facing off though! Boomer!
Welp, the Big 12 game just got a lot bigger
Have we seen any data for the NFL?
For some reason every time I hear about attendance it is always college, never NFL.
Glad to see you're doing your part Navy!
Pat McAfee is pretty good, but even if he is good the show around him is so bad. I definitely watch Big Noon over Gameday, and I was a Gameday fanatic for many years
The PAC 12 should make the call to just have their conference championship at the higher seeded teams stadium.
Curious what attendance will look like tonight even with a playoff spot on the line
I was at the Penn State game. It wasn't very loud in C4, although the group of 3 I was with and I were doing our part, but I heard from people that were sitting in A and B that it was very loud and an insane atmosphere.
What do the numbers look like for the NFL?
Right. And I don't think they should be in Ohio Stadium because imo it makes the games seem smaller in such a large venue. Put them in 17K,18K Crew Stadium and the atmosphere will be a lot more intimate and the game will just "feel" bigger with the stadium mostly full.
Georgia is already 4. They would drop to 6th.
I should revise my comment above. I DO NOT want the game to be entertaining. I want Ohio State to completely destroy whoever they are playing. I do want the game that is going to have the most hype and excitement leading up to it though!
Oklahoma
As always I want the game that's going to be the most entertaining and get the most hype. Day vs. Riley, Hurts vs Fields, Grinch vs his former team, OU vs Ohio State