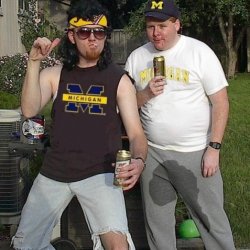 Buckeyeplumber
---
MEMBER SINCE November 12, 2013
Recent Activity
Wonder if Tyson Walter is a client?
Grady Mateen transferred from Georgetown to OSU in the 80s if I remember right
As a freshman in 84 I think my season ticket was less than $40. They just punched a hole in it for each game when you entered the stadium
It was a BS call and on the stalling....why should Joey have to bring the heat? He's too busy trying to defend from potential shots
How can you have a walkon freshman Qb starter in this day and age?
Wonder which coach gave the #1 vote?
Bought my Harley from a guy in Bryan
From New Waterford originally
I think Holtmann's emotions will spill over to the players and they will play inspired!
Isn't there any JUCO players available?
Are you referring to Plaxico Burress?
It's all true....we are f**ked
Wouldn't it be hilarious if BTN hired him and they made him have a pro OSU angle on things!
Played intermural basketball against a team consisting of Tom Tupa, Eric Kumerow. Chris Spielman, and Frank Hoak among others. That was one tough team to defend inside! Also had a few encounters with Pepper while living in Morrill Tower since he dated a girl there. Many good times with numerous fb players and Pro wrestlers at Papa Joes and Spring Break also during my time
Kent State doesn't seem to have a problem year in and year out having a winning record and making the CWS
Wasn't Mike Munoz pretty highly touted coming out of high school? He chose Tennessee and never really panned out because of injuries. Being a Buckeye might not be a priority for all but never forget it's Ohio against the world! Good luck wherever he goes but hope he chooses the good guys
My grandfather told me that with no explanation when I was a little kid!
Are you questioning little jimmy the second coming?!!! Clearly something is wrong, they have to be the landslide favorite and shouldn't be close!
Soulvaki Palace back in the day was a must after the bars
If Dabo has such a family atmosphere going on so why wouldn't he let Uncle Rico on his team?
Unless it's Kentucky and they're going pro!
Thanks for explaining that. I thought that they could get redrafted multiple times if they stayed in college.
But would he stay if he gets drafted?