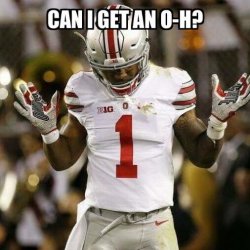 BuckeyePat
MEMBER SINCE November 16, 2015
From Lima, Ohio. Relocated to Westerville in 2010. Born and raised a buckeye thanks to my grandpa and I still hate Tim biankabatuka to this day!
Favorites
COLLEGE FOOTBALL PLAYER: JT Barrett
NFL TEAM: Atlanta Falcons
NHL TEAM: CBJ
MLB TEAM: Cincinnati Reds
Recent Activity
None of us want to wait all day.
Gonna day if we don't start taking care of the ball nothing else is going to matter. Our lack of offensive identity causes lazy passes. Hoping someone can step up and slash score. We need that to help Wesson
Whew. The 11W forum defenders are out in full effect on a Monday. Lmao
Btw, you could have followed your own advice
How many times can we rewrite this article? Tell us when a decision is made
Stop it lmao. 99% of these forums comments are fans assuming things they MAY not know. We go off what we think and opinion. And my OPINION is Jones was 10 times the athlete Werner was.
Have a great day
Sucks because I think he could start over a current starter
This is great but I find it rather embarassing we are at a point in sports that we celebrate kids top 5 list
The kid snapped his leg in half which isn't really a "history of injures" type situation and last season of high school he had a little lingering issue but the reason he never healed was they kept playing him and never let him heal
Watched Jaelen Multiple times here at South. The kid is a special talent. No doubt about it and has GREAT receiving skills down field not just out of the backfield.
Watch QB1, your opinion won't change lol
I tried to watch it with an open mind but all I could think was wow, Tate is a drama queen
Anyone that watched QB1 knows Tate has shitty character. I'm just sayin. .
Me: Reads "Wint and Pryor" (Cringes)
The images of poor angles and misalignments hurts my brain
Behind those starters is a paper then depth at O Line
I think it's ridiculous he left and never once thanked Ohio State, his coaches, fans, or teammates.
Major smack in the face
This is all a gimmick from an arrogant kid to beat the "sit a season" rule imo
Staff's have changed before. Doesn't mean you get a waiver
I get your point but at the same time you reference a lot of unnecessary information as examples. The main details of this story are how Tate acted in the media then a week later enters the portal and essentially cuts all Ohio State related ties on his Social media ext
Not the same. . . JT ran out of eligibility. . . And just because Arnette comes back doesn't mean someone will miss out which is what I think your sarcastically insinuating.
I think anytime you get a db with experience to return it is a win
And somehow someone dvs this. . Welcome to 11W boards lol
His moms twitter and the way this has went down has to make us think maybe it's a little personal. Sounded personal when he blurted in the media a few weeks ago. He was obviously bothered
Tate's moving on. The whole story? Who knows. Good luck Tate.
Now let's move on. Fields/Baldwin with a new lion at coach and possibly the most talented WR corps as a whole we've ever seen. Can't wait!
Too much talent to waste. . Let's just hope we figure out who to play before week 10 like we did with White. I'd say give me Browning, Harrison, and Tuf with a rotation with Mitchell till Teraja gets some experience
I was going to write a post but you definitely beat me to it. . WAYY too much talent for guys to be looking lost
I think Olave wanted it also. But he also showed interest in Haskins #7
Dixon gets to choose who gets it