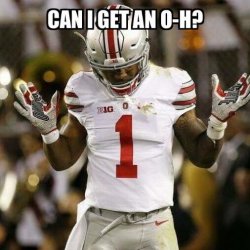 BuckeyePat
MEMBER SINCE November 16, 2015
From Lima, Ohio. Relocated to Westerville in 2010. Born and raised a buckeye thanks to my grandpa and I still hate Tim biankabatuka to this day!
Favorites
COLLEGE FOOTBALL PLAYER: JT Barrett
NFL TEAM: Atlanta Falcons
NHL TEAM: CBJ
MLB TEAM: Cincinnati Reds
Recent Activity
Hey Michigan man! Nice tits! Haha
also, his wife laughing is gold
Are the 25 warm up games done yet or nah?
I've known Michael for several years, he's been good for awhile, he just happens to be having a monster senior season so far. But thanks for pointing out the obvious captain asshole
I'm just here to say I'm so sick of the noon kicks
I hope Ohio State takes a look at Westerville South RB Michael mansaray. Having a huge senior season
So are we running a charity or competitive sporting league? As a fan I don't see and say "This blowout is so much fun. Wonder what Miami will do with that money. ."
I wish we knew the Wisconsin kick. Got tickets and am dreading a noon kick will be the call
I'm with you. While I know these games benefit the teams growth it would be much better for fans if we have LSU/Texas style games every week
I highly doubt Day is "saving the deep ball".
Didn't we learn from that narrative in 2015 lol
My biggest remaining question is do we have a deep threat? I don't recall many shots over the top
Doubtful that's what it means. I mean Weber and JK shared the "OR" for basically, if not truly, the entire season
Berry is the bottom tight end
He's a freshman in a deep DE room. I doubt he's going to "break out" in one week.
I thought the same with TE. I also think Berry being at the bottom shows Day's loyalty isn't to seniority but talent
I know this is cliche but I think the plays and routes went vanilla on purpose Saturday.
Dobbins has got to relax and follow his blocks. He's forcing it and it's killing his vision. Let it come to you big dog
I know the storylines tell us to respect this game but I see the Bucks by 20+
Nice reference. Up vote from me
I could see Harrison having a lot of snaps
Story of McCalls career fr
This got some DV's but I agree. The old ppl that get mad because fans actually enjoy the game are annoying
Maybe it will run some of the "SIT DOWN ALL GAME, I CAN'T SEE" crowd away though
I wish we had more injury info. And call me a hater but McCall as the #2 isn't intriguing to me. He's extremely undersized and more of a slot than anything imo
I expect a lot of people to have it go over their heads. I for one felt it was commenting gold lol