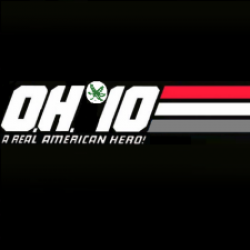 Buckeyeneer
---
Member since 02 January 2012 | Blog
Favorites
SPORTS MOMENT: 2002 National Championship. My senior year in college!!!
COLLEGE FOOTBALL PLAYER: Orlando Pace
COLLEGE BASKETBALL PLAYER: Michael Redd
NFL TEAM: Browns
NHL TEAM: Blue Jackets
NBA TEAM: Cavaliers
MLB TEAM: Indians
SOCCER TEAM: Massive
Recent Activity
If you're a Brown's fan, get a Webster Slaughter jersey. It's both a name and a verb for what the Brown's do to the game of football every week of the season.
Football season is over as far as I am concerned. If I could guarantee that a Bama win would cause Old Scratch to retire, I would root for them with everything I have.
You are right. For myself, I am having minor surgery next Friday so I will be doing a lot of nothing. By comparison, I should win a employee of the month trophy today.
What's the least productive Friday
I really hope it's today. I don't have much left in the tank. Happy Holidays, my Buckeye Brothers and Sisters!
It really is easy on Christmas Day to get caught up in agonizing over the toys you didn't get instead of the ones you did.
It's human nature, but don't dwell on that too long.
This one hurts. Good luck to him.
As someone who pulled an all-nighter on Monday night, I can appreciate the hard work.
Ponder? I barely knew her!
My understanding of NCAA rules based on the UNC ruling is that we need to start a photo op line for any student that wants a picture with the former OSU players on staff at ESPN. That would solve it.
After living in Park Hall my freshman year, I was just happy to have A/C when I moved to Morrison my sophomore year.
I hate that people act like Harbaugh invented khaki pants.
Probably my all time favorite comment I've ever read on 11W was something like, "Buck-I-Guy is actually the smaller one. He's being carried around by his ego."
Based on absolutely nothing, I would guess that he would get at least 10% of the total.
One thing I like about Tate is the ability to give him great nicknames. Martel is the old Frank word for "hammer". The old Frankish ruler Charles "The Hammer" was given the moniker for crushing or "hammering" his enemies. I hope Tate the Hammer does the same.
Also as a wrestling fan, there was Rick "The Model" Martel. I hope Tate "The Model" Martell is a model QB for our program.
#TeamTate, #TeamHammer
But that said, I'll cheer for whomever our coaches decide gives us the best chance to win.
This is what television looked like at the time
I dig that end zone for OSU.
If you read SEC fan forums regularly . . .
There's your first problem. I used to read more national message boards before finding this one. Stop reading the SEC fan boards. Trust me. Your life will be so much better.
The "flawed hero". There is a reason that character is popular in stories and legends. They accomplish great things, but also fail, making them relatable to the rest of us.
One benefit of JT is that now I don't have to listen to enemies of the team say that, "OSU's all time best QB is a convicted felon".
While it sucks that two teams from the same conference are in. I can't get up in arms over this. Don't get blown out by a mediocre team and you don't have this problem. We could have lost to Iowa by a touchdown and still gotten in I feel. Just don't lose by 30.
This. I personally think we will get spanked by any of the likely teams in the playoff. However, I'd always like the opportunity to win it all.
Don't sweat these fools, McFarland especially.
Yes. I mean, he's a grown man and his professional name is "Booger".
This is much better than the Mike Reilly hire (thanks captain obvious). That was like an extremely slow car crash that everyone saw coming except Brasky's AD and their more optimistic fans. This could work.
Yeah, I think everyone was expecting this.
Does he have "steps" shaved into his head? I mean, I had those . . . when I was 6 or 7 . . . in the 1980s.