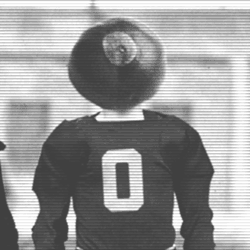 buckeyenationlouisvillebranch
---
MEMBER SINCE October 06, 2014
Favorites
SPORTS MOMENT: 1997 Rose Bowl.
COLLEGE FOOTBALL PLAYER: James Laurinitis
COLLEGE BASKETBALL PLAYER: Aaron Craft
NFL TEAM: Cincinnati Bengals
NHL TEAM: Columbus Blue Jackets
NBA TEAM: Miami Heat
MLB TEAM: Colorado Rockies
SOCCER TEAM: Columbus Crew
Recent Activity
Seriously folks. We can grow up and not be like TTUN.
Not watching because I will not give this playoff any legitimacy. We got screwed and the playoff is a joke. You want to know how to fight back against the corruption of the playoff? This is how, don't watch it.
No, if you remember the Fields situation revolved around the racist comment made to him at a UGA baseball game. Even pre-portal that would have been approved. The portal is a problem, imo.
Pac 12 will be wide open next year and Oregon will not be easily the favorite to win the conference. I know a lot of pundits pump up USC but they will clearly be involved and so will Utah and ASU.
Rumor has it Darnay Holmes...
Fear the Nut It actually did have a real affect to the game. Play calling would have changed as a result. Instead of Fields throwing an interception the next drive. The defense would be back out there with a big swoon of momentum and a two point lead. And the offense would have been able to be more aggressive in play calling. Day was miles ahead of Vennables, especially when we had the lead. It took questionable calls at key moments to keep Clemson in that game. Truth
We had our chance at the end...and we screwed up. That fumble though...we got screwed there. That was a TD taken away from us.
I think this might be it. We are in trouble
We can't get out of own way. What a ridiculous call to go after the punt there. SMDH
Correct. If Wade had kept his head up, it would have been no call. It was targeting. It sucks but that was the correct call. What pisses me off was how we attacked them on offense after that. We went conservative. You have to keep attacking. We also need to contain Lawrence better.
Wow!!!!!
LSU has some holes defensively. LSU has looked good against a team that has zero defense. Let's pump the brakes
Not my team but this move is gutless. Fleck is building there in Minny and this dude leaves for an a**hat in Franklin? It's ok Minny fans, we will take care of this. We love beating PSU on the way to another B1G East Championship.
One would think RT would be Nicholas Petit-Frere and Harry Miller at LG. But there will be competition for those spots. Especially at Tackle. Paris Johnson comes to mind.
That is true. Also, there has been the emergence of Josh Proctor.
You Karan Higdon and his guarantee of victory...
I live in the heart of Kentucky land. The people feel here that we are going to smoke them. The UK fans also believe this is a team that is going to struggle all year due to their inconsistent shooting and lack of defense.
Problem for Clemson is that they cannot replicate Young in the preparation for this game. Quick passes only work if the defense gives up inside leverage. Reading Young is only a temporary plan. Virtually impossible to do it all game. Etienne is a great back but I question his ability to break tackles against a defense the has been pretty good at not missing tackles this year.
I am not sold on Clemson's offensive line. They have not faced a player as dominant as Chase Young and cannot replicate it in practice either. The ability for OSU to cycle lineman on defense is going to be interesting. Cornell, Hamilton, Landers, and Togiai will not be easy to stop especially if Clemson tries running their 4 receiver sets.
Normally I don't feed the trolls but this time I will make an exception. Clemson fans don't understand how Chase Young affects a gameplan. He has been timed if being blocked by one tackle to get to the QB in 2 seconds from the ball being snapped. Dabo is not stupid enough to allow that so he will look to double team him. But in order to do that, Dabo will either have Etienne help block, slide help from a guard or use a TE. This does limit the amount of formations and playmakers Clemson can get on the field. Offensively, OSU has the best rushing offense in the country. Our O-line is elite in run blocking.
In response to the concept of the H-Back position, it still does exist. However, it only exist if the QB is more of a pocket passer like Haskins and less of a running threat.
I don't know. Harris may get his chance now. With Victor now gone OSU is going to need a go up and get it option in the endzone. Putting too much on the incoming freshman would be a huge mistake. Harris has been around the program for a while and should have a leg up on these guys.
Give it some time guys. Only down 7 and Wisconsin seems to be emptying the playbook out there. Let's see the adjustments first.
I can see Day using his TEs early as a way to get the ball out of Fields hands early and often. That should spread the LBs for Wisky and open up running lanes for Dobbins. Then when that happens I can see the deep ball becoming a huge problem for Wisky.
These refs are entirely too inconsistent. Ridiculous.