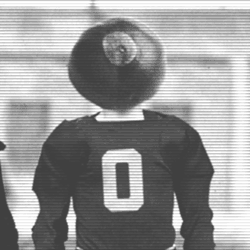 BUCKEYEMOM
---
MEMBER SINCE November 03, 2014
Recent Activity
I thought going to Iowa and Purdue was going to be fun, it wasn't.
If either of these people cared about their children they would stop talking about each other. They are both using this site and their respective blogs to bash each other and go for a "win". Zach's podcast can be a success without talking about her at all, he needs to do that. It is clear that both of these people are posting on this site or having friends post on their behalf. Just click on the user names, its obvious. We need to stop supporting this insanity. Let the courts figure this all out.
The sad thing about this is the players and his kids are both innocent. While he seeks vengeance and may be justified, tearing down OSU or those associated with it or tearing down others only ultimately hurts the innocent people. Some terrible things happened and the situation was ultimately a personal issue, his anger needs to be directed in one place his marriage.
Human trafficking is not just immigrants, women all over this country are involuntary participants.
This is human trafficking and they all need to be punished. The women involved are the victims, its not a sham.
Mizzou self reports and gets the sledge hammer. Mizzou needs to sue.
I am so happy he is sticking around :)
He was recruiting all morning, he isn't going anywhere. :)
If there was a camera on me during the game it would have been similar.
Your politics are showing. One makes up stories to hurt people the other asks tough questions that somebody doesn't want to answer.

Interesting, she is now saying Michelle Herman told Shelly. Does not matter but that is different. They all need to go away, it is just hurting the kids who don't deserve it.
Just stop it! Its getting to a point of bullying. We were at Purdue and yes horrible game but what was worse was the just horrible things everyone around us was saying about Urban. If he is going to leave we will know about it, the only thing this speculation is doing is helping out other teams in recruiting (I see you Tom Herman). Lets support our coach and our team.
I am done with this drama, since Big Ten Media days it has been insane. All because of ZS aghhhh
I thought the athletic owns or has an interest or something in The Stadium. Maybe not...
Mandell and McMurphy in particular

Coming from The Athletic who seems to trash Urban frequently and Brett works for them....
Kind of feels insulting to Urban.
Coach O still has a job because of Joey B.
We could have sworn he was crying on the bench....
This is exactly what the situation does not need. More gossip, rumor, innuendo. This is the what university doesn't want and could cause them to completely clean house. Hoping he is just a nut but who knows.
It is on the lead story, front page.
Sorry, delete, didn't see it on front page.