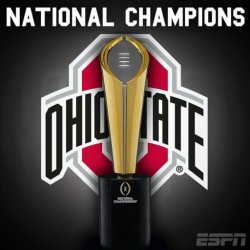 BuckeyeMark
---
MEMBER SINCE January 06, 2011
Favorites
COLLEGE FOOTBALL PLAYER: Archie Griffin, Troy Smith, Tedd Ginn Jr.
NFL TEAM: Dallas Cowboys
NHL TEAM: Dallas Stars
MLB TEAM: Texas Rangers
SOCCER TEAM: Arsenal
Recent Activity
Well done, sir. Just flat out well done. And thank you.
BOOM!!!! Big dunk to put us on the board. 2-2 w/ 18:35 left.
AND IT'S OVER. Big Ten hoops, please.
QUESTION: how family friendly is this cruise? Obviously there are some adult beverages and adult events on a cruise but is the boat just a rockin' party 24/7? Would you bring your kiddos?
Like that 17th win... 20 is a magic number for the NCAA folks ....
We are now able to project a winner in today's Ohio State-Purdue contest...
So you're saying Purdue is fielding the same kind of team as they do every year?
Haven't followed the Basket Bucks as close as I'd like to this year ... so how good a win is this? Are we getting this turned around?
I get some of that but doing things all year around doesn't mean we can't have one day a year to go over the top. If we're using that one day to make up for a year full of neglect - well, that's a fail. But if our marriage is what it ought to be and then we take it up a notch on Feb 14 - that's a big win. A sizzling Valentine's Day and a year around healthy marriage aren't mutually exclusive. It can be both/and not either/or.
It's like hating TTUN football AND basketball. You don't have to choose. You can do both! LOL
How does that happen? I think you can argue that if the KC punts there the game is over, even with Shanahan's play calling.

And how did he get snake bit AGAIN? With the Falcons it was all "you were too aggressive with play calling, calling all those passes" and then last night it was "why are you being so conservative?" Then they try to pass on 2nd and 5 and it gets batted down ... they make a first down there and it gets tough for KC... just not Shanahan's night.
I'm not saying Darron Lee is NOT a Super Bowl champion, doesn't deserve a ring, etc. I just wonder how he feels about it. I think guys who have made it as far as he has have to be incredible competitors and being AT the Super Bowl but not dressed and not getting to play must really hurt. Hoping he'll get in one in the future.

I hate the Niners but it hurt to see Bosa crying. Sure does show his commitment and heart, doesn't it?
You are 105% right but if you tell the defense "you can mug the receiver" nobody is going to ever convert. so how do you balance that?
Why can't the B1G have someone as entertaining and goofy as Mike Leach, who as a bonus, just might have a team good enough to beat anybody on any given Saturday? Oh John L Smith, where art thou?
I'm trying to move on. If Clemson boat races LSU then that's prolly gonna hold me back a bit ... if they get crushed then I'll be "oh, well then... losing by a million to another SEC team wouldn't be fun at all" and that'll get me right again.
And now we're faced with those choices: cheer for the SEC (I threw up a little in my mouth there) and Joe (that we love) or cheer for the guys who beat us. "Hey hon, can you pull up the movie listings for Jan 13? What?! They made another Star Wars movie? When did that happen? Well get us some tickets!"
Just another one of "those things" that seemed to be happening all night. JK almost got to the end zone on his second long run. Got tripped up and we take a FG. The Clemson player fumbled the punt, and then promptly grabbed it. Sometimes it's just not your night.
Go back and look at the video and watch JK Dobbins on this last play. If Justin dumps it down to him he easily gets to the 15 and maybe more before being tackled. And we had a timeout in our pocket and a lot of time left.
Not blaming Justin. Not blaming Olave. They are great players. But I sure wish he'd checked it down!
Feeling very good about it. JK rushes for nearly 200 yards. That keeps that potent offense off the field. Chase Young & Co. get sacks and stops while Clemson struggles to stop the ground assault. Mixing in a Fields run and the unexpected play action deep shot keeps Clemson reeling. Close at the half but Ohio State draws away in the third and stretches it in the fourth. They will score but can't find consistency. Stats by the fourth look ugly - Clemson with few yards and few first downs and not enough points.
Ohio State 31
Clemson 17
Trevor Lawrence can say whatever he wants. He isn't coaching or making OL calls.
Anybody thinks we're beating Clemson because Dabo is DUMB needs to go back and watch last year's NC game. They destroyed Bama and if anyone has forgotten, Bama has a very good team and a veyry good coach.
We can win. But it won't be because they're stupid over there.
Ranger fan in Dallas here ... if any two fan bases can understand frustration and heartbreak it has to be the Rangers and the Indians. Hoping Kluber rebounds from that broken arm and is his old self again. He can be a boss!!
Good luck Cleveland ... hope to see you guys in the playoffs some day.
Did Lincoln Riley say Baylor is usually one of the best teams in the country?! #campaigning
I remember when our kid was that age and he wore TTUN stuff every day... NOT. NOT EVER.
There's a lot to hate on Baylor but can you imagine if this was a true tourney and Baylor was playing to get in? How great would that be? Instead we're hoping a bunch of humans will decide a beauty pageant. UGH
People ready to put Georgia in but if you saw them against SouCarolina they can be unimpressive. Someone had a sign at GameDay that said "You lost to a chicken?" LOL
I'm so thankful for Auburn today. WarTiger or whatever because if it wasn't for them Bama would be getting in. UGH.
OH MY WORD! Zeno is lighting them up!
at a time when he needs to be completely in control he's losing his mind. not good.
makes you appreciate Day doesn't it?