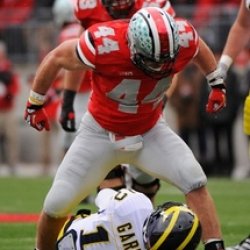 Buckeyemanboy
---
from San Diego
MEMBER SINCE November 05, 2014
I ma have been born in USC territory but don't worry my Grandfather: OSU Alumn took care of that shit early.
Favorites
SPORTS MOMENT: Watching TP kill the clock in the Rose Bowl against the ducks.
COLLEGE FOOTBALL PLAYER: Troy Smith
COLLEGE BASKETBALL PLAYER: Ron Lewis
NFL TEAM: Chargers
MLB TEAM: Reds
SOCCER TEAM: Bayern Munich
Recent Activity
So Urban def voted for Rondale right? Or Mcsorely? I'd imagine he'd vote for the guys that gave us fits.
SO DAMN STOKED. This kids from my neighborhood, and I used to play against his HS every year. SAN DIEGO BUCKEYES FTW!!
344
Tate gets 61 in garbage time
Do I get two hats if I'm double right?
Bosa losing to Scooby Dooby Wright is a crime level to that of Jason White's Heisman.
I was a casual Cowboys/Chargers fan (my dad moved a lot blame him), all I can say is:
HOLY HELL DREAMS ARE REAL!
Now if we can just lose Jerry and the woman beater the boys' may be a true joy to watch.
Hankins played like one IMO.
Also, I think this is the year we really see Larry Johnson's line rotation really take shape. There are so many DE's they they're going to need to make plays inside to get time. It could end up being a really good thing.
I don't think I can understate how much I love back to back Bosa careers. Lets find another Boren while we're at it.
I really think he has the ahtleticism to get drafted, and the work ethic to become a productive pro.
Remember when his fumbles in MN almost blew the game? What did he do? He got the punter to help him field in the middle of a blizzard, and followed up with a career day. Love that kid!
The people responsible for this are the truest scUM, I hope they get treated like UM's front 7 when they go to trial.
oh wait.. they'll never go to trail.. barf.
Wonder if Haskins will get us Mecole Hardman, they really played well together in that USA game. Any chance that helps?
Bosa and Zeke really had to go this year, especially Zeke. When you're as proven as he is, you only lose value with each carry moving forward.
Where's the whiskey for the upcoming rebuilding year for Thad?
Gardner was probably embarrassed by those boo's.
I do agree it's overused, however, I do believe they occur.
To me, the real trap game is MSU. No longer undefeated, may not be a night game, The Game coming up next week. If we didn't have Urban at the helm I could see it becoming one. That being said, he seems to actually get the guys ready for this week and not next.
So stoked, between this and The Crew my old love and new love are coming together. Cbus and soccer :D
Also how great is Kei Kamara? seriously?!
I'm just thankful we don't have to think about it.
Although it seems like they were pretty validated with his stepping down. Again, just glad our biggest worry this season was which starting QB is better.
Also, any scUM blog/twitter/posting site can stfu. Until we hide rape allegations/protect an NFL caliber O-line felony machine they've really got no high ground to stand on and judge.
I'm with you.
Also they need to start first drives by easing him in. First play should have been a PA rollout, second a power to zeke. 3rd n short/first down run a QB power. Force him to feel the game early.
PFFFFFFFFFFFFFFFFFFT Upfootball can call us scum when we cover up rape allegations.
Gotta make room for Joey's lil bro.
I think he'll get the entire second half, and by the end of the 4th, we may even see Collier if he's allowed to play.
I think JT can handle being a back up better, and we have him through next year at a minimum. Give Cardale a chance to prove he's worth the hype and maybe he can even become out first 1st round QB pick since... well.
Also, having sleepytime behind him challenging him every week could be the pressure Cardale needs to become a fucking flawless diamond of a QB.
I applaud Urby's handling thus far, he really seems like a genius at the moment. People have recruited talent like this before, no one has managed it like this before.
Kinda surprised Bosa doesn't make the list at all.. I mean I know Scooby has some personal hardware, but Bosa is Bosa.
he could have gotten in his head though.. could be a good thing
Edit: I'm dumb, I wish i could make the exccuse of drunk. but instead I'm just dumb