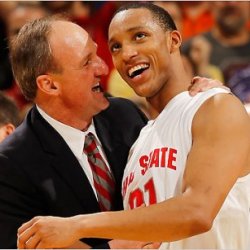 BuckeyeLurker0509
---
The center of the universe....(NYC)
MEMBER SINCE October 15, 2010
Favorites
SPORTS MOMENT: HOLY BUCKEYE! (Sophomore year)
COLLEGE FOOTBALL PLAYER: Too many ..most wore scarlet and gray.
COLLEGE BASKETBALL PLAYER: See above
NFL TEAM: Detroit Lions
NHL TEAM: Detroit Red Wings
NBA TEAM: Detroit Pistons
MLB TEAM: Detroit Tigers
Recent Activity
Not even better than Craig Krenzel or Cardale Jones
There isn't a single nba caliber player on our roster smdh
none of that shit impresses me
I agree with you Osusam, I'm not impressed with Holtmann's recruiting ability at all, and not to mention he's just a very average coach.
I thought we would go out and hire a coach who went after the BIG fish (you know, the way Thad did)
, the national recruits ie
https://247sports.com/Season/2020-Basketball/CompositeRecruitRankings/?InstitutionGroup=HighSchool
there is absolutely no way Ohio State basketball will get back to the final four recruiting like this. Idc if i get down voted, I care more about hoops than football anyway and at this point I'm convinced I'm going to die before I see a national championship in basketball, which is kinda unacceptable given Ohio State's basketball history, facilities, and budget for athletics.
Lol this program is in shambles.
hes not even athletic enough for the big 10 LOL
disappointing season this year but god i love beating these bastards.
especially in Ann Arbor?
how sweet it is.
now I just need MSU to beat them by 30 to make it even better
harsh , yet fair criticism
Gotta recruit NBA level talent...not a bunch of guys who will go on to 9-5 jobs.
We all care about basketball. That's why we're posting in the comments, and michigan is not a basketball school or football school considering you get your heads bashed on the national scale in both sports
Not a single NBA caliber player on this roster, ouch. I don't see a single player that I can point to and say "yea he's gonna be a star for the next 1/2/3 years". Maybe Carton but he's not even as good as Trey Burke was as a freshman.
Holtmann and co need to step up their scouting and go after ELITE players or we will never get past the sweet 16 .
we lost to a better team , and a better coach.
those fgs and red zone ineptitude were a killer
Kyle Young is still awful.
the boilermakers have never won anything of note recently. the only thing that matters are final four banners and NCAA championship banners.
and we already have more final four banners than almost anyone in the conference. Holtmann needs to get the one and dones asap . We will forever be stuck in sweet 16 land at this rate.
Bake? Is that his nickname? Lmao
Buckeye ALum here NOT from Cleveland
I love this. F*ck Baker Mayfield and the Browns. He's Johnny Manziel part 2, without the drug habit and better dance moves
I don't think any of the players we have will make an NBA roster
Lol all these baby boomers wear wrangler jeans and tshirts with loose neckholes
lmao wow you are a racist piece of shit
USC head coach by 2021 write it in stone
Imagine having an explosive athletic TE...in the same vein as Kellen Winslow or Aaron Hernandez or Kelce or...
Stoneburner and Heurrman were just ok
THe only memorable Ohio State TE is Hamby and for all the wrong reasons
I totally agree! I listened to the whole interview word for word and I was hoping they would get into Ohio State stuff more but the conversation largely centered around his NFL career
I think he just has sour grapes towards Urban because he didnt recruit Ohio/Cleveland/Glenville well enough....but he also called Urban "Ignorant" when discussing his short appearance vs UF in the national title game..
hopefully we get a no holds barred OSU centered interview sometime soon, Id love to hear Santonio Holmes and Chris Gamble etc etc
Lol, no former Tressel player likes Urban, and for good reason.
I'm glad he's gone too Mr. Ted Ginn.