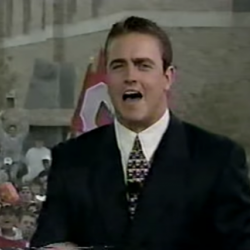 BuckeyeLion
---
NYC
MEMBER SINCE December 09, 2015
NYC. Lover of food, wine, and above all, the Buckeyes.
Favorites
SPORTS MOMENT: Joe Germaine to David Boston for six; '97 Rose Bowl.
COLLEGE FOOTBALL PLAYER: Orlando Pace
COLLEGE BASKETBALL PLAYER: Jimmy Jackson
NFL TEAM: Bengals
NHL TEAM: Blue Jackets
NBA TEAM: Cavs
MLB TEAM: Reds
SOCCER TEAM: Crew
Recent Activity
Boom!
How's her spin move?
Come on Tathan! We're rooting for you to start so you can take down the Gators and Tigers.
Thank you! I never know why coaches wouldn't use their talent for this. Either line them up at the line or at the goal on long attempts with the intent to swat the ball.
Let's cut Michigan a break. We know they are no longer a football school. They are not even a basketball school anymore. I did hear they won a natty in cheerleading last week. There you have it; they are a cheerleading school now. Let's take it easy on them come November.
To be honestly I wish this ending never happened. If Michigan holds on to win, even with our loss to MSU, we go to the B1G championship game and probably make the Playoffs.
The only way Tate can wear a $100,000 chain is if he throws a pick (likely) and runs down and strips the ball loose from the defender (unlikely) a la Maurice Clarett in the '02 Fiesta Bowl. Not going to happen, folks.
Hey no need to hate. Cats keep dogs on their toes.
Wow, i didn't realize Houston is packing a 32-3 record...we got this!
Ok you got me. I don't get it.
Seeing Coop is great, but do you know if Urban was there? I'd figure he'd want to be present to talk up his guys and answer any questions to scouts.
i'm going to try to put money down on this. seems like a no brainer.
11:30 central/12:30 eastern
The two mascots of my alma maters.
I wouldn't get upset if he did. Kinda of like an assistant to the head coach/assistant AD.
And which former player are you? :-)
Against powerhouse Air Force. Oddly that is the first OSU game I remember. Tough years.
Honestly, let's all move on from this guy. Not sure what value we add by still talking about him negatively.
Yikes. The Bruce Judson excuse for flipping seems more of a character issue. Being more humbled and having more perspective would have gave him patience to grow into his new community. Though I offer my best wishes to these young men.
I'm surprised that Braxton never cracked the sub 4.4. Anyone know his time?
Ginn didn't run at the Combine because he was still on the mend from all 246lbs of Roy Hall jumping on him following Ginn's last college play (a certain opening kickoff TD).
M Web's shoulders looking stout. That boy ready.
We finished the season ranked three in the AP and Coaches. That has to be worth something.