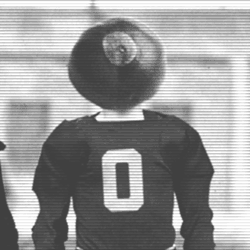 buckeyeleafe1
---
MEMBER SINCE October 21, 2018
Recent Activity
This kid is going to ball at The Ohio State University! He is solid at LB
SEC has nothing on the Bucks!!! OH-IO
ESPN in the mean time is wondering how to explain all this speed? How many times have you heard the likes of Herbie and others brag about the lack of speed of the Big Ten and the greatness of the SEC with its speed. I'm so sick of the bias of ESPN towards the SEC network or I mean the conference. I watch them only if a game is on that I want to watch. I hope the network one day goes off the air.
Ohio has no speed #sarcasim #ESPNSUCKSBALLZ
ESPN says...the speed of the SEC is uncomparable. #ESPNSUCKSBALLZ
The Jackets are going to have a nice little run in the playoffs
ESPN is like corn beef hash. It looks the same going in as it does coming out.
ESPN...JOKES!!! #waytogostevenA
Doug Nester, is he a wide reciever? The way he handled his recruitment was like a Diva. I know these are kids but, why didnt momma smack his ass and say you need to decommit son?
I like the emphasis on Ohio kids as well. To land all 5, that would be huge!! Especially, heading into next year where Ohio is loaded. These kids bleed scarlet and gray!!! We are still a national brand, The Ohio State University...speaks for itself. Go Bucks!
The south got smoked!!! What about all the speed, Herbie? ESPN sucks ballz!!!
I think we will go undefeated and beat Nebraska again in the B1G tittle game. ESPN will have a dispute about a 2 loss Georgia and an undeafeted Buckeyes team and that we beat Nebraska two times. We will get in..and ESPN sues the playoff committee. Only because, the only losses for Georgia were againstan sec team and Alabama. They will also sue the committee for not putting Alabama as the number one team. We then beat Alabama and beat Clemson. To win the National Championship. ESPN then sues the playoff committee because Georgia should be the number one team. The argument is because they are from the SEC. Herbie, then pulls out his #4 Buckeye jersey and ruins the ESPN efforts. He gets fired from ESPN and FOX hires him. Herbie, then says that the speed of the B1G is so amazingly faster than any conference...let the love fest begin!!!! #haha
I believe we have a good team. We do not have a great team. We are young and inconsistent. So, we are going to have to live with the mistakes. Wesson, out of the starting line up IMO is not the answer. I feel we have struggled a lot more when he is in foul trouble on the bench, then not. We do not have a one and done type of player on this roster. Next year different story. Go Bucks!
If Cincy would land Kluber...that would be huge! I am banking on Gray to improve with his old pitching coach. I hope a change will help. He has the tools.
Elder is a great program.
He is a beast...who cares about his ranking right now. He will move up. He is a great addition...BOOM!!!!!
Jones, was considering last year. He hasnt really livec up to the hype. Good luck to him!! Go Bucks!
I'm not going to lie...I do not want him coaching another team!! I will feel like I just broke up with a girlfriend if that would ever happen...ugh!
Nice cover up!! Do they look at tweets? they should! It seemed to me that he saw him comming and bolted. Or lets give him the benifit of the doubt and say that was the case of a coaching change. What was he trying to do? Was he trying to tare down the program? I hope him the best. It seems like he is trying to gain the right to play right away. Good luck to him...he is just trying to figure it out.
This is sad but, great for Marty! Yes, I was one of those kids that would be listening to the Reds whle fishing with my Dad. I still do!! I hope this doesn't effect my fishing. I can catch a lot.
I thought that Riley had more class.
It just got easier for Clemson. That is my initial thought
Jalen Hurts will be a nice pick up for the Sooners. I wish him the best. It is a shame how Saban played him enough to loose another year of elgibility. The Buckeyes got the beteer with Fields...so, Im okay with it. GO Bucks!!