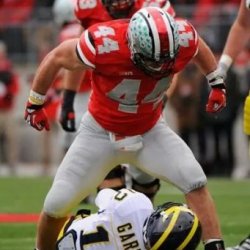 BuckeyeLawyer
Member since 05 May 2012 | Blog
Favorites
SPORTS MOMENT: The 2002 Fiesta Bowl and the ride along the way, especially Holy Buckeye, was the winner until 85 yards through the heart of the South!
COLLEGE FOOTBALL PLAYER: Eddie George
COLLEGE BASKETBALL PLAYER: Ron Stokes
NFL TEAM: Bengals
NHL TEAM: Blue Jackets
NBA TEAM: Cavaliers
MLB TEAM: Reds
SOCCER TEAM: Crew
Recent Activity
I liked it. Aeneas (and his entire family) seem very likeable. Good luck to him.
Oops.
I dislike any person whose twitter handle is "real" before their name. Who the hell do they think they are?
None of the above most likely.
I don't know if that is necessarily true. Once he decides to transfer, and gets his release, he can then visit schools where there is mutual interest in order to find the right fit for himself.
I love Ohio State, probably way too much, but I feel that I have no room to pick fun at any coaching staffs right now.
I am guessing that this post was reviewed by the football staff and they didn't want to ruin the kid's moment so they made a call.
I too am in this group.
I can only come up with four Pickerington athletes to ever go to Michigan for football or basketball.
Football: Jake Butt (Pick North), Taco Charlton (Pick Central) and Lawrence Reid (Pick Central about a decade ago).
Basketball: Caris Levert (Pick Central).
I do not believe that Ohio State pursued any of those players aggressively. In fact, I am not certain that Ohio State even offered any of those four. I think that Ohio State will be fine if they determine that they want Xavier.
I think Bert should be arrested for exposing people to his feet!
My guess is that off the mat issues have kept him out of the Ohio State HOF. Those issues are not secret and were surprisingly left out of the article as they led Mark away from coaching. That said, still a good read.
Mark Richt. I like him but he seems to fall short of expectations nearly every year.
I never wanted to be one of the older guys. I have been fighting that battle for awhile now. Life problems.
I loved Bobby Knight (despite hating Indiana). If I had any talent whatsoever, I would have loved to have played for him. I think he always had his players best interests in mind. As somebody mentioned, I also don't think Knight was trying to skirt the rules to find a competitive advantage. His advantage came in players working hard and playing smart. I would call Bobby Knight fiery and short-tempered but not crazy.
Harbaugh I think is different. I don't deny that he appears to be a great coach and I cannot speak to how the team works in practice. He has some fire to him but I do think his charades seem to be off-centered to say the least. Thus, I would say he is more crazy. I can deal with crazy though. The creepiness is what bothers me.
Next for the Boren family I hope is the removal of the Block M from the basketball court in their house.
As a lawyer, I will tell you that you will not pass a field sobriety test. There are like 9 different things to indicate being impaired. If you show 2, you are arrested. It is dumb and anybody who says the field sobriety tests can be used to determine if truly impaired should stop. As to Troy, I'm not angry about him getting a DUI. It happens and probably could have happened to most of us many times. .08 is not much and generally it's not even impaired; however, cops don't exercise discretion anymore. I'm more disappointed by his victim attitude and that he had weed on him.
So they went from 9-2 to 8-3 or is that a typo?
My son played travel soccer and had 3 severe concussions between his U8 and U9 Spring seasons. He no longer plays, which was his choice and unrelated to the concussions. I still play and loved to watch him play but I'm not upset about the choice considering his injuries.
I went to the site and couldn't find it. Is it me or is it not up yet?
I think Felix Joyner was attributed as an Ohio State also; however, I don't know who that is. All of the Buckeyes in the league are on Team Kirksey. I assume that Team Kirksey will be somewhere in the midwest and, perhaps, playing in Akron if that stadium lease gets worked out.
The first sentence of this article is interesting and it was just printed in September!
Maybe it is just me but I thought Herman came across looking childish and like an asshat in the interview. I still like him but this interview will not go down as one of his finer moments in my opinion. In fact, I think Herman got lit up in the interview.
I have to (and hate to) agree.
I'm out as I don't like my foods to touch. I happen to like both White Castle and pizza also. I just happen to eat like am a little kid.