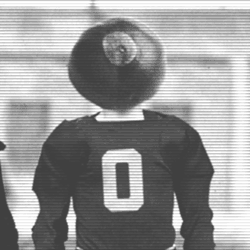 buckeyeku
---
MEMBER SINCE November 19, 2017
Recent Activity
I'm pretty sure we hired a couple of those UM coaches.
Or... Those who skip the bowl game won't be champions either.
Great idea, but I'm not sure it would work under Title IX. Football players get paid 50k while the women's field hockey team gets their measly cost of living and scholarship. Many would cry foul.
I do agree with your idea, just not sure it could be implemented in today's political climate.
Cutting a regular season game for all Division I teams won't happen. Schools need football revenue (tickets, but especially TV inventory) to support every other sport on campus. The college presidents and ADs would never agree to a system that cuts the regular season to 11 games. It would negatively affect every team including teams with no chance of making a playoff.
Outside of the box idea: Have the 12 game/9th conference game be the conference championship game, with every other team in the conference playing a game as well (1st East vs. 1st West, 2nd East vs. 2nd West, etc.). One year the East could host, next year the West would. The only problem would be not knowing your opponent until the week before, but that happens all the time with conference championship games.
I think it goes.... Those who stay will eventually be co-Big Ten East Champions who lose the tiebreaker because we can't beat our rivals.
Bama picking up Daxton Hill has the added benefit of filling a need in their secondary class. Jordan Battle (OSU commit) was a potential flip candidate (per ESPN) and plays the same position.
Also, it continues the impression of the UM class losing momentum at just the wrong time (right as Harrison is making his decision).
If Texas wins it is to our benefit. Don't assume that Oklahoma will win that game. I say it is a 50-50 shot.
That would still leave us with 14. Unfortunately we can't give away Rutgers and Maryland.
But "the media" are the ones who vote for the Heisman, so they will tell us who wins.
Don't get me wrong, I would love to see Dwayne get it, but the QB of a 13-0 Alabama team with this much hype would be difficult to overcome. What could help is Michigan's resurgence. If they have one loss going into "the game" Dwayne could get his Heisman moment.
You can't really compare stats with Tua because he only plays 1 or 2 quarters in a lot of games. Tua wins unless Bama loses.
I have never commented during a game before, but this is the most frustrated I can remember being during an OSU game. Why do our linebackers move up to the line of scrimmage on every play. They are unable to read the play and get stuck.
Stay back and read the play!
14-17 points???? OSU wins by at least 28....what a homer.
Pretty sure it's six.... wait, no, it's five.
I live in Michigan. Most fans are pretty depressed about their teams performance over the last 15 years. At work no one gives me a hard time except some harmless banter.
Exactly this. National media was expecting their "virtuous" reporting to claim Meyer's scalp and set back the program years. If OSU wins this week the Smith drama will basically be behind us and Meyer moves forward mostly unscathed.
Didn't read the article, but i'm guessing that it laments the terrible football factory that is OSU and how Meyer wasn't punished enough.
Expect to see articles like this if OSU makes a playoff run. It will get clicks and allow for some excessive journalistic righteous indignation.
I think Day can handle it, but it only works if Meyer is on board and wants to coach a limited number of years. It allows you to be up front with recruits.
If Meyer is non committal about his time frame it could be a disaster.
A common sense take on the Urban Meyer situation not often heard in the media echo chamber.
http://thefederalist.com/2018/08/31/mob-hounding-osu-domestic-assault-claims-destroying-due-process/
Here are some questions all those columnists and TV commentators demanding that this or that coach be fired for not "doing the right thing" should consider: What is your employer's policy on domestic violence that occurs away from the workplace? Does it have one? If you are accused of domestic violence, but not charged nor convicted, will you be suspended? Will you get paid while suspended? What if a member of the sales team or production department is so accused? Someone who runs the press?

And how many of these folks preaching from their bully pulpits have, in their lives, heard rumors or even allegations of colleagues committing domestic violence? Having worked in that industry for more than a quarter century, I can tell you that journalism is no more immune to domestic violence than any other career path. Did every columnist, every reporter now calling for Meyer's head report every rumor and allegation to their own human resources department?

There's a lot of sanctimonious finger-pointing by the media right now, but very little in the way of thoughtful reflection. For starters, the media's obsession with athletes and coaches accused of domestic violence seems oddly subjective. What about accountants? Line cooks? Auto mechanics? Doctors? School teachers? Should everyone who is accused of domestic violence immediately be fired? Why just athletes and coaches?
TL,DR: It is ridiculous to expect an employer to investigate and punish and employee who was never arrested or charged. We live in a society where you have the right to face you accuser in court and be tried by a jury. At what point does an accusation against you (that doesn't even result in charges) disqualify you from employment? How would firing said employee help the situation? How would sportswriters feel if an accusation led to their dismissal?
Mods: This comes from a political website, but it is on topic and makes sound logical arguments.
Dude, you just spend 1000 words comparing the two and then told us not to compare the two.
The reason for the comparisons is that many wanted Haskins to supplant JT last year and now are seeing how great the offense looks.
I respect both guys, but it isn't just play calling. Haskins is just a better quarterback. Respect JT and his leadership though.
Let's just assume for a minute that the Meyers may have had access to a lot more information about CS and reasons why she may not have been trustworthy. Explaining that puts them in the untenable situation of criticizing the character of an alleged victim.
This will make a great book someday, but until then lets assume there are some facts that even LCT is not aware of.
Having said that, it doesn't make sense they wouldn't have discussed it. But if he admits they discussed the texts then Meyer would have to explain why they didn't believe her, which he can't do.
ESPN knows that OSU has and enormous fan base and an even larger group of fans (of other teams) that hate them. Every time you say or write something negative about OSU it gets ratings and clicks.
The manufactured moral outrage over the Urban Meyer suspension would have been about 10% if it had been Minnesota or Texas Tech.
OSU sells, good or bad. Disregard the love. Embrace the hate.
He was a first team punt returner on the depth chart, then Saunders returned two in the first half. Demario returned one in the second half. The cleveland. com podcast surmised he could have been suspended for the first half.