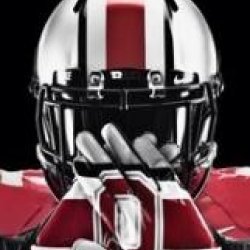 BuckeyeKing02
---
Member since 12 March 2013 | Blog
Buckeye born and bred. 2003 graduate. Blessed to have observed some glorious OSU football and basketball moments. Go Bucks!
Favorites
SPORTS MOMENT: 2002 National Championship game, every win over scUM and every home football game in the 'Shoe!
Recent Activity
Out of curiosity, what do you do for a living?
And in the biggest game, he gave his RBs more runs than his QBs!
Yes, thought the same thing when he said it, then realized he was just trying to pump the game he was announcing. Gotta build that buzz for every game to keep your employer solvent!
Good comment. I agree with Meyer's list, but it also plays well with the fact that his system is known for QB runs.
What time is his announcement scheduled?
I like what this tweet is trying to convey, but something doesn't add up. Based on the math, Meyer would have 108 commits to Harbaugh's 57.
Could you elaborate on (or link to) Andrew's story about the staff telling him to look around? I missed it.
Thanks for sharing. I'm not familiar with freestyles, but the talent displayed is amazing. Things like this are just another reminder to me that it's a big wide world out there full of unique and talented people. Pretty cool to journey to a different part of it for 10 minutes and venture to an area I'm less familiar with to learn something new and be impressed.
I respect Wisconsin like I do the Amish. I could never in my life live that lifestyle, but I respect the fortitude to hold on to the old ways throughout humanity's rapid descent into the technology wormhole.
Without a doubt, the best take I've ever read about Wisconsin football—and I feel like the same applies to their basketball team annually. Kudos, DJ!
St Johns Attendance: Sell-out or near sell-out (basketball)
Schott Attendance: Where is everybody?
This would all be so much easier (and more fun to watch) if we had an 8-team playoff. 5 conference champs plus ND and 2 wildcards (SEC runner-up and one other) this year would make things quite interesting. Let the best team prove themselves among the best!
Completely agree. Really nice to have balanced commentary that gets excited for big plays, still gives good technical details and then acts like a true fan of the game and lets fans feel like they are along for the ride.
Anyone know where I can get one of those baseball hats? The gray hat with the scarlet lettering looks pretty sweet.
Thanks for the info. Makes a lot more sense now.
Could someone in the know please explain Scruggs' comment in his tweet referencing, "Ashtabula, we good!" Is that a shot at Urban given he's from there or just something else I'm completely out of the loop on? Just seems like an odd comment for a commitment tweet, but what do I know, I'm getting older by the day.
Same here. Absolutely hilarious young kid chicanery. Having been to that diner in the Lincoln Park neighborhood of Chicago many times and now having heard the song for the first time, the word picture is so clear in my head. What a great story. I can't stop laughing.
Cardale with a crossbow -- great pic!
Great synopsis of the current college football coaching landscape. Spot on.
Been watching Ricky Slade's clips since Birm mentioned him back in 2015 when he was just a freshman. Kid looked like a little Reggie Bush then with all the upside potential in the world PLUS Ohio State was his dream school. I know numbers are tight and we might get another one just like him (or better) in Gill, but it would be cool to get him in the class somehow. Seems like a very special talent.
Agreed, and great counterpoint to Helmholdt's critique. Birm even said as much during his write-up of the Army All-American week in San Antonio. I have faith that our O-line coaching can develop his pass blocking technique.
Thanks for the post. He definitely has high upside potential and just watching the video affirms that. I think the key to his future success will hinge on something you highlighted...
once he gets a few years of elite training
Let's hope he (and all of our WR's) will get it. DJ's Skully this morning mentioned something similar and how that has been lacking in 2016. I'm confident we have all the tools and weapons in place to be an elite offensive team, hopefully 2017 will be the year they all come together. He could be a key contributor if it happens.
Wish Tyjon the best, but also wish he was a Buckeye!
If he can get paid to play on Sundays in the NFL while not risking another serious injury while in college, he should take the money and run!