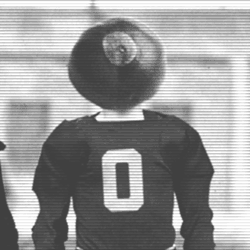 BuckeyeJosh
---
Member since 15 October 2013 | Blog
Recent Activity
50 cents....50 cents is the savings.
I interpreted this whole leaving thing as "well, it would be a lot easier to win in the ACC"
I have heard this too from people who have talked to people on the team and equipment managers, FWIW. I'm still not sure I believe it though.
Yeah I'm stooping down to the "I know a guy who knows a guy" less than 4 hours from kickoff.
It could be worse, we could look like the Big12 right now.
Don't forget jalin marshall
It would be difficult to explain to his players when he's coaching at Notre Dame in a couple years
almost threw some mop boys out...at cleveland
https://www.youtube.com/watch?v=wIsuoZlStw4
It's been 8 months or so since his surgery, if he wasn't able to spring I'd be very concerned. If he weren't an elite athlete having to throw a football with velocity, he'd be full go by now. But because of the necessity of throwing a ball at game speed and even getting hit, he needs the extra time.
This is...disturbing. I'll let you know if I have nightmares about it tomorrow.
pretty sure russell was on the bench most of that, too.
could also just say under performing seniors at this point...
probably...I'll look into it
EDIT: assuming the coach leaves
No, he can rarely hold onto the ball.
I watched all 5 seasons of Breaking Bad in less than two weeks. Got to love being in school...
I'll be honest, I was looking for a quote about money. I really don't see much in that quote, though. If they didn't know Drayton was leaving, it could not have been done any differently.
I wouldn't be too surprised if a lot of the Michigan natives wait to see how the 2015 season shakes out for TTUN before eliminating them.
Not "real" sources, but I graduated from gahanna and have siblings still there. I just know the family and know he is taking senior english at gahanna right now so that he can enroll early.
Not sure if he has publicly announced it, but he is going to.
Maybe this is a stupid question, but did Drayton recruit Florida?