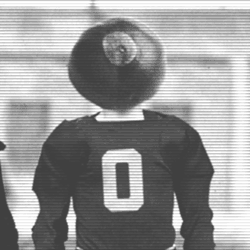 buckeyejma
from Columbus, Ohio
MEMBER SINCE December 25, 2011
Buckeyes have been my Team for the past 55 years, there are so many excellent players thru the years, just to watch them play is enough for me.
Favorites
COLLEGE FOOTBALL PLAYER: Joey Bosa
COLLEGE BASKETBALL PLAYER: Jerry Lucas
NFL TEAM: Cleveland Clowns/miss the orginal Cleveland Brown
NHL TEAM: Bluejacks
NBA TEAM: .............
MLB TEAM: Cleveland Indians
SOCCER TEAM: Columbus Crew
Recent Activity
Out of curtsey and respect for the former assistant coach, I would acknowledge him by a head nod or hand wave, remember he is representing his present school and to me it would be disrespectful to do so.
I believe the Ohio State University needs to reopen this investigation, and let all members of the BDBITL have their interview, you don't want to eat a half baked cake. Let the chips fall where they may. Too many time things are done half-assed, lets clean this mess up and make The Ohio State University shine.
Sounds like a plan,but I want the Big 14 (BIG10) to be a reflection of the so called SEC Super Conference (ESPN promotes them as the premiere college conference with their cash backing them). So we need to put a end to their domination. I want our conference to wake up and compete and not be a Hoke or joke! O-H.

gr8t questions by members of Eleven Warrior family, also want to comment on excellent answers of Mr. Hilliard. Just makes ya want to jump in and say HELL Yeah!............. and GO BUCKS..................
You da man Arron! just think if every player put that kind of effort into their playing time.
If I remember right when Braxton Miller was a freshman he wasn't a great passer either, its a big jump from high school football to college ball. Braxton has had many individual one on one lessons to improve his passing, This is not a put down of Braxton because with this training he has become a much better quarterback and I believe that to be the case with Gibson. The only thing I worry about is his attitude and immaturity.
Congrats to coach Ash and his bride to be. I hope they have many wonderful years ahead of them and I want to welcome her into buckeye nation. OH-!
I believe Hilliard has already made up his mind, he just wanted to make the announcement at his high school and that is the earliest date he could arrange it. Anything can happen and change a recruits mind but, he has been visiting Ohio State alot and seems to have a close and special relationship with the coaches and players. I believe his decision will be the scarlet and gray. Nothing is final, until its signed.
Stars don't make the man! Desire to compete and work your ass off to prove your the man, make the man! To much social media can harm the man.
I see huge accolades for this new recruit...welcome aboard Mr. Feder, by the way never saw a bigger H in OH-IO! Next up please.
If this does happen can we say this is a SONIC BOOOOOOOOOOOOOOOOOOOOOM!!
Could be any one of the Ohio boys, was quite surprised with the Burrows offer and commitment. I do believe we could have one or more commits or how about Matthew Burrell for a out of state commit.
Hey! double yr pleasure Earle. thanks Earle you have me doing it now LMAO!
Hey! double yr pleasure Earle.
My answer is its not his time to retire or leave the greatest university in the United States, if we're going to play that game your question should read Who is going to be the next head coach @ *ichigan or better known as ttun, that's a more realistic question than your post.
Your in good hands with Coach Myers, the rock star will shine again! Go Bucks
There are a lot of diamonds in the ruff just waiting to be discovered, in the film he looked pretty good and he deserves a look at, to see what he's made of. Mr. Burrows Good Luck wherever you may end up playing your college ball.