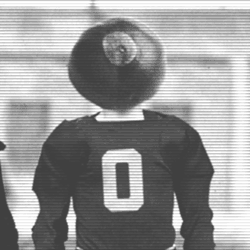 BuckeyeJim
---
Member since 07 December 2011 | Blog
Recent Activity
Will he be the next 3 point shooter we need? Amethreeo or Ametrio, I hope be becomes that outside threat that we need.
Thanks from me too. I got too jumpy and made some assumptions. I trust Urban. I trust Urban. I trust Urban. I trust Urban.
With the posting on YouTube by EE, do you think he will still be a Buckeye? This scares the crap out of me.
Who is their coach, Bollman?
He will love playing in the Shoe.
Woulda, Coulda, Shoulda - OSU kicked a lot of asses and won the B1G many times in the process.
This seemed like a movie where WB's body went into DT and Sully. The numbers were all wrong. WB took more shots than any player in Buckeye history. I don't know how proud he is of that record. He had all the talent to be excetional but not the mindset. Good luck in the future WB.
Remember, you are part of it.
That sounds great to make it that far that many times.
Thomas is gone. There is a slight chance Sully stays 1more IMO.
I think Mariotti needs to work with this team. They need toughness and endurance.
I thought Buford brought senior leadership tonight. Good luck in the league WB.
Every Buckeye Fan wants WB to do well in the final four. It is really tough to watch the young man go through this kind of anguish. He most likely feels that he has not played his best as the senior on the team. I hope he has a blast in Nawlins. Go Bucks.
Woody hated ttun and let his emotions show. Woody was also the greatest recruiter ever for ND. If there was some kid that Woody was trying to get for OSU but the kid also thought about going to ttun as a better fit, Woody would convince him that ND was a better choice.
I agree Maestro. Whenever we get called "Ohio", and I can say is "SO".
I wasn't a Buford hater as much as I was wanting Thad to change things up. Izzo benched one of his seniors until he got his game back. I am really happy for WB and the Buckeyes. This is a good springboard going into the BiG championship.
Does this make your 6th birthday? Happy B-Day anyway.
OT - According to Marcus Hartman, Kerry Coombs interviewed for OSU CBs coach. Good Ohio guy.
That thing standing next to ET gives me the creeps.
I thought Ross looked well on offense, but he didn't do so well on defense. With such limited playing time, I don't think anyone could ask for more. Give him more playing time coach.
Thad, tell DT to shoot more, not wb
DT DT DT