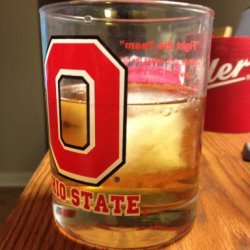 Buckeyejen
---
MEMBER SINCE December 07, 2014
Recent Activity
So my dumb ass read this as "BRANDS" not "BANDS" and I was about to go off about Vineyard Vines being overpriced crap.
Instead, I'll just contribute that I hate the Beatles with a white hot passion.
I had such a big smile on my face when I heard "M-V-P!" last Saturday at Audi field. There were tons of Buckeyes there - it was a great time! Go Defenders! Go 12-Gauge!
I'll be there on Saturday cheering for our former Buckeyes!
We were going to go but ended up doing other stuff. I kind of regret not being there - looked like fun. I hope it's not the coldest day of the year on 2/8!
I'll be there with my husband and a friend of ours! Anyone else going? Should be fun!
Following this thread! I've got a group of 6 that will be out there to continue our '9 year plan' of OSU home/away games- which all started in Jerry's world winning it all
'Centuries' by Fallout Boy- same as the day we played Bama! GO BUCKS!
I, too sat in that stadium in 2003 and felt like that, and I 1000% agree with your feelings now. I loathe Dabo with every bone in my body and would love NOTHING more than to beat the ever-loving shit out of them and shut their damn mouths.
Logged in to upvote this, 3M. How anyone can be fooled by this doofus slimebag is beyond me.
13 moves in 26 years here (I'm a Navy spouse). This past June we moved up to Alexandria, VA in mid-June and had my husband's change of command ceremony and a party at our house 2 weeks after we moved in. Nobody could believe how quickly everything was unpacked and placed - pictures on the wall, boxes gone, etc. It has become an art form (but still a total pain in the ass).
Whisky Jax in Jax Beach, FL. GREAT fun crowd!
Just watch SportsCenter tomorrow. They do at least 7-8 stories on Clemson in an hour. You'll likely see 1/2 the game during one episode!
Yeah I took some shit from someone in a grocery store here in Northern VA.
I lived in Belgium for 2 years. Paris is nice, but can be overwhelming. We went twice while we lived over there and I don't need to go back again. There are dozens of cities we liked more. As for Barcelona - it's amazing. You may want to look into booking a tour of Sagrada Familia online so you don't have to wait in line for hours. If you're open to another city instead of Paris, I'd suggest Lisbon, Florence or Split, Croatia. Those were my favorites over there. Definitely look into Ryan Air or Easy Jet. Switzerland is incredible too but insanely expensive. Have fun - Europe is great!
God this is brilliant. I had chills, was tearing up and ready to beat the crap out of something all at the same time. Love you, Urban!
I live in Jax. Florida fans are RIDICULOUS. They cannot and will not let the whole Urban thing go. It's insane. When they start on him being a cheater and a liar, I thank them profusely for giving him to us, and for the B1G titles and the natty. They usually look at me like I'm crazy.
I loathe Florida fan.
Rather than taking the train south from Seattle, take it north to Vancouver! It's just a few hours, and the views are unbelievable. At times, it almost feels like you're riding on top of the ocean. Vancouver is an incredible city with lots to do - Stanley Park, Granville Island, etc. It's fabulous.
I generally love Duke hoops. But I absolutely HATE that guy.
Logged in to upvote this comment. Great stuff!
They did a great job and Dwayne was great. He was probably happy that someone was talking to him.
The Jags are ready to welcome you, Dwayne!
I can only hope that if he does coach again, our fanbase wouldn't be anywhere near the assholes that gator fans have been since he retired this week. It's incomprehensible.
Crumb, this makes perfect sense to me.
I am stunned (although I probably shouldn't be) at the reaction from UF fans, and a Miami fan that I know down here in Jax. They're all still bitter assholes who are gleefully celebrating this man's retirement due to his health. As I said to one of them "you won't be happy until this man drops dead on the sideline". I don't get it, but my patience has been tried all day with these morons.