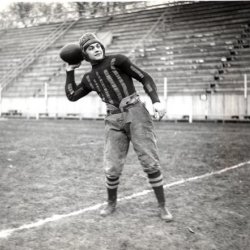 BuckeyeJay
---
Columbus
MEMBER SINCE August 01, 2012
Favorites
NHL TEAM: Blue Jackets
NBA TEAM: Meh
MLB TEAM: Meh
SOCCER TEAM: Crew
Recent Activity
Tennessee broke Greg Schiano.
No, he did have bad hands. He just worked his ass off to get better, and his investment in himself is now paying dividends
I think you mean Heismanbrook
I agree. Plus, Wilson's resume as an OC is actually better than Day's.
Chugunov had one of the best throws of the day, connecting on a perfectly thrown deep pass to Chris Olave
Chug for Heisman
Drew Carter's story is such a sad one. When you watched him, he was as fluid as a 5'10 receiver and obviously had speed to burn. All of this in a 6'4 205 lb frame. Poor guy just had injuries on top of injuries.
He's so bloated from water retention that he has now dropped out of all the on field workouts.
Damn, Campbell came in at 5'11 7/8 and 205 lbs decent sized hands a good wingspan though
I am really intrigued to see Campbell's size. If he is 6'1 205+ and runs a 4.3 his stock will really jump
Prince's issues have always been in his own head.
Man Prince is a physical prototype OT
An invite from Ohio State
That was Conner cook
The creator posted on Reddit. Cousins is a good QB but just isn't a "killer". He says that Haskins is going to be a stay monster in the NFL like Cousins is, but thinks he is going to be more of a "winner" with that "Killer" instinct. Its not an insult at all. The creator is also very high on Cousins skiillset to begin with
Only anything that was kept on record by Ohio State would be subject under Ohio Law. The NCAA is not bound by Ohio Law.
That was under Ohio Law
I guess thats my fault for not specifying which league.
Baker is also 6' tall and 200 lbs
Ive never seen a 5'8 180 lb franchise QB
He made plays when he was in position, especially in coverage. The problem is, was he out of position because of his understanding? bad coaching? both?
This is stupid. The player they keep commenting on, Brian Cobbs, has a RATING that is higher than when he committed. A lot higher
This comment section is disgusting
His work as primary recruiter stinks but he is credited with a lot of big fish as secondary. That means that he sold them as their position coach.