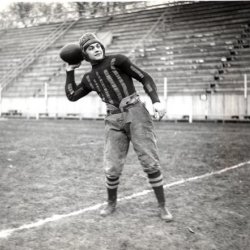 BuckeyeJay
---
Columbus
MEMBER SINCE August 01, 2012
Favorites
NHL TEAM: Blue Jackets
NBA TEAM: Meh
MLB TEAM: Meh
SOCCER TEAM: Crew
Recent Activity
Dontre was extremely explosive. He was really beginning to make a name for himself before he broke his foot. DB's just could not cover him when he came out of his breaks. He just never had that top end speed that we expected him to have. IMO he was on a trajectory to become a very good slot receiver. Unfortunately his foot just never recovered
I think Rondale is much scarier
Victor has quietly become a weapon this year, and I think he is going to play a major role as the schedule gets tougher. He is a matchup nightmare size wise, and he seems stronger and more focused this year. He also appears to be attacking the ball when it is thrown to him. He currently leads the team in receiving yards
Indiana's Penix is injured
Just a guess, but I would bet that they just wanted as many reps as possible in the new base defense, hence the minimal adjustments.
I don't like the take on the defense. Ohio State stayed in base coverage the entire game. Another game or 2 before I start to become concerned about what they are doing on defense adjustments wise
Chad Cacchio deserved a write up
Tate is 3rd string to this? Lol
Doubtful. He is QB3
Brown's was extremely gruesome IIRC
I thought it was $1,000 per player, then they purchased a buy in slot
He's really only getting $40k. He put up the $100k entry fee
It was like 85 and humid this morning, how TF is Washington wearing a hoodie?
Grown n sexy
Why isnt the best one being posted!? https://imgur.com/a/EWchIS8
It will be really interesting to see how it is structured beyond the $61 Million.
There absolutely are supplements contaminated with Ostarine, they use a different name on the label
even when supplement labels declare ostarine, it can be called many different names, including MK-2866, enobosarm, (2S)-3-(4-cyanophenoxy)-N-[4-cyano-3-(trifluoromethyl)phenyl]-2-hydroxy-2-methylpropanamide, and GTx-024.
I believe it was in something they were taking that did not specifically spell out that it contained "Ostarine"
Not sure why the laugh friend
http://www.espn.com/college-football/story/_/id/26177207/tua-fromm-ncaa-secret-draft-prep-nfl-combine
I think Tyreke Smith is the next big thing before Harrison. Remember, Smith went from not playing football as a Freshman or Sophomore, to being the #34 overall recruit on signing day.
There is a secret combine that the top tier players go to. They discuss finding an agent and I believe review film
Loooooooool Hopefully Haskins is thinking "well if Gettleman is THAT dumb, I want no part of that"
Tennessee broke Greg Schiano.
No, he did have bad hands. He just worked his ass off to get better, and his investment in himself is now paying dividends