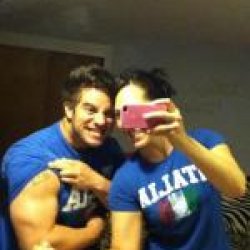 Buckeyejason
---
Strong Island, NY (via Indio, Ca)
MEMBER SINCE July 22, 2011
From Southern Cal, live in NY..familys from Youngstown Ohio. I'm just ME.
Favorites
SPORTS MOMENT: 2003 Ohio state National Championship
COLLEGE FOOTBALL PLAYER: John Simon
COLLEGE BASKETBALL PLAYER: Aaron Craft
NFL TEAM: Sanfransisco 49ers
NHL TEAM: Non
NBA TEAM: Cleveland Cavaliers
MLB TEAM: Cleveland Indians/ NY mets
SOCCER TEAM: Non
Recent Activity
...
Ha! Figured id get these responses. Such blind ignorant fools I tell ya.
Great performance by Elliot! On his way to 1500!!
How can you seriously say you dont agree that Devin Smith hasnt been used correctly? I mean, really! ? Hes perhaps one of the most talented recievers that OSU has ever had and he gets thrown to 2-3 times a game it seems.
Holy crap, ive never seen numbers like those! This guys a BEAST!!
I have to say..with all the 4 and 5 star Army and Under Armour all Americans on this defense..they are pretty damn soft. This Wisky game gives me a bad vibe..
I have a feeling one of the 4 teams ahead of us will lose this weekend.
We dont throw the ball enough to him. Targeting him 2-3 times a game is a disgrace. .just like using Marshall twice against Michigan. Smith could've broke some school records if he was thrown to more.
I dont know about "way" better. Perry has 108 tackles, 8.5 tfl, 1 sack, 1 int and 1 forced fumble. Thats pretty good numbers right there. Lee has been great though..I thought he deserved at least honorable mention honors. Just didnt have enough total tackles I guess..
Good to see Simon back in the league.
This made my stomach drop. What a terrible tragedy. R.I.P Kosta
Pretty impressive year for McMillan..considering ye wasnt a starter. 100 + tackles easily next year.
Its crazy. .Elliott is probably gonna end up with about 1400 yards rushing and 12-15 td's and wont even make the All Big ten team. This league is stacked with tremendous RB's this year!
Great win. Sucks for JT. What a way to go..ugh. St least he broke the Drew Brees record at least. Hell of a year! Defense is still to soft and scares me.. All Darren Lee does is make plays!!! Man that boy can FLY!! NO Mention of Bosa tying the OSU record for a season?
Thats awesome thanks for letting me know it was good. Glad u had a good time with the kids.
Ahh yes, I forgot about that one. Thats definitely achievable if he keeps up his average.
Is Bosa on pace to beat the OSU sack record(season)? I believe he has 11 or so.
Why not 3? Most LB's play into their senior years at OSU.
Booker wont start over Lee, Perry or McMillan.
This is why twitter is the worst thing ever invented
My sentiments exactly Indy Buck.
How is it possible that this kids playing how I thought he would play as a jr./sr. In his first year on the field!?! Just incredible. .. Keep reminding yourself. .hes beating OSU records as a FRESHMAN! !
Look, sports is basically like business. I feel sorry for Braxton but the business has to keep running. Business is business. .emotion cant come into play.