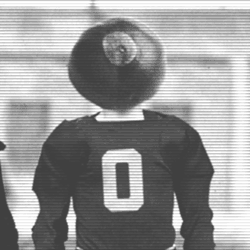 BuckeyeJAK
---
Member since 02 September 2013 | Blog
Recent Activity
Go Buckeyes...Crank up the scoring.....let's roll.
How about the all grey with red helmets
So lets just say for fun both Wilson and Munford want in...............
enjoy them while we have them it looks there is the potential for one heck of an exodus at the end of the season.
I am really enjoying Tyquan Lewis's attitude .
With the unproven talent in that room if no less than three devlope we either need a new coach or better recruit evaluations
Coach Smith you are on deck...Get zone six going.
unexpected move to wide receiver ? As i recall it was Mr Gibson who requested the move to help the team......
That Thad is one hell of a coach. Can Urban find someone to replace him please.
Early out Thad has earned a spot on the hot seat
Relax it's not all that long until spring workouts and practice. It's that summer wait that seems to drag on and on and on.
SHHH I think I hear Jim Hairball crying................
Can you say loaded because we are.................
The team raves about Eric Glover Williams will he get a look ?
Time for Mr. Smith to make his mark as a coach .
I would also like to see the back up get meaningful playing time including throwing the ball. Remember next man up !
I am all for JT being the starter, however I think it should be earned and fought for through competition. All spots should go to the best players if a younger guy gives us the best play and better chances so be it.
Couple this hire with a Kevin Wilson hire Then people better just get out of the way. Go bucks
11 warrior staff how about following up with comments and thoughts by current and incoming players
Has to be better......Now can we get K. Wilson in to coordinate heck IU scored a ton of points under him. Imagine what he could do with the talent the Buckeyes possess.
This is the same play calling giving us two loses to Sparty. Something / Someone needs to change.
Clemson does not have much experience playing against top defenses playing in the ACC , unlike the Buckeyes playing in a better conference . That should have helped them prepare for this game.
I believe if we can get to Watson in the back field and make him uncomfortable we will win the turnover battle.
Running the ball and clock will frustrate Clemson's offense
Go Buckeyes.... See you in Tampa