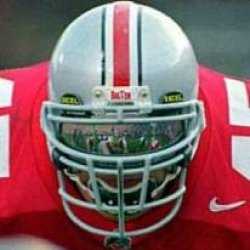 buckeyeinthechi
---
MEMBER SINCE November 23, 2013
Recent Activity
Gave up 38 to Vandy too.....LSU D and Bama D are both suspect.
Have you seen Auburn play? Their D is good, but offense is terrible. They should have lost to Ole Miss this past weekend.
Jump us with a loss? Um no.
After the interview with Urban (about Joe Burrow) - are we sure Colin knows who Chase even is?
This obviously went over the head of a few
Umm...we didn't play MSU in 98.
Tuf still doesnt look 100%, missed assignments and Indy's only TD came from him losing his man. Arnette got a reality check last season and looks different. Hope it continues.
I'll take "penalty prone" teams that still get the W over a team who gets blown out by 30 to .500 teams that shouldn't be in the same breath as us.
I remember betting the OSU TT last year against Tulane (believe it was 50), and after scoring 42 in the first half, I thought it was a given. Only scoring 7 the next 30 minutes was a slow death.
I'm still a bit weary of Arnette.....given his previous play and flag-happy tendencies, I'm not expecting a 180, but any progress - I'll take.
All he did was complain when him and Matt McCoy had their afternoon show on 105.7.
You realize they had a top 5 defense before we played them last year, right?
Says Saban, what else is he gonna say? Also, dont background checks usually come after an offer is made?
What did ESPN report on the Clemson PED situation?
When has Saban or Dabo lost to a .500 team by 30?
*with a backup QB
Northwestern and Nebraska. Everyone predicted last year @ Purdue, everyone saw it coming (minus the coaching staff) and nobody should have been upset given WE KNEW that was the game on the schedule that would be a problem. Mediocre teams on the road are our kryptonite.
When has Saban or Dabo been boat-raced by 30 to a .500 team?
Agree...like playing players who are ready to shine and not having to earn their stripes on ST and blocking for playing time.
1995 against ND....boy was that place loud. Sporting my Bobby Hoying jersey, what a day.
Multiple Nattys
Motion and misdirection? I'm worried if they decide to simply utilize their TE.
Agree, Urban is thee best at creating a gameplan. The issue is when that gameplan doesnt work and we get punched in the mouth. There's rarely a plan B and we're seeing Urban on the sideline with the "wtf" look for 45+ minutes.
Outside of the titles argument, the biggest thing that sticks out in my mind is how Nick more proactive with issues and Urban more reactive. Saban will let coaches go (after winning a title, at that), pull players in big games (i.e. LY title game) and not give two sh*** about what anyone says about those decisions. Urban is too loyal and wont make any changes, coaching or players, until an embarrassing loss on prime time occurs (Clemson, Iowa, Purdue). Saban does what he feels is best for success and doesnt care about feelings. Urban worries about perception (up until ZS, had never fired an assistant) and kicking his buddies off the staff.