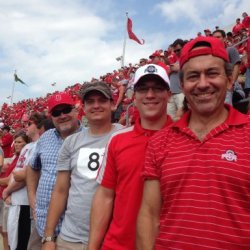 BuckeyeinRaleigh
---
MEMBER SINCE August 01, 2015
Recent Activity
Coaches fleeing Harbaugh like he has the coronaviris, lol. Wait, maybe............
I don't like Dabo Swinney. I don't have to like Dabo Swinney. Dabo Swinney is a tool. Looking forward to him being outcoached Thursday night.
Hartline is the lowest paid coach at $345k. He needs a raise. Our coaching staff is simply ridiculous.
I had a problem understanding everything he said. The mic was in a bad spot apparently and my brain doesn't work as fast as his does, but I still wanted to blast thru the nearest wall and look for a second one. Please give this guy a chance at coaching here, please.
A Ute is like a Montana Mont, or a Florida Flo if you catch my drift.
Chase is awesome but on several of his sacks yesterday he was the second guy to the qb. Next year we will have another qb killer to watch!
I was at the Rutgers game. It was cold, and that place has horrible lighting. It was difficult to sit and watch a game there. It is not much of a campus either. My whole thought was just get out of here without any injuries. Me included.
I'm sure it killed the committee to not put Bama in the top 4. But since they more than likely won't be in the SEC championship game, they had to be thinking, we just can't put a team in the playoffs who didn't even play in the conference championship game.
Then they all had a big cry.
I was over joyed to see they left out Sweeney's weenies. You may be undefeated but when you schedule Wofford late in the season you shouldn't get rewarded. Two of the top 4 teams will have at least one loss at the end because they play each other. This still should not allow the weenies to get in the playoffs. They play nobody all year and I mean nobody. Don't reward that.
Gender reveal parties are for those who crave attention, and think everyone wants to orbit around their existence. The people that I've known who had them fit this description. A lot of young couple do not have them, and cite this reason so it's just not me.
Coincidentally. I got laid last night so it doesn't seem to affect one's opinion.
I think we thump them, mostly because our defense has shown that has no weakness to exploit like it did last year. And our O-line is plowing everything it sees, to the point where we need several running back solely because they get tired from running so far and need to rest.
What's the fascination about watching the Buckeyes at 2:30 am? I'm on the 5th replay at about that time, going to bed isn't even on the radar yet.
I like the poll. And I'll be honest, I read just as much TTUN websites as OSU's. To listen to their snobby fans whine about Hairball or try to prop up their team still after 15 years of mediocrity is just too fascinating. I go to MLive.com and read the comment section of the articles. A lot of Spartans troll the TTUN articles, it's entertaining to witness their infighting.
Play the marquee matchups at 8 pm.
I hate Oklahoma. Mostly because of Faker Mayfield but also just because.
i really don't want LSU stickin around in the top 6 either. If they and us both go undefeated they will be looked upon as the better team. But their schedule is murder so eventually they will lose one.
Joe Burrow is one of the best qb's in the ncaa right now, and he will have a chance to carve up the overly hyped SEC teams for me. I'm hoping he lays waste to each and every one.
Add more offensive wrinkles, but show none of them against Northwestern. I would run the rock and make the game a practice session for Fields to brush up on his sack avoiding skills. Oh yeah, and let the predator get 3 sacks before pulling him.
I doubt Wisconsin will be favored to win this game. I think the game will be an impressive show of running and stopping the run, with Wisconsin coming out on top in the end with an upset victory.
Those were our last 3 games against them by the way.
49-26
49-21
38-17
Indiana plays over their heads for the first part of their games with us but almost always ends up getting beat soundly. I think the 14 is way too little points. Take the Bucks, we win by 21 or more.
"Fields still has plenty to prove. I'm not 100% he's the real deal."
Wow. What game were you watching? He throws the ball a long ways without effort, outruns 11 guys when he needs to, scores 5 touchdowns in his first start out of high school, all while playing for a team where he is fairly new. He just set a record for his performance.
Seems most units appear strong. Not thinking about any of them but the linebackers. Still concerned about how slow they looked last year. I know all about the new coaches, new linebacker assignments, all that stuff, but that doesn't make a kid run faster. If you can't spin em like Darron Lee or Ryan Shazier, no coaching is going to help you. I'm still concerned. Rest of the team looks tremendous. Go Bucks!
I doubt you win the Big10 east with 3 losses.
Wait, of course he won't say Michigan on live TV. He has a new name for them as I recall.
"You never lose to those pricks, never."
Hopefully he will use this new name.
This stuff seems asinine. Let's hand out the awards after the season.
All I can say, is he just became my favorite player.