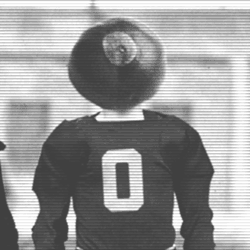 BuckeyeinGA
---
Savannah, Ga (via Carlisle, OH)
MEMBER SINCE August 26, 2014
Favorites
SPORTS MOMENT: 2002 National Championship Game
COLLEGE FOOTBALL PLAYER: Antione Winfield
COLLEGE BASKETBALL PLAYER: Aaron Craft
Recent Activity
Jamarco Jones playing TE now or something?
I'm not sure what he meant by it- maybe just some jumbled up thoughts came out awkwardly- however it sounded like he said something about not getting the chance to play at Maryland so he's got a chance to "do it right" this time. It was odd to me as well
My parents, especially my dad would tell me to man the hell up and suck it up for this season at least!
If its homesickness, that's soft!
If its a promise to Fields prior to him signing with us then that hurts Days credibility in future recruiting.
Either way- the optics aren't good here.
man I was looking forward to Baldwin possibly winning this spot and seeing an offense with far less read option like what we saw for Haskins - now not so sure. My opinion is Baldwin is better passer.
I actually think Gene's rambling here and his willingness to talk and totally say the opposite thing Fields lawyer said only opens it up to more questions. I mean, didn't the lawyer release a statement saying it had nothing to do with the racial slur situation??? Now Gene is confirming that basically that was the issue.
Maybe a simple "we are happy that Justin has been granted his waiver and we appreciate the assistance received from UGA who continued to hold the student athelete's best interest in the highest regard"
Regarding one time no penalty transfer, I think it should be allowed out of conference only. Transferring within conference makes it too difficult to prevent sharing of information regarding playbook, signals etc.
He's just not the best at man coverage in my opinion- but he can do it. As many have said, if he looked back for the ball he would have been flagged a lot less often. I believe in Hafley, and I also believe in Arnette. While I thought he would be a really good safety all these years, it turns out he stayed at corner. I believe he will improve this year and Hafley well help by improving technique but also getting us out of man coverage so much. I expect big things from Arnette and only think this move will help him. I also think Okudah and Wade should be outside and let Arnette play primarily nickel
Still think we need some legit bigs. Our big man depth took a hit with Potter transferring and Funderburk leaving- we are seeing that play out right now. Wesson at 6'9 is a great post player but still lacks ideal length and struggles with true centers. Lender is very raw but has some potential. It behind Wesson and Ledee we are all small ball. Need some bigs!
And we wonder why Micah Potter transferred?
Those Bo- Rounds are really good too!
FYI Marcus Freeman isn't leaving his DC job to come coach LB here. He should be looked at for the DC job. I also like Jon Tenuta (from C-Bus) who is on Ficks staff at UC and has probably taught Marcus Freeman a lot about being a DC. Tenuta was a big name only a few years ago but got caught up in quite a few head coaching changes- I remember he played really agreessice style of defense with ND and GT I believe. His defenses put a TON of pressure on the QB
Sheffield supposedly is a fast guy but dudes are always behind him and the NW back pulled away from him the B1G championship game- and he was clearly trying to run the guy down. If he's that fast he should be a better corner because of makeup speed- Idk - I don't remember seeing his speed in a game.
UGA played at ND last year in 2017. I believe 2019 is the return of the home and home and ND will play between the hedges in Athens
Maybe Ohio State didn't offer them a preferred walk-on spot? Also, I agree with poster on Dabo pulling serious PR move, and maybe a bit more OSU trolling as well...
And turnovers- just like the Maryland game.
Free Demario McCall!!
Dude is a difference maker and could really give those skunk weasels fits
Dwayne should have handed to Run DMC on that read a little bit ago
I'm over this entire defensive staff minus Larry Johnson
How many more times does Meyer have to get out coached before we as fans hold him accountable?
Schiano needs to go. I hope he gets a new job. Fool me once shame on you, fool me twice shame on me. No excuse for how bad this defense is. Period. Schiano is accountable as DC.
Both Lewerke and Lombardi benefitted from some continued poor man coverage. Sheffield and Okudah both playing that "bail" technique as Klatt called it, allowed some really easy completions.
I thought in "press man" the idea was to contact the receiver at the LOS and disrupt the timing of the route? I haven't seen much of that at all this year. I venture to say the receivers get a free release 90% of the time.
I may be wrong, but again, it seems as if that's the block he was supposed to make for the original RUN play that was called- to simply turn the DE outside away from the run play. When it turned into pass and 7 held the ball it was over.
It looks to me his assignment in run blocking on this play is just to redirect the man outside, kick out block away from the run, but when 7 pulls it on the RPO (which was the mistake) the DE sees it and is able to beat him with a pass rush move because Prince has already done his job and the play likely gets 10 yards if 7 had given it to the RB. This is on the QB who pulled it to throw and the slant from the bottom was smothered, no where to go, sitting duck and negative play resulting in injury. Duane makes mistakes and misreads too fellas and this is one of them.
I think you guys are both right. However, I may be wrong, but the RPO doesn't typically have a designed 3rd option for QB run built in. The main problem is, if 7 decides to pull it to throw while the line is blocking run (which is what they are supposed to do) then the QB needs to get the ball out quickly. A pass rusher going against a tackle who is blocking run will win more often than not if the QB holds the ball too long. That's why there's different techniques for pass and run blocking. There is no time to throw a vertical pass or slow developing route. These are designed run plays that the QB has the "option" to pull to make quick throw based on reading coverage. If the QB is sacked or the line gets called for being downfield while simply finishing a RUN block then that's on the QB unless there is just a blatant blown assignment on the line. I will agree that a more mobile or run oriented QB can avoid the pressure better than Dwayne, but an RPO offense isn't built for a running QB only. Aaron Rodgers does it all of the time. Brett Farve and Payton Manning did it too- it's been around for quite awhile but it's more en Vogue now and has a catchy name. Bottom line is, if 7 decides to pull it on an RPO then what happens next is on him. If the WR he is targeting doesn't win in man to man, if he reads coverage wrong etc, he is a sitting duck back there. That's on the QB not the line.
My opinion, we need to get away from RPOs and pound the rock with the run game and use traditional play action, more jet sweep motions and keep using empty sets as well. Sprinkle in the RPO when the run game is working well and use it for what it's made for- pulling the LBs up and hitting slants or short passes between LB and safeties. That will help with the O line consistency, have the WRs down field blocking RUN instead of of looking for a possible pass and getting beat by their man who comes up to make a play on runs when the ball is actually given to the back. It should help us get back some balance to the offense.