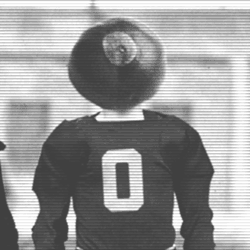 BuckeyeinGA
---
Savannah, Ga (via Carlisle, OH)
Member since 26 August 2014 | Blog
Favorites
SPORTS MOMENT: 2002 National Championship Game
COLLEGE FOOTBALL PLAYER: Antione Winfield
COLLEGE BASKETBALL PLAYER: Aaron Craft
Recent Activity
I kind of won either way- ends up at Ohio State then I'm happy. Ends up at UGA the wife is happy. Good and Good.
But he did nothing wrong...it was self-defense
On inviting paying John Jon Gruden and Gruden's father Jim to Indiana's spring game on Thursday night: "It's pretty special. John's just got a presence about him and a personality."
FTFY!
Headphones or ear buds help for what its worth
The new MIKE on the MIC! I LIKE!
Doesn't the H have to run between the tackles or at times in pretty heavy trafffic?
I'd prefer to keep KJ out wide-- let Parris and EGW hold down the H with McCall at 3rd string.
Keep RUN DMC at TB for the majority of his snaps this year.
Just my zero years of coaching or playing football opinion
Caleb Thorsen and Brad Kaaya have faired pretty well- at least as good as Kiser
Feder is HUGE I would have thought he might project to tackle-- maybe RT to add some depth there. Prince is big ? and Pridgeon was is coming off of injury.
I hope this kid shows out this year
Very telling about the state of this program and the state of tOSU athletics that a mother and father who were BOTH athletes at Mizzou are so excited about the #Buckeye life!
Cradle of coaches for sure!
I think AJ Harris showed some real promise-- both HE and Giddens showed plenty of effort
I think one of the biggest parts of this message is for the players to understand that each of us in life is responsible for what we do- you decide to drink therefore you are responsible for your actions when you drink - the alcohol is not responsible. There are countless other examples as well. We've all been there.
Responsibility and accountability.
Something it took me a good while to learn as well.
This hopefully will be one real-life Wednesday these fellas won't forget.
Just let JT sling it. I think Beck tried to "improve" his mechanics and screwed him up. I hope he can find it again and let his natural delivery get the job done as in 2014. And this is not a insult to Beck- just happens sometimes when you try to fix something you end up doing more damage
My sincerest sympathy and prayers for everyone touched by the loss of a husband, father and friend.
Woody Johnson statement in a nutshell- " He's been great for our team, he's a great man, but he's not worth $ 6 million"
Well that even makes my point more clear. Why NOT Ohio State then? AND- I do think that where you play, the league you play in and the competition you play against will absolutely be factored into your draft stock. Maybe KAT still goes # 1 at Seton Hall or Rutgers. But both play top notch competition in the Big East (typically a strong BB conference) and the B1G. And the other 2 you mention were 1st round picks I agree- but were they elite HS recruits?
Damian Lillard was listed by ESPN as 48th best player at his position in 2008 coming out of HS. Steph Curry was 3 star recruit per Rivals and was really only offered 1 big school scholly to Va Tach who wanted to redshirt him for a year thus he chose Davidson so he could play. Steph had to play 3 years at Davidson to earn a 1st round pick grade and Damian Lillard i believe played 4 years at Weber State. So, ineed- your HS ranking plays into where you are offered scholarships, which factors into the types of players already on the roster and the level of competition you work out against for playing time and play against in games. ALL of that factors into your draft stock. Period.
And the notion that "school XYZ" can get you to the NBA is not ridiculous when it comes to landing elite recruits-- you don't think recruits look at that? Come on man
Still doesn't change the point that Ohio State shouldn't be a difficult sell to 1-2 elite players each year.
I wonder if he was actually drunk in a bar- and they threw him into PUBLIC?
Seriously though- i agree this wont be more than 1 game if that. If he had been actually fighting the cops he likely would have assault charges as well. Resisting probably means he was being difficult before being put on his face and cuffed by more than one officer most likely
Rickey Dudley was good too
EDIT-- Just watched the video haha
multiple NCAA Level 1 (the worst kind as I take it) violations that mainly involve paying cash payments (through boosters) to recruits as well as providing recruits with improper benefits such as meals, transportation and merchandise arranged by 1-2 former football staffers via boosters. The NCAA also slapped them with the "Lack of institutional control" charge which is more serious than the previous charges that had resulted from their earlier investigations. Ole Miss plans to challenge the vast majority of the new charges.
2000 pts is no small feat- dude can obviously fill it up
Bottom line is that you CAN get to the NBA at Ohio State. I would think we would have better luck with some of the better players right now considering an elite level recruit is nearly guaranteed playing time and a possible "one and done" type of scenario. Not that I am advocating for that per se- I would love to see an elite player sign and stick around for a bit- but we need a couple of elite players each year to be consistent. I don't know why you would want to go to Duke or UNC or Kentucky and potentially sit behind other elite players.
Let's not BS, these guys want to get to the NBA sooner rather than later. I just don't see why coming to Ohio State- with a great chance at early playing time, in one of the best leagues in the country at one of the best (or the best IMO) universities on the planet- is such a hard sell.
This was a good read- thanks Johnny!