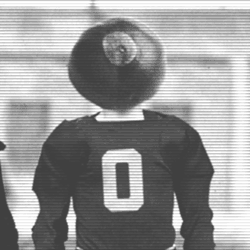 BuckeyeinExile
---
Occupying Georgia for Sherman (via Perkins Township: Sandusky, OH)
Member since 22 December 2011 | Blog
Favorites
SPORTS MOMENT: Sitting next to my dad in Sun Devil Stadium as the orange and green fireworks went off, then seeing that yellow flag!
COLLEGE FOOTBALL PLAYER: Chris Spielman/Orlando Pace
COLLEGE BASKETBALL PLAYER: Aaron Craft
NFL TEAM: Browns, although I don't really pay much attention
NHL TEAM: Red Wings
NBA TEAM: can't stand the NBA
MLB TEAM: baseball is way too boring
SOCCER TEAM: soccer isn't a real sport
Recent Activity
I do like Howard Griffith in the studio shows. He is usually right on the money.
Jerks at MgoBlowg were making fun of him. I hope we don't have too many fans that act like that over here.
If I had these players and the #1 recruiting class coming in next year I would stick around a few more years. I hope he thinks the same way!
For what its worth michigan has barely put up 500 yards on Hawaii.
Its beginning to look a lot like Christmas!
That may be smart, and with the way Weber and the two Hbacks are playing why not.
Hoping the coach knows the game is in hand and is trying to send a message to some younger guys. Hopefully its not an injury we dont know about.
But don't you see that the sky is falling? #FireUrban
It really stinks to have a job where I work on Saturdays, so glad for dvr and the amount of night games we play this year!
I will preface this by saying that my wife is from Tennessee so I have to look at them objectively or I sleep on the couch. That said, I have always liked Tennessee, from even before I met my wife, it has a lot of tradition, a beautiful campus, and is a great place to see a football game. They would probably be the largest stadium in the country if they painted their seats as small as they do in that hellhole in Ann Arbor.
First off it is extremely rude to compare anything to michigan. Any logical fan of college football will argue your point that UT is only as relevant as BYU, Washington, Colorado, or Pitt.
Second, I don't think you can judge any team by the first or second game of the season, does anyone remember how the sky was falling after a certain night game in 2014? I don't by any stretch think UT will do what we did that year but still.
Third, Tennessee had one of the youngest teams in the country last year, similar to how we are this year, just with less talent.
Fourth, Tennessee claims 4 National Championships since 1950 compared to the half of one that michigan has in that same span.
Fifth, I lived in East Tennessee for awhile when I went to grad school, as well as Mississippi(don't ever go there), and now am in Georgia (the last two due to work, not by choice) I never noticed all that many Tennessee people riding the SEC coattails like the Mississippi and Georgia people tend too. Historically East Tennessee has been a little different then the rest of the state and the rest of the south, if you read your history books you will know that most of the men in East Tennessee stayed loyal and fought on our side during the Civil War. They also for the most part don't do that annoying dress up for games crap that the rest of the SEC does.
Sixth, App State won their conference last year and is not the same App State that beat michigan. They are much improved even from how good they were then and are a division one team now. How many one score wins in home games have we had against schools over the years like San Diego State, BG, Marshall, Navy, Toledo, and Northern Illinois, and those are only ones since 2002. After every one I remember so-called fans ready to toss in the rest of the season and that we were going to be awful and Tressel or Tom Herman don't know what they are doing.
Seventh, Tennessee would have found a way to lose that game last year, they found a way to win this year, which I think shows improvement. I don't think they are going to be able to win anything more than a divisional title in a weak SEC East this year, but again, that is more than michigan will accomplish. Some (not many as the OP stated) have picked them to win the SEC and go to the playoffs, I think most UT fans would not readily agree with that.
Eighth, unlike most mouthbreathers in SEC land, most Tennessee people I talk to genuinely love football, know football, enjoy talking football, and can be objective. That was not the case in Mississippi where it was more a social occasion than anything (it is actually cool if you are a student at Ole Miss to be "fashionably late" to football games).
Ninth, if you want to compare two teams, Ohio State and Tennessee in the 90s are pretty darn similar, both were fantastic at times but just couldn't beat their rival. Their band is good, though not as good as ours. Their fans are probably one of the most passionate fan bases in the country, win or lose. They didn't quit on their team the last decade like Michigan fans did when it was tough going.
ps - All this Tennessee support aside, my wife and I don't talk about 1998. I sat in the Shoe with my dad until they turned the temporary lights out on us after we lost to MSU. There is no way we lose the National Championship game that year.
I have a three month old also named Abraham. Reading this made me shudder. Hope and prayers from Mississippi!
That was a good synopsis. I don't want to give anything away to anyone who doesn't know his story yet, however they really don't make people as tough as he was anymore.
Pretty upset to find out the things they added to the movie that didn't really happen. I am a history nerd so i will definitely go see it, however I suggest everyone to look up Hugh Glass and read his story. Its a shame they had to change up the story because the truth is amazing enough!
Great write up! What is your background? I work in the historical interpretation field and thought you made a complicated battle easy to understand for folks that may not be as familiar with the topic.
And just think, if he wouldn't have quit on us in our darkest hour he would have a ring.
As someone who's formative years was during the 90s I do. This isn't enough. If we win the next twenty games in a row it still won't be enough, however it is pretty enjoyable for now!
We won the first salvo here against a new coach. If you think for a moment Harbaugh won't be planning for this game for next year already tonight in his basement you are crazier then he is. It is going to be an interesting series the next few years.
so much for St. Harbaugh . . .
That is probably my favorite game poster ever!
That literally made me laugh out loud!
I would have been more worried before yesterday, however our offense is beginning to click, and I think they will really roll out for the blackout. Hackenburg as a pocket qb will be just what the doctor ordered for our D. Good Guys win big under the lights.
So he is probably going to be BIG Coach of the Year this right correct? Yah, I purposely didn't put it in italics.
I noticed Wilson blocking well on a few plays as well. I think he may be becoming a football player!
For what its worth, it seemed to me that Dontre Wilson played one of his better games yesterday. He had some good blocks, and you could argue if he doesn't make that tackle on the pick, it turns into a pick six. His effort has impressed me this year. He may never live up to the hype that accompanied him here (how many players actually do), but I think we will see a lot of good things from him through next season..
Thank You! The sky is not falling!
I think we need to fire Urban and hire any number of quality coaches such as Hugh Freeze, Brian Kelly, or Mark Richt. Oh wait, unlike us their teams choked when it counted yesterday.
Has anyone noticed we aren't the only ones struggling this year? There is no one dominant team. I think it is just a weird year in college football.
I know we have played Indiana close the last few years, but has anyone thought that perhaps they may have a pretty good offense and an improved defense or it least got fired up to play the number 1 team in the country at home against a packed crowd.
When I was a Senior in High School our team went 5-5, yet one of the teams we beat in a shootout ended up making it to the state semis. Were we the better team(I doubt it) or just more amped up?
How about if we had an offense like Baylor or Oregon and put up video game numbers yet choked any time we faced a team with even a shadow of a defense?
I admit I am a huge JT fan and am not a huge fan of Cardale Jones leadership style or some of his decision making, but come on people, enjoy the ride! EzE put together the best game by a running back since the year I was born. Enjoy the ride, trust in the guy whos winning percentage only trailes Knute Rockney and Frank Leahy. We fix the turnovers and we are looking pretty darn good.