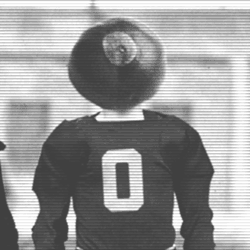 BUCKEYE_in_BRILLIANT
---
Member since 17 May 2011 | Blog
Recent Activity
13-10 Buckeyes.
Defense gets it done.
I think if I am going to say "best case scenario" I have to say undefeated. I honestly can not say at this point that I KNOW there is a team on our schedule that we absolutely can not beat. With that said, I think we have a chance to win every game, so in a best case scenario we will win every game that we at least have a chance to win.
Is this likely....no. Do I think it will happen....probably not. Is it possible....yes.
(Of course after I see how our offense plays in the first few games, I could very well change my opinion.)
If the NFL started a development league, would anyone even watch it? Im sure people would follow it but not the way people follow college football. Really, who really watches minor league baseball? Who pays any attention to the NBA's "B league"? I honestly do not know if people follow Europe's soccer development leagues but I doubt it is nearly as popular as the primary leagues.
I feel like a development league would destroy college football, and I definitely dont want that.
Also, if I am a player who will definitely be an NFL player eventually, I would rather play college football in front of 100,000 plus for four years and get an education than get paid to play in some league that no one cares about. (I realize that one of the articles main points is that other people may have a different perspective: Its just my opinion.)
I like the new logo, but I also miss the random pics.
I suggest that the logo can be "the go to" but still throw a random pic in there from time to time.
I agree totally. Even if the school isn't actually paying these kids, the possibility of these endorsements will be the number one tool used in recruiting. This will lead to every single big name recriut going to a school that can ensure that he gets an endorsement. Schools like West Virginia will have no chance at big name recruits. Now I realize that these schools may not get many top recruits now but if endorsements were allowed, they would get zero!
Basically this will ruin the competition in college football. We will be left with a major league baseball situation with a couple "yankees" and a couple "red sox" and the rest of the teams will have no shot.
I honestly don't know how much they have left over either, but there are a lot of student athletes at tOSU as well as other universities who do not have time for a job. Those kids are getting by without earning money by violating NCAA rules. (I realize some of them may have different family situations, but not all of them)
I understand you point though, and I do realize how hard it would be for a 22 year old kid to resist.
I guess I just disagree when people act as if these kids aren't getting anthing and the universities are taking advantage of them. Honestly, TP is likely to make more money in a year than most people will ever make and he could have never made that money without tOSU.
"Maybe he made $40,000 over the course of his career at the University of Ohio State. Forty thousand dollars over three years is a pittance compared to what is being made off him or what he would make if he were paid properly for his prodigious talents."
I disagree. In exchange for his talents, he was given a free education and the experience and knowledge of the game that would allow him the opportunity to have an NFL career and make millions of his own. This is compensation that only tOSU (or another major university) could pay him for his prodigious talents. Rather than take this payment, work hard for four years, and then collect his millions upon milions, he felt that he needed an additional $40,000!
On the other hand, even though I am not willing to just simply overlook what he did, I do not think he should be permanently shunned by Buckeye fans.
My opinon of TP will be based solely upon how he carries himself and represents tOSU from this point forward. If he proves to me that this was just a mistake that he made as a result of being young, then that is how I will remember it.
That is the difference between TP and Tress. Before this whole mess, Tress never gave anyone any reason to be anything other than proud to have him as a coach. It is therefore easier to chalk Tress's actions up to a mistake and forgive him. If TP's actions from here are similar, then he should recieve the same treatmen.