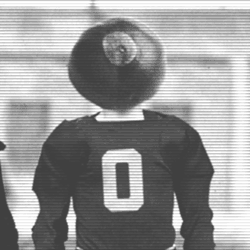 buckeyehamilton
---
Member since 24 July 2014 | Blog
Recent Activity
Key west!!!!!
As a former music major and member of the OSUMB I don.t think this is a school of music issue. The OSUMB is untouchable by the school of music in my opinion. Anyway, as 20 to 25% of OSUMB members are music majors there wasn't any conflict that I heard or sensed as there is nothing better to put on your application for a music teaching job application than you were a member. What I am most concerned with title 9 is that the current male to female ratio is 4 males to 1 female give or take. I fear that Betty Montgomery or others will try to equalize the ratio. As the OSUMB has no clarinets, flutes, or saxophones which are a majority made up of females the ratio is not in comparison to other college marching bands as the OSUMB is all brass and percussion which tend to have more males to females. The members of the OSUMB are based on merit and merit only without regard to genetics. The female members of the band got there just like the men by working your assess off.
Drake has hired 2 law firms and a consulting firm that handle title 9 issues etc. Drake is covering his tracks. These firms will report exactly what they are being paid to report and that will be title 9 issues etc. Drake can then say we found other examples to prove the firing was necessary. As title 9 is subjective in its application to the alleged victims then the firm's can run with that. Drake needs to fly south for the winter and take his title 9 crap with him. Hey Drake after you got that report why didn.t you call Waters in your office tell him how it was going to be. No tolerance for these activities. Have the members sign a form acknowledging the same And have counselors provide programs to work on the culture problems. Or you could have just talked to the band himself. Anyone member that canot live with this doesn't try out then. Period. End of story. There is a little plaque on the wall as you go down the ramp and that says "WB Pass It Back" Drake has none.
I was in the OSUMB in the 80s and the lights were always on in the stadium for the ramp. The university has known about this for years. Drake is a fool and made a quick and stupid decision.
I was in the OSUMB in the early 80s This debacle is title 9, and title 9 only. I had the best times without any harassing activities. If Dr Droste came down with a no tolerance policy then there would have been a no tolerance policy Anyway, the interim directors are qualified and NOTHING will change. Dr Jones, an interim director, was a member Scott will do a great job. An assistant, Lisa Galvin, was in the band as well Every member knows what is expected and the responsibilities. In some ways the band kinda runs itself because the members take it very serious. Also, all of the shows would have been written by now for the halftime performances. Dr Waters knew this was headed in the band's way and failed to take title 9 action, whatever that crap that shit is.
Scott Jones is a trumpet player. Relax. The band will be great.
Associate Director Scott A Jones was in the OSUMB in the mid 80s He is not going to allow flags or woodwinds. That is probably one of the reasons he is an interim director He has been on both sides of this podium as a member and professor of music. I knew Scott when I was a member. Scott will do a great job!!!
And I was a music major a well. This is not a school of music and marching band dispute. Waters was a graduate of the school of music too. This is a title 9 issue.
In the OSUMB in the 80s This drum major should have been kicked out right then and there. Waters did him a favor by only yelling at him