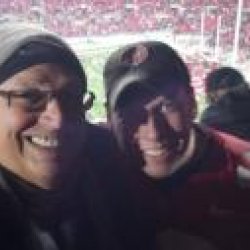 BuckeyeGuy1973
---
Chicago (via Cleveland)
Member since 15 January 2014 | Blog
Ohio born and raised ... Graduated from THE Ohio State University in 1996 ... Lawyer living in Chicago ...

Go to 8-10 games a year ... Dog is, of course, named BUCKley ...
Recent Activity
Keep up the great news, Birm ... We need some BOOM!
Ohio State had a 0-13-2 record against UM (not 0-14-1) heading into that 1919 game ... with a 0-0 tie in 1900 and a 3-3 tie in 1910 ... Don't take that half-win away from the Bucks! John Cooper killed for a tie in 1992 ;)
I am a born and bred Clevelander that has lived in Chicago for 10 years, but still hold tight to my Browns, Cavs and Indians ... My first taste of Cleveland sports was Browns/Steelers charity BASKETBALL game at John Carroll University in 1980 that had several players -- and in the fourth quarter of a tight game a fight broke out and the game was stopped. I have the dubious "honor" of being at Red Right 88, The Drive, The Shot I (Jordan 1989), The Shot 2 (Jordan 1993), Game 4 in Indians/Braves 1995, Game 5 in Indians/Marlins 1997 ... every one of these games hurt (and still does). I also remember the Browns leaving in 1995 ... and LeBron leaving in 2010 ... Those memories will define Cleveland sports until the title drought is gone.
I am very much looking forward to seeing Believeland ... Deep down, all of us Buckeye faithful have a little bit of Cleveland in us (yes, even you Cincinnati folk) ... I was at several of those games in the 1990's when OSU had much more talented teams but lost to Michigan ... heck, who remembers 1998 OSU/Michigan State ...
Point is, OSU got through the plight from the 1990's ... and hopefully, Cleveland will get on the title map for the first time since 1964 ...
#ALLIN216
Gauchos!
UC-Santa Cruz is the Banana Slugs ...
Kid shows up at OSU and is asked by Matta to work hard ... And he kind of does ...
Funny thing is, I thought he was the "glue" guy in the class, and would be a do-everything kind of player. I was disappointed he chose to leave.
But going to UCSB? How does that further his development or get him to the next level? With Grandstaff to Oklahoma, i can understand moving to a more shooting-based offense in a offense-driven league ... There are two players in the NBA from UCSB ... Yikes!
Matta has sent many players to the NBA ... he just preaches team-first and defense first. Imagine if Evan Turner would have transferred after his Frosh year because he only averaged 8.5 points per game.
SMH
Always Wolve-rine hunting season in Ohio!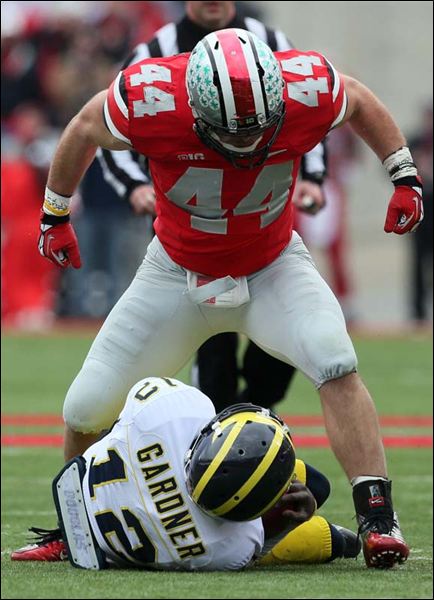 What a great game that 2011 Wisconsin game was ... 2002 game against PSU was great as well ...
And I don't know about you all, but I still watch the 1969 and 1996 OSU/UM games hoping for different outcomes ...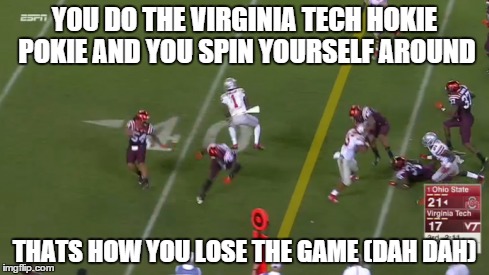 https://s-media-cache-ak0.pinimg.com/564x/f0/82/25/f08225025f1545bbe26d7ed989342b94.jpg
First Rule: Make sure coaches leave their shirt on ... Second Rule: No peeping Tom tree climbing ...
Upvote ... And upvote ... Done ... And done ...
Still BOOMING!
Ahhhh ... Lady Bucks dropping the Lady Illini in "champagne" (not Champaign, our even Urbana) ... I like it! #HeresToMoreChampagneDropping Go Lady Bucks!
NO LAWRENCE!!!!?!?!?!??!
Great Hurry Up! I heard Chris Daniels was reopening his recruitment after decommiting from Oklahoma. Any chance we see OSU move toward his direction?
Eric, just heard about Chris Daniels' decommitment from Oklahoma ... Any thoughts on his recruitment?
#NoFlyZone
Keep up the great work!
First chance to upvote, gives everyone an upvote!! Woooohooooo! Great update, Birm!
WOOOOHOOOO!!!!
I think the article is an interesting viewpoint, but how many of those close games that OSU won during Meyer's era did the same offensive philosophy pervade -- i.e., doing something different than handing the ball to Zeke or Hyde? I think with vertical threats being re-established in 2016 (AND A VERTICAL PASSING GAME WILL BE REESTABLISHED), we won't be talking about the absence of running plays to bell-cows but instead will be talking about how much more enjoyable a balanced offense is (a la 2014 come playoff time).
OK, done with lunch and back to work ...
Bring it on!!
Beat *ichigan Beat ND Not a national championship, but that is still a successful season ...
Hope the surgery was quick and painless ... Samuel will be a great "change of pace" back (speed around the edge) next fall ...
Sounds like a high-quality kid with a huge upside ... A kid that wants to be in columbus and "Chase" that next championship ...
Welcome to Ohio State!!