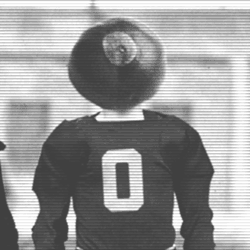 buckeyeguy0615
---
MEMBER SINCE February 15, 2013
Favorites
SPORTS MOMENT: Any time TSUN loses!
Recent Activity
As someone who recently graduated from Ohio State and saw all the football players driving around sports cars while all the students drove their Honda civics.. or a player would have three different really nice cars before they even graduated.. or being at a party and hearing JT Barrett and Chris Worley bragging about benefits they received.. yeah I can say they get paid. So I'm not the one tooting the horn about these big investigations.
Saw that too. Have two tv's going, thought the other tv was way behind so came here to see if people already saw the TD lol
Guess who rushed for over 500 yards with 6 TDs last night?
So if Kentucky beats FAU and Cincinnati instead of Florida, they go from unranked to top 10 or 12 as stated in the OP instead? Got it.
Right lol like clearly he doesn't care if he talks down to women or uses them for sex. But you absolutely cannot gather that he raped a woman from these texts. All this is evidence of is that he's probably not that intelligent and he's probably not the kinda man a woman should want to settle down with.
Maybe Hill should have went to the NFL. Can't hold onto the ball this game or last game.
Honestly happy for him. But also hate this culture in the NFL. Half the time you don't know whether he's going to be playing or not because of his off the field issues, yet feels entitled to be the highest paid running back. But because of his talent, he can hold a whole organization hostage until he gets his way. It's sad.
Why would you get crushed for that? Everyone knows Braxton was terrible with reads.
Even our back ups are 4 and 5 star players out of high school. What exactly do you think FAU's first team offense was coming out of high school?
Last year: TCU is going to be great this year.
This actually makes sense. Agreed.
Damn wasn't AJ Kirk a 5 star prospect awhile back?
We've reached this point.
Could you elaborate on this?
I wonder what politically incorrect looked like in the 60s.
Thanks for your service. And I don't believe you actually want to know the answer to that question.
I'm in the Army currently serving a deployment, working in a field that entails knowing how the enemy operates. Does that count for anything? ... does George Bush know anyone who died in the 9/11 attacks? That's a good question.
Not seriously, though. Not even remotely serious. It's a joke.
Many things to complain about with Dabo. But I absolutely fail to see how this is offensive. Why should we care that he said that?
I just want to know why you're offended. Lol