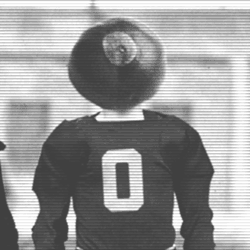 BuckeyeGrownFloridaLiving
Saint Petersburg, Florida (via Pickerington, Ohio)
Member since 11 June 2014 | Blog
Favorites
SPORTS MOMENT: The many escapes of Ohio States 2002 FB season, especially against Purdue.
COLLEGE FOOTBALL PLAYER: Beanie Wells
COLLEGE BASKETBALL PLAYER: Jared Sullinger
NFL TEAM: Tampa Bay Bucks
NHL TEAM: NHL?
NBA TEAM: Cleveland Cavaliers
MLB TEAM: Tampa Bay Rays
SOCCER TEAM: Manchester United
Recent Activity
Fuck.
Jaylen Harris
Joe Burrow deserves an honorable mention for his graphic tees. I'd bet we'll see another one today!
This looks like the desk in Road to Glory mode of NCAA FB
Are the Buckeyes looking to add Cook and be completely done with their secondary? Or might the secondary class have 6 people?
Stars be damned.
Teague didn't participate in the camp. Snead, however, did, and impressed those who were watching
CB prediction for Emory to flip to Bama. Good news though is that the CB was from Tom Loy.
Final update: it's Marcus Baugh in the walking boot. Ryan Ginn on Twitter has the picture
Ignore me. He was wearing the same shirt as Gill, but is about 30-40 pounds heavier upon 2nd look
Jaelen Gill with a boot on his right foot.
Maybe not exactly what you're looking for but I found this to be pretty good- http://247sports.com/Article/247Sports-recruiting-rankings-best-the-competition-in-predicting-52607156
From a former Buckeye that was on the basketball coach replacement committee
Lind and Ellis CB'ed him to OSU and then Ben Van..? from the Ozone CBed him after. That's great.
Screw the Browns.
I'm chill with Chris.
McDermott was basically offered a 2 year, low salary "interim" contract. So yes he was offered the position, but it wasn't likely he'd accept that.
Is this good?
Alabama is currently favored for 0 five star prospects, per the crystal ball. The streak ends here.
Eh..
We've been hearing that Mitchell may be deciding this month, does he have a date picked out? Do you think we can keep FSU at bay?
I've given a lot of thought to the term bandwagon. If you're from the area (I'll often even accept the state) and that team starts to do well, then I feel like you should start to follow that team and enjoy their success. There are only so many die hard fans. Bandwagon's to me are the one's who follow a team (Yankees, Patriots for example) that's really successful but that they have no connection to. Even if they're a life-long fan from that moment, if there's no previous connection to that team from family or geography then they are a bandwagon. TL;DR You're safe to root for Men's Volleyball and Kayla, Johnny.
UM only had 2 players go in the 1st round. They had 4 go in the 3rd round. We both have had 6 players picked.
I don't think I've seen him in any 1st round picks. Most think he's a 2nd rounder, potentially 3rd.
We should pass up or tie USC in this metric as we have 3 solid 1st round picks with Adoree Jackson kind of floating near the bottom of the 1st round and no other USC players are in the discussion.