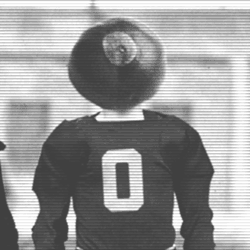 BuckeyeGrove
---
Member since 03 September 2013 | Blog
Favorites
COLLEGE FOOTBALL PLAYER: Braxton Miller
MLB TEAM: Cincinnati Reds
SOCCER TEAM: FC Cincinnati
Recent Activity
Awful awful shot selection for Celeveland right now.
Can't find the B10 team records online, but might as well start with the OSU records first and go from there. RUSHING 1. Total: 4321(2014) / Per Game: 355.3 (1973) 2. Yards Per Attempt: 6.8 (2013) 3. Rushing TDs: 48 (1974) PASSING 1. Total: 3707 (2014) / Can't find an average 2. Attempts/Completions: 419 (1998)/260 (2014) 3. TDs: 42 (2014) 4. Completion Percentage: 66.5 (2005) TOTAL OFFENSE 1. Plays: 1099 (2014) 2. Total Yards/Per Game: 7674 (2014) / 511.9 (2013) 3. Yards Per Play: 7.14 (2013) 4. Points Total / Per Game: 672 (2014)/45.5 (2013) 5. TDs: 90 (2014) 6. First Downs: 386 (2014) I think it'll be hard to beat the impressive RUSHING records, but TOTAL OFFENSE and Passing are definitely possibilities depending on how everything develops.
Clemson has the players and coaches to take advantage of Bama, but I have a feeling Watson is going to make some careless throws and you can't do that against that defense. 27-20 Bama
Agree, although I still havery faith in Prince. Can always use OT depth.
Saw it last night and it was awesome. A little slow in the beginning but the last 45 minutes was incredible. Great lead in to A New Hope and beautiful cinematography. Also loved all the OT references and Easter eggs.
Interesting comparison. #2 (Browning) has 42 passing TDs, not 16.
Unfortunately I think Hooker, Lattimore, and Conley are all gone. It's going to be very hard to replace so many DBs in two consecutive years. Lewis and Kwon will both probably go as well. I get the argument some are making with Samuel, and I'd love to have him back, but I think he's having too good of a year to not leave at the end. JT should stay as he'll probably go in drafted and Baugh might be a late draft pick bit should definitely stay. Other than maybe Price, I can't see anyone leaving on offense.
I think Hooker will leave and be a high draft pick, but agree that he should come back to solidify his technique and assignments. Every game I think "Wow this guy is incredibly athletic" and "Uh oh I think he cheated too much on that play."
Defense is very good at making big plays, but lacks the DTs to be consistently excellent. Baker will be a good one but isn't consistent enough yet. Webb and Annette have struggled, but I think the coaches need to figure out how to avoid getting the #3 CB matched up with the other team's #1 WR. That's always a mismatch no matter what team you're playing. So yeah, I think there are plenty of issues to work on, but this defense is just as good as the one in 2014 and maybe better. Not going to completely shut good conference teams down, but does enough to win most games.
Yeah I don't get the wind talk. It happens every year, meanwhile the other team is fine. The passing game is not where it needs to be right now, that's all.
Need to find a way to have a consistent passing game. No need to go crazy and pass all the time, but below 100 yards is terrible for a program like OSU. Part of it is JT being way too hesitant, and the other part is a lack of quick throws with tempo. It seems like JT has too much time to think and worry about perfect plays and turnovers instead of moving the ball.
Agree overall with JT. Think he's hesitating too much and not trusting teammates, but clearly quite efficient so far. I disagree with someone who doesn't think he'll ever be a great passer. He has a lot to work on, but nothing tells me he can't if he starts trusting WRs and getting the ball out quicker. And he will have to in order to beat the best teams on the remainder of the schedule.
Agree. No reason that guy shouldn't be getting 25 touches a game. Clearly the most dangerous player they have on their roster.
The critiques of Barrett are fair, although I think it's going far to say he's average or unimpressive. He definitely needs to be more decisive and trust both himself and his receivers more. Still, I respect him really wanting to take care of the ball. I think he gets into a better rhythm soon, and he'll need it if OSU wants to beat MSU, Wisky, and UM. Other than that I'd say WR deep threats are needed to loosen up elite defenses. Still plenty of time for that. Hoping for Campbell and McLaurin to step up there.
What a fool. Overrated and oversalty.
45-21 Still a comfortable win. I'm a bit gun shy calling for huge blowouts after the early struggles last season. Agree with other though that Tulsa will have some success on offense and OSU will rely on the ground game due to weather.
It makes sense after a letdown on opening weekend, but this is still a team that can challenge pretty much anyone in the country when they're at the top of their game. Have a hard time seeing a blowout either way in that game.
I read that not as a jab about Herman riding Urban's coat tails, but more of a statement about him only being an OSU assistant for 3 years and having no further connection to the school. I'd love to see Herman take over at OSU down the road if he continues on this trajectory, but is there any reason to think he'd favor them over any other top school?
Only concerns I have are DBs getting a bit lost on intermediate routes and Barrett being too hesitant at times. DBs are young and yet alerted so they'll be fine. Barrett is working with many new WRs and looked great so no concerned.
Have you never heard of smartphones? It take 30 seconds to post a reply.
2013 Michigan. The previous streak had ended up there and I was nervous as hell that it would somehow happen again. Ended up jumping up at the end and telling Hoke to go fuck himself.
A close runner up would be Phelps' 100 fly swim in Beijing when he was going for his 7th gold. I love to watch swimming and knew it was going to be a tough race for him but really wanted to see him get 8 golds.
Has to. He's already flopped 3 times in 2 minutes.
They'd call a flagrant if Barnes got hit like that.
NBA turns into crap when they allow the intentional following.
They're seriously having to review this?