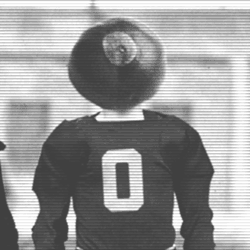 BuckeyefromDayton
---
MEMBER SINCE April 11, 2016
Recent Activity
Great take by Travis. I always enjoy his insight.
I hope that the new Big Ten commissioner, Kevin Warren, gets rid of the idea of having football games on Friday night.
Mr. Henry will learn when he gets to Columbus next season.TTUN will ALWAYS be our rival. My suggestion to him is watch the documentary about The Game on YouTube.
Good pickup by Coach Holtman.
Nice shirts by Dawand Jones and Harry Miller. Nice shoes by Coach Hartline.
Great job Walt. I always look forward to your posters for that game week. Keep up the good work.
Great poster Walt with the Purple Rain vibe. Keep up the good work.
I hope nothing is bad for Bolden, if Ohio State does their investigation. He can join his former Bishop Gorman teammates and be huge help on secondary.
Good job on this poster Walt.
Preseason polls don't mean squat. Depends on how you finish at the end of the season.
Hooker needs to treat this as a teachable moment. Learn from this and come back a better student athlete.
Welcome to the Buckeye family Stover. After watching his commitment video, I might have to buy a Challenger tractor.
Gene Smith needs to fire McGuff and go hire Robyn Fralick from Ashland University.
Good pick up by the Buckeyes. Petit-Frere has high character than that Jackson Carman guy.
It seems like Vinnie Mac received too many blows to the head. The resurrection of the XFL will fail. I find this baffling that only players with a clean criminal record can play.
On to next one. Good luck to Cox.
Good job Walt with the Happy Days reference.
Good luck to Schiano at Rocky Top.
I know Fox is happy that they have a great relationship with the B1G.
Just keep winning. The focus should be on Iowa this week. Just weed out the outside noise.
I rather refer to them as Okie Lite or Oklahoma's Little Brother.
I'm fine with the win. Once Weber gets healthy, that running back group is going be lethal.
Damn you offseason. Hope Hill can take care of his situation and treat this as a teachable moment.