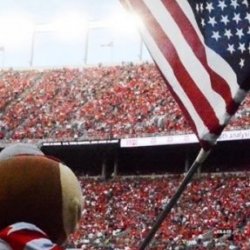 Buckeye_FC
---
Fredericksburg, VA (via Gahanna, OH)
MEMBER SINCE November 21, 2015
Grew up as a Buckeye fan during the Cooper era. In the navy now stuck out in San Diego. Not in San Diego anymore northern VA via Washington (state).
Favorites
COLLEGE FOOTBALL PLAYER: ¯\_(ツ)_/¯
COLLEGE BASKETBALL PLAYER: Aaron Craft
NHL TEAM: Bluejackets
MLB TEAM: Atlanta Braves
Recent Activity
I don't think TTUN can score 14 points
That was also a Ash and Fickle defense not a Schiano defense.
I think we started to see a bit of a switch in the bowl game. I saw a lot of Cooper and Young dropping into coverage.
It probably wouldn't be a wholesale change to 3-4. I would like to see some more creative pressure from the back 7 as well as some more zone mixed in.
McClaurin should get a shot in the NFL as a gunner on punt coverage.
Yeah, but they woke up after Oklahoma started getting back in it.
Why not redo the punt after that penalty?
We are giving them too many possessions.
They've gotten to spend about two minutes on the sideline while the offense has done nothing.
This is why OSU doesn't get into the playoffs.
Bevo trying to take out UGA pregame
What are the coaches doing on offense? They are hanging the D out to dry with all these 3 and outs.
They showed it during the pregame.
He did not warm up with the team.
Maybe it's not a great idea to play your backup QB at WR.
The video was cool and all. but it still kind of discounts the game as a blown PI call.
He can still get a degree without playing for free next year.
OSU is not getting in. The discussion has changed to Oklahoma vs Georgia. We stay at 6.
Hit em with the heisman pose Dwayne.
Haskins should win the heisman for carrying this team all year
Outside run is a guaranteed 3 yard loss
They had about 18 players on defense
TD and a horse collar tackle
Murray saving his baseball career on that throw and duck.