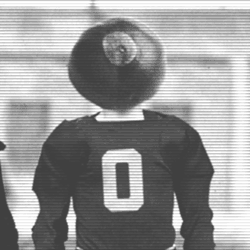 BuckeyeFanInBoulder
---
Boulder, CO (via Hudson, OH)
MEMBER SINCE October 06, 2010
Recent Activity
Someone already mentioned in passing, but OP may enjoy Durand Jones & The Indications
Dabo's special Carolina BBQ Sauce. Saucey Tigers won't get investigated deeply though.
I'm far more excited about the upcoming Fleet Foxes album. You can say they sound like Bob Dylan sometimes (join the club), but they really just sound like Fleet Foxes. Greta Van Fleet doesn't sound like anything but Led Zeppelin to me yet.
The world will be a more interesting place when Belichick and Saban retire.
This is the correct answer. That was a complete dick stomping.
Saban appeared to know it was going to be too, with all that 4th down trick nonsense. Desperation set in rather quickly, and he was even laughing rather than upset about it.
Clemson definitely did not Clemson tonight.
Ryan Day are you watching this defense?
So maybe Notre Dame is mediumish decent? I don't understand.
Saban's nadir right now, with his "best team ever" -- wow.
Damn, I watched Clemson earlier this year and they were very mediocre. They look like they could give the Broncos a game tonight, WTF
I would say this means there were some even bowl pairings and in general agree there is parity across the country in the sense that all conferences have at least one quite good team and at least one quite bad team, etc. but I would caution that there is not parity at the top. There is a huge gap between say the #1 and #7 team in the country (can you imagine Bama playing TTUN on Monday??), which isn't true in NCAAM (currently that would be Duke and Gonzaga... the Zags actually have already beaten Duke this season despite being the #7 in this example) and definitely not true in any pro sports. I'm hopeful we get parity at the very top sooner than later so we don't have Bama Clemson VII shoved down our throats. I would actually like to see Texas, USC, LSU, Oregon, Miami, etc. be potential playoff teams -- and not just September picks or sacrificial lambs to those 2 already mentioned, but actually contenders who knock off Saban and Dabo with consistency. Maybe a pipe dream, but I can hope.
Texas gets LSU in week 2 at home this fall. If they win that, Tom will have pretty well staked a claim as master of all SEC dragons.
Wow. This game is over, so the 2 morons in the booth are explaining how UGa should be a preseason top 5 team, and how they're clearly the superior team, and their heart just isn't in this game, and they'll be good for a very long time based on their recruiting. I am not typically one to crap on ESPN but this is ridamndiculous.
"Overrated" and "S-E-C" mockery chants from the Horns fans. Have yourselves a day.... I'm laughing. Goodnight Dawgs.
Fromm may not survive this game
He looks talented enough to me
We're through 3; scoreless 3rd frame. Horns are knocking in the RZ. Dawgs are juuuuuuuust about dead.
Take nothing away from UT for playing like champions today, but seriously, UGa needs to quit complaining on twitter and focus on winning their consolation bowl big before whining about playoffs. Let the excuses fly and the eyes roll.
The Longhorns LBs are clearly a step above ours.
ND should drop a minimum of 6 spots
Halfway through the 3rd, no score change. Texas with the ball... I see no signs of the might playoff Dawgs here. Any points from UT might end this game.