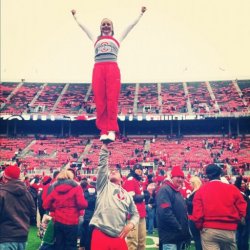 buckeyefan333
---
Member since 09 September 2013 | Blog
Recent Activity
Sick video. Super pumped they included some of the clips I sent them
I had this in 2011 when I was at OSU and was in the hospital for about a month then had to do outpatient rehab for another 6 months. Took me about a year till I was fully recovered.
What are picks? The only correct answer is auction draft.
I think the entire roster has been named at this point
I have flights booked. When do tickets get released?
He might be listed at 6'4" but he sure doesn't look it. A lacrosse goal is 6' high and he doesn't look any taller than the crossbar, even with his helmet on.
How many nights did you have to sleep on the couch for making your wife watch a high school football game on TV with you?
Kyle Snyder. You're welcome for saving humanity
Did Worley even train for the combine? CB's lifted more than him, DL's jumped higher than him and QB's ran faster than him.
If all of this is nothing then why does the federal government have a conviction rate over 90%?
I'm guessing our crunch time D line eventually becomes Bosa and Young on the outside with Jones and Jackson inside with Cooper replacing Jackson in the rushmen package.
I know we rotate a lot, but we do that to have our horses fresh in the 4th (2017 Penn St. game)
The overall value of the scholarship isn't the same between sports, or even within teams. Football and basketball are what's called "headcount" sports. You have 85 scholarships in football which means you have 85 players on full scholarship.
For other sports, they get a certain number of scholarships and the coaches divide them up how they see fit. Some athletes might get more money than other athletes as long as the total number of scholarships does not exceed the cap. For example, if you have 2 available scholarships, you can give 2 full scholarships or 4 half scholarships or 1 full, 1 1/4, and 1 3/4 scholarship.
So its an error to assume that all athletes at OSU are on full rides and don't pay a dime.
Hive is sweet, quick cals are dumb. End of story
Believe he said "I'm 220 strong, I'm big out here" but could be mistaken
This is definitely one of those situations where the winner is really the loser and the loser is really the winner for not having to go to that dumpster fire.
Lets not overthink things now...
It looks like it's not just the backpack, but all Nike sale stuff has an additional 25% off. They have tons of OSU stuff on sale right now. You can get the Week 0 Training Shoes that are normally $110 for $41 right now.
The reason he has us as a 2 seed is because he is projecting us to get the automatic bid by winning the Big Ten tournament. Should this happen, I don't think a two is out of the question, even if we lose a few more games. If we don't win the conference tournament, I think a 3-4 is more likely if we continue on our current trajectory.
Just keep doing the same shit but do it better.
I'd rather see a petition to stop fan interference in football matters
I live in Nashville and have a lot of friends that are TN fans/alums. They were fed up with Currie, but are probably more fed up with Haslam and are waiting for him to go to jail from the Pilot trial. They think that he's calling the shots behind the scenes and it won't turn around until he's gone.