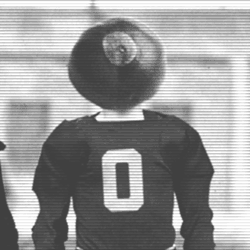 Buckeyefan23
---
Member since 12 June 2014 | Blog
Recent Activity
Just to let everyone know, today is Birmingham's Birthday. So wish him a Happy one.
I am off to Bergen Catholic. Good luck to the Bucks and all you fans. I hope I she'd some light. I know haters are going to hate. Remember you have and will have recruits looking and or going to OSU. They do read what you all post.
Tuition has nothing to do with Star rankings. It has to do with financial needs. I am retired military, so my tuition reflects that. IMG Academy is like a family, we all care and look out for each other. We have great kids and parents here. My son needed to develop and learn the game. He has definitely improved from the Coaching and competition. IMG coaches and school put up with no bad behavior, don't care who you are. Academics are very hard. They are college prep classes. My son has hours of homework every night. He was a 4.0 student in Ohio, so he has always worked hard in the classroom. He says the academics are much harder and he has learned much more. The teachers also teach subject, not teach for tests. Like I said my son has committed to Northwestern, so his academics are good. So many haters on the Bucks site which shocks me. You of all people understand that success breeds contempt. You are picking up two great recruits from IMG Academy who won't be any trouble on or off the field. They know how to study and work hard in and out of the classroom. The coaches and staff at IMG genuinely care for these kids and are trying to prepare them to succeed on and off the field. IMG does not use or exploit these kids, nor do they encourage kids to go to any school. IMG is probably the most above board school because we are constantly under a microscope.
Grandtheft, that is the first correct statement you have made. You probably don't have enough information
I get tired of the same old dribble about IMG. OSU has recruits coming from there. They must know that the academics are acceptable. I can say first hand that the academics are brutal. Not hard, brutal. So is the football training and schedule. No place better prepares a young man for college football. The teachers, coaches, and support staff are excellent. Some parents get free scholarships, some partial, some pay full amount. I saw the post of the teacher questioning the academics, my son attends IMG Academy as a football player, he had a 4.0 at his old school and has raised it to a 4.2. He is verbally committed to Northwestern. I can assure you he is a better football player and student from attending IMG Academy.
Especially a team from Florida with some OSU commits and a few Ohio kids.
We play American Heritage on Saturday@ 7:30 on BHSN ( www.bhsnlive.com). They have won two Florida state Championships in a row, trying for their third. Then we play Mirimar on August 30 @2 on ESPNU. Then the following week we fly to Desoto. You have more Buckeye commits on IMG than you do Desoto, and more Ohio kids too. So turn on your televisions and cheer for IMG.
The fact that Cupp hasn't committed would lead one to believe that his offer isn't committable. So you really don't need room if you aren't taking his commitment.
We will see if it a committable offer or not on whether he commits or not. If he commits shortly then it is a legit offer, if he doesn't then it isn't a real offer like many OSU puts out.
Totally don't get why anyone is upset with Dantonio. When you commit to Dantonio , you are asked if you are positive you want to be a Spartan. You are then told you are to shut down all recruiting or you could be dropped. It is a loyalty thing. If you visit a school after getting permission from Dantonio, that is different than going to a rival camp and competing for an offer from a rival school. I suspect if a kid committed to OSU went to Michigan and competed for an offer and got dropped by Urban, most of you would be supporting Urban. If a guy is engaged to a woman and tries to sleep with her sister, would you all be upset with his fiancé when she dumped him ?
I heard St. Ed's backed out of playing us.
But IMG Academy will have them more prepared to get on the field than any High School program. Also Iron sharpens Iron. They will be practicing against and playing against the best players in the nation, which will make them better. I don't hear any complaints about St. Thomas Aquinas on here. They tried to have my son come play for them 6 months before IMG Academy did. The difference is, IMG Academy doesn't sneak recruit and are not eligible to play for a state championship. But Aquinas can. No team is forced to play IMG like they are Aquinas. And no team in Florida has to beat us to win a Florida State Championship, like they do with Aquinas.
The Desoto game is going to be a tough game, especially in DeSoto Texas. We have tons of talent, but they have talent that has played together since 1st grade. Week 2 hopefully we gel as a team. But, we weren't afraid to play the best, especially so early in the season. Funny so much hate on a Buckeye board, we are the Bucks of High School football.
They have some kids paying 74k and some paying 0. It is a private Academy, they are free to do as they like financially for their players.
Our defense should be greatly improved since last season. Every starter on our defense is a D1 player, don't think that was the case last season.
True Buckeye fan aren't you. You have at least two players on IMG Academy that are going to be Bucks, and you have one from Desoto. I am sure Gerald and Barrow are thrilled with the support you are showing them.
September 5 @ 2 in Desoto
We attempted to play Gorman and St. Thomas Aquinas, neither would schedule us. I guess it is better to call yourself the best than it is to earn it. We play probably the hardest schedule in the country. We open with Mirimar on August 30 at 2 on ESPNU and the following week we fly to Desoto Texas. IMG wants to play the best of the best.
Apparently you have no clue as to what you are talking about. The academics at IMG Academy are very hard. The Academy has many Japanese and foreign students who attend there. We as a country have dropped in education across the world. If a Japanese student is paying 75k a year to go to school, they expect the academics to be to their standards. My son is a 4.2 GPA student at IMG Academy. The school and the training is definitely a grind. I can assure you that any kid playing for IMG Academy will be ready for College football academically and athletically. They will be ready for the grind.
# IMG Academy family. Great teammate
To me it is like getting engaged to a girl and her going to other men's apartments and seeing if she thinks she can do better up until the wedding date after accepting and wearing the ring. What happened to loyalty ? Don't make a commitment until you are ready to be committed.
Jango is a 4.5 kid , but is very quick vertically. Very quick pro agility( Sub 4) and L Cone ( 6.86). Would love to see Jango and Tucky on the same team. Very much liked him last year at MSU Camp, which had Jango, Tucky, and Connor. Jango will be at Sound Mind Sound Body and then he will Camp at OSU . IMG Academy has him competing everyday against the best. If IMG Academy was a recruiting class, they would be the third best class behind FSU and OSU. He is coming to earn an offer from the best. Good luck to Tucky in recruiting and track.
LB: Jango Glackin: A sophomore with a bright future out of Lebanon (Ohio) High, the 6-foot-2, 197-pound Glackin ran a 4.58 in the 40-yard dash with a very impressive sub. 4.1 shuttle. His athleticism carried over to 1-on-1s where he was one of the top cover guys.
http://247sports.com/Article/Best-Of-The-Midwest-Combine-All-Combine-Team-177906
https://youtu.be/PV4nivyK4Ww
Jango is at IMG Academy getting better everyday. His film at Lebanon didn't reflect his athletic ability due to his assignment at Lebanon and coaching. Both have been rectified. He is receiving the best High School coaching you can find and sharpening his skills at practice against some of the best recruits in the country. Just being a starter on that roster means he is a standout player. He has legit 4.5 speed, but his side to side speed is what makes him special. He has a sub 4 shuttle, 6.89 L cone, and a 37 vertical. Speed side to side is more valuable than 40 time, which Jango's is still very good. He received 9 offers at camps between his Sophomore and Junior year. During his Junior year he received 0 offers because of how he was not used and the way he was played. He leaves for IMG and receives 8 offers since being there. He has improved drastically and is being used to make plays and strike all over the field. The staff loved Jango at Camp, but it didn't show on his film. Not his fault, he had to do as his coaches wanted. Playing with and against the best players in the Country will only make him better. He will also be graduating early and heading to College as an early enrollee . It would be nice to see Jango with his new teammates (Tyler Gerald and Milik Barrow) and his old teammates ( Justin Hilliard and Jake Hausmann). Hopefully Coach Fickell is impressed with Jangos progress when he visits IMG later today.
Thank you, we appreciate it. IMG is an amazing place. It is a once in a lifetime opportunity to be able to go there. The academics are also very challenging. I wish you and your daughter the best of luck. Go Bucks