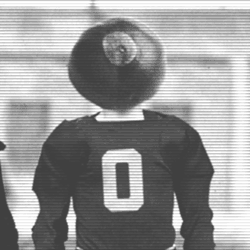 Buckeyefan20
---
MEMBER SINCE July 10, 2015
Recent Activity
Both Brunk and Kaleb have two years of eligibility remaining.
I keep reading that PSU might redshirt most of their guys next year and that Iowa is the odds-on favorite should that occur. Can we beat Iowa next year?
"Iowa State only has six guys who average more than 12 points per game."
Huh? How many players who score more than 12 PPG do teams typically have?
OL, LB, and especially QB. If those positions/groups play well, this will be a special season.
Great win!
I'm just glad we never trauked!
Urban loves to say, "When I needed you the most, you gave your best."
Boy, does Haskins ever embody this. His 3-game stretch to end the season, from my perspective, parallels Zeke's 3-game run in 2014.
He had to be perfect vs Maryland or that was a loss with the D giving up 51.
His performance against UM was the best ever by an OSU QB in The Game.
Then he goes and shreds NW and breaks every B1G championship passing record by a landslide. 80% completion. 500 yards. 5 TDs.
And while the stats during these three games are gaudy/almost surreal, his growth down the stretch run was even more unbelievable. 3 rushing TDs vs Maryland. His willingness to run in ANY situation. His poise when under pressure (last night's 1st TD pass is a great example of this).
When Ohio State needed Dwayne Haskins the most, he gave his best....and it was a thing of beauty.
After watching Drue almost singlehandedly beat MSU, I'm a fair bit more excited about this than I would normally be!
Word is Mullens didn't want to practice. Just wanted to show up for games. Sounds like he's pretty committed...and clearly worthy of an even split.
While I'm sure that Robinson's competition is horrible, I must say that I've never watched a highlight film of over 7 minutes in which the recruit was not tackled a single time. Wow.
Buhllllazin'! All-name team?
Did PSU advance all 10 as well?
Bill Greene CB for Walker to PSU this morning.
Hoping for NPF desperately at this point.
The difference between the two teams is that their guys fight for every point. In most cases, we're happy with takedown, release, takedown, release, etc. They look to utterly dominate their opponents.
Like I said before, our guys (NOT the team - the team SHOULD be #2) are individually overrated in many cases. Obviously, I'm not talking about Kyle Snyder.
PSU won that match without one of their #1 guys, which means - at the very least - an 8 point swing considering Micah's win was a tech. In other words, if both teams had wrestled at full strength, PSU would have won by at least 9 points.
If Nolf returns and is even close to form at the NCAAs, the Bucks simply aren't winning a title, which is a massive disappointment even if PSU returns 5 champs.
One thing I'll say about last night's dual: if you had told me that - going into 174, 184, 197, and Heavy - OSU would have a 6-point lead, I would have guessed that they would have won - trotting out guys rated #3, #2, #1, and #1 from that point onward.
Their 125-lb guy transferred to Rutgers and will, at the least, be an AA this year.
Nato = -3
Pletcher = +8
McKenna = -6
Hayes = +3 (Andy has him at #7, but I'll use your higher ranking.)
M. Jordan = +1
Campbell = -6
The rest = 0
Collectively = -3 (down 3 spots), which is what I guessed originally, though - admittedly - I thought it'd be -7 or -8.
Andy: Your work is phenomenal. It's the only place on the internet where I get previews and recaps of Ohio State wrestling. I appreciate that very much!
I love this Buckeye wrestling team, but they are consistently overhyped not only in terms of rankings but also the match score predictions.
Maybe that's part of what has made this season less enjoyable than I thought it would be. This season has nothing to do with winning duals - that's not even worth discussing. Instead, this year is about living up to expectations. I'd like to see a comparison of the wrestlers' starting rankings and their current ones. I'm guessing that, collectively, they're lower.
Also, the talk of potentially having 10 AAs can stop at this point. It's more likely they have 6 AAs than they have 10.
Likely Michigan for Friday.
#1. Oweh is not a 5-star.
#2. Nick Bosa.
#3. Chase Young
#4. Johnathon Cooper
Shall I go on?
All of Ohio's top 2019 guys are not favoring OSU. Briggs is favoring ND.
Think about that. 20 wins truly isn't an outrageous goal, even with this team.
What does that say about getting to 20 wins?
Bama didn't beat a single good team this year. Not one. The best team they played, who beat them, went on to lose 3 games. Their best win was over a team that lost to Troy. They played 10 home games AND an FCS team. There is no way they deserve to be in.
Bama didn't beat a single good team this year. Not one. The best team they played, who beat them, went on to lose 3 games. Their best win was over a team that lost to Troy. They played 10 home games AND an FCS team. There is no way they deserve to be in.
JT wasn't great last night and those two throws were awful, but his pass to Dixon on the post route should have been caught for another TD.