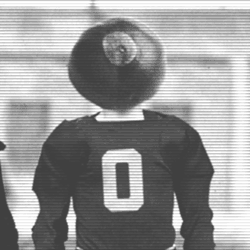 BuckeyeFan150
---
MEMBER SINCE November 27, 2016
Recent Activity
Prayers for Emmons I can't believe his ankle didn't snap! Must have been high ankle sprain.
Always was confused about why he left but hope does well at GW!
Cox to Florida sounds like a BAD move long term. He didn't learn how to adjust to college life in UGA he won't learn at UF either. This kid needs some guidance
Really curious to hear what swayed him back to Texas. It happened out of no where based on what the CB's were saying.
In a game Norman would have grabbed his jersey and the complained about the PI
Terrell Hall who now plays at Bama??
believe he also changed his last name to Lewis or visa versa. He committed briefly back in 2016.
Link locker: Reddit divorce attorney stories are HILARIOUS
Wow, prayers for Beanie and RIP Joel.
UK/WVU/Pitt/Tennessee/Boston College/South Carolina
These guys will mesh well together because they compliment each other's game. Throw in the other WR's AND TE's on the roster and this offense is hard to match up against.
This is from a recent arrest? Terrible news, but I thank you for the update.
Really wanted to see Grimes stay. I think he could have been great.....Martell always seemed over rated to me.
Seeing JT in that 2013 class was shocking, felt like he was class of 2011 LOL
Guys get hurt or banged up. Stay the course and be ready when needed!
Great money for DLo but not a great situation IMO. He had a great year in NJ and really enjoyed playing there. Now he's the 4th best player on a team that's already had great chemistry and success. Going to be hard to fit in personality wise with Draymond as well. Even KD said no thanks and bounced. Lol
To clarify I'm wondering what's led to that? Or was he overrated coming out of HS and JUCO?
Antwuan Jackson.......a name I forgot about. Is he hurt/in the dog house for something?
it seems like he's hardly ever mentioned when it comes to the D Line.
Thomas (if tagged) gets $16.4 million for 1 year. A great deal for NO (mainly) that gives them an extra year to see how much longer Brees can play. Mikes probably wanting a 5 year $100MM deal to make him the highest paid. Not that he doesn't deserve OBJ+ money, but for a team with an old QB, that's a big commitment.
if he played in the NBA, he would be a max player and ultimately control his own destiny. Lol
thats why the NFL is still the best run pro league IMO, it's not a player dictated league.
Per ZS, say what you will, but I'm glad he is shedding light on Ed's coaching woes. God knows this website has gibbered about that MSU game for YEARS, lol. Plus, ZS is the only ex coach who will ever talk on the subject, so I can appreciate him doing that. At the end of the day, it doesn't change anything, but does give closure as to why the best team in college football didn't play for the title that year.
Fields will be a BEAST as this year progresses. I think the first few games will be a challenge, but luckily we have JK and other skill players to pick up his slack. Also, the defense will be a lot better this year. I see Okudah/Arnette and Wade giving WR's fits in coverage.
My main concern is how the new OL plays. The sooner they become a force, the sooner Fields will settle in.
how has Jalin Marshall not landed a deal? He shredded the AFL.
McNitWit will be all up in Dabo's grill!!
Just kidding he's not going to do a damn thing.
Dante Booker will have an NFL career and we will look back at his OSU career and shake our head.
Hes needed a change of scenery for a while now and going to an NFL team with a fresh start is the best move. He is way to athletic and talented to not get a shot somewhere.
Whoever posted the thumbnail of Baldwin crossed the line.