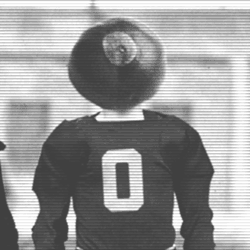 BuckeyeFan150
---
MEMBER SINCE November 27, 2016
Recent Activity
There was a contract issue between BYU and Washington. BYU had no guarantees of playin in the event PAC-12 moved Washington v Utah to Sunday, assuming ASU couldn't play (COVID).

imo, BYU and Cincinnati need some consideration for the playoff...although money talks and both won't draw like SEC,Clemson or OSU
Grandads or Press Grills Pizza
There's a hole in the boat!
They would be better off with Dantonio
Hell ya! Keep rocking and rolling cruiser. Stay well buddy.
RIP to your friend
although I don't own a Yatch, I also think he sits. Someone posted it earlier in here, but the undercut he took in the EZ a few plays earlier, seemed to rattle his cage.

if he sits, Wilson and Co. will have to step it up. The TE's, if we decide to target them, should have a great night. IU had success going to their TE against PSU
Couldn't get into the Express, they were all booked up
Did Olave get hurt his Jr year? Or did he not play football until his Sr year?
coming to OSU > going to AZ, Sumlin will be gone in a few years anyway.
Are we sure he didn't change his name from Beckman, to Beck?? Masterful way to claw back into coaching imo
Beckman is the OC at NC State
That has to mean Dabo's taking the Bama job, that Sagan hasn't left yet!
Fletcher Cox made BP look terrible! FC is a Pro-Bowler but BP got ran over twice. It looked like Price was coming off an injury and wasn't 100%....anyone know if that's true? If he was healthy then I can see why the Bengals didn't have him in the starting line up. He looks lost.
*takes deep breath*

FIRSTLY: Assets that produce cash flow, then from said cash flow, id take care of family debts, etc....
The majority of us have been trained to "take that check to the bank" when in reality, that bank isn't incentivizing us to keep it there (minimal interest in savings accounts) so the first purchase needs to be something that pays a suitable dividend or cash flow, then you buy "stuff" with that.
Great question and forum topic, hope these players make smart decisions with it
Good for Damon, he worked his way up to this position and he finally gets paid! *tips cap
Any word on the numbers?? $2MM-$4MM would be my guess
2 cents....
Okudah would look great in 21
As a browns fan, seeing Baltimore grab JK and Harrison was tough. Both great picks.

It is sad to see that Shea never lived up to the HS hype. IMO, that's a mixture of mediocre coaching and Shea's lack of work ethic......
After reading that article, the name that stood out was (Taylor DB FSU). I thought OSU would have made him into a 1st or 2nd round pick, even though he's under sized.
Aside from Joe Thomas in 2007, Wills is only the 2nd OL taken by the Browns in the last 40 years!!! LOL. IMO, Berry had a great first draft as a GM and just took solid role playing guys.
Moral of the story, a lot of great college careers have died in Cle, because as an NFL organization they are a train wreck! However, with the last few draft classes and FA signings, they are turning the corner.
My ask of Haslem moving forward, is let Berry & Stefanski stick around for a few years to show their worth and actually build out a system.
Love the way both players stack up. Harrison IMO is more athletic, but watching a lot of LSU games (Burrow supporter) made me realize Phillips can cover and tackle VERY well. He will stop the run and be able to defend in space.
In all honesty, it was a coin flip, and I think both players have great careers for the next 7-10 years.
I don't disagree, but Delpit is taller/lankier. With the NFL becoming a coverage league, my lean would be Delpit over Winfield.
In regards to tackling consistently, the edge goes to Winfield.
Gill will find a spot to land. He's got the talent to start in most scenarios, but OSU isn't one of them right now.
OSU's recruiting talent is top 5 in the nation. He plays at almost any other Big 10 school, let alone the MAC or American Athletic (Cincinnati)
best of luck JG