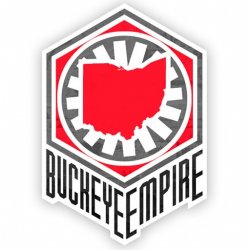 BuckeyeEmpire
from Bellbrook, OH
Member since 21 June 2012 | Blog
Favorites
SPORTS MOMENT: Being featured in the "Leading Off" section of Sports Illustrated after 9/11.
COLLEGE FOOTBALL PLAYER: Craig Krenzel
Recent Activity
So basically would have damaged most of Detroit.
| and then condemn them to a trip to the post office on the other. it's just not reconcilable.
This is the true crime here.
It's also not hard to accidentally favorite something. When you go to Retweet it asks a follow up question making sure you want to. Favoriting does not. If you're scrolling and click it on accident you would never know.
It's amazing how you never think about something like writing for a site called "Eleven Warriors" would translate into someone thinking you were part of an organization or group that meant actual war. This a really great read as always, Ramzy.
Haha next one I make I'll see if I can get either red or grey decals for that part!
I'll agree on #3 but the image itself needs to be a little lower
As someone who is paying off a good amount of student loans myself, this is pretty crazy to look at. Well done as always Ramzy.
One of the classiest stars we've ever had, and we've had a lot. He's always preached team recognition and gone above and beyond when it comes to mentioning other players after games and during interviews. This letter is probably one of the coolest things I've seen an athlete do.
Whether he stays or leaves he is definitely one to remember, a true Buckeye.
50 internet points for you sir, for the perfect .GIF
Just the helmet, not the whole outfit. The only full body ones we have are the stormtroopers, who knows if we'll venture into one of those. Haven't decided what to do with the Fett one yet. May try auctioning it for the Buckeye Cruise for Cancer.
Ive made 6 so far, 3 of which we wear, 2 of which were given to theCHIVE.com, and now this one. They are a bit of a process but I have debated putting them up for order if the price was right. Also I currently have a Boba Fett kit ready to go, that one could take a while, as it'll obviously need to be the best looking one.
We actually have them in multiple colors
http://s1071.photobucket.com/albums/u502/TheBuckeyeEmpire/?action=view&current=bball.jpg
Completely changing my reply, as I now realize your "accuracy" point was to their shooting, not the helmet haha. Yes, they definitely wouldn't be getting many for completed passes. We'll just say they're DLinemen, taking up blockers so the backers can make the play.
The idea acutally came to us last year when Chris Spielman stated that "Ohio state receivers are like stormtroopers, one goes down, and another one pops back up in his place." We took the "Embrace The Hate" slogan from there, combining that most other fans hate us, and we are in fact the evil empire. Also to reference your Imperial March idea, we currently have a guy mixing the fight song and the imperial march into what is hopefully some awesome background noise.
Thanks so much for the mention guys! Love to see Buckeyes helping Buckeyes!