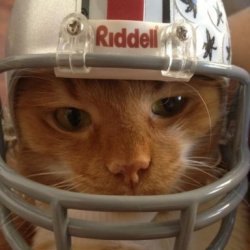 buckeyedude
---
Toledo, OH-IO (via Holy Toledo)
MEMBER SINCE August 30, 2010
Favorites
SPORTS MOMENT: 2002 NC.
COLLEGE FOOTBALL PLAYER: Dane Sanzenbacher
NFL TEAM: browns, bears
NHL TEAM: Red Wings
NBA TEAM: Cavs, I guess
MLB TEAM: Tigers
Recent Activity
I thought the picture was Tate Martell.
Better call Saul.
I don't think it's a lack of trying to recruit Ohio, for Harbaugh. I just think he sucks at it. He's creepy, too. Kids sense that.
I don't want or need more info. I've heard enough.
I'm amazed at all of the people comparing this to the Duke Lacrosse situation. It's not really a valid comparison. I have no sympathy for criminals. Follow the process, but this looks really bad for these two.
I watched the first half and went to bed at halftime. Somewhat glad Joey B. won, because someone had to, but REALLY glad Clemson got one of their top players ejected and points taken off the board because of a flag.
I have an appointment to get my toenails cut the evening of the NC game. Rats.
I'll be too busy cutting my toenails to watch the NC.
If they scored touchdowns instead of kicking field goals, this conversation wouldn't exist.
You're not wrong. But sometimes, when teams are evenly matched, it comes down to breaks. That can include turnovers, poor coaching and yes, bad call or two by the officials which is out of a team's control.
I watched the Bills vs. the Texans and Titans vs. Patriots last weekend. I saw numerous players lead with their helmet and not a single one was ejected. My point: I don't see how OSU ever can stop the ejections.
It seems most fans are all in on playing Clemson again. Not me.
I really wish I could give you more than one UV for tolerating Bama fans daily. The only person that might have it worse is Michibuck.
"but it's impossible to teach the fast twitch Young was born with." I think that's where Mickey Marotti comes in. Using plyometrics and other strength/speed training can definitely increase a person's explosiveness.
You're 100% correct.
Nick Bosa got ejected from the Iowa game. Need I say more?
Oh my goodness. Why didn't I think of that? That wouldn't be greedy at all. It's only exactly what so many of the younger generations incessantly complain about.
You cherry-picked two good years. Maybe it was a bit of an exaggeration to compare their program with IU and the Illini, but I never remembered them as a blue-blood school back then. The dominant teams back then, at least in my fading memory were, in no particular order, Ohio State, TTUN, Alabama, Oklahoma, Nebraska and maybe Texas. This was before the emergence of Miami and Florida State as contenders.
Respectfully disagree, my friend. ;) I think OSU's WR corps is going to be one of the strengths of next year's team and one I worry about the least. If you want to worry, worry about the secondary, as others have said. I hope Day gets the Hafley replacement in soon.
The DB situation next year is horrifying.
It would be nice to lure Coach Coombs or someone of his caliber back to Cbus. That would relieve a lot of sleepless nights. Hopefully we can convince Muskegon Martinez into sticking with his original commitment.
I think you're on to something there, TG.
Ok. NOW I'm over it and ready to move on to next season. (I refuse to watch the NC game.)
I'm so glad Johnson decided to leave TTOE(That Team Out East?). Whenever he does decide to retire, he's going to have the biggest shoes to fill.
Interesting 2006 didn't make the list? LOL.
I'm old enough to remember a time in the 70s, 80s and 90s when Clemson had a football program equal to that of Indiana or Illinois. (With no disrespect to those two fine programs.)
LMAO @ Iowabuckeye. I expect Michibuck is a more confident type and believes he can make the return trip home alive.
It's snowing here in Toledo, as well.
And when you think about it, how different would your life be from $7 mil. to $20 mil.? You still prolly gonna drive that Benz or Escalade and have the same house in Malibu.
He might be a good fit for the Hurricanes.
Oh wait...
I knew Wade's ejection would change the game, but felt like we could still win. In hindsight, the game resembled when Bosa got ejected for targeting. I dont even know why I get so emotionally involved anymore. So much corruption everywhere in American life, anymore.