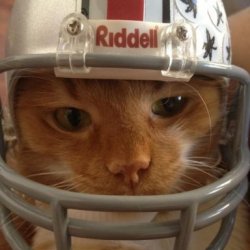 buckeyedude
---
Toledo, OH-IO (via Holy Toledo)
Member since 30 August 2010 | Blog
Favorites
SPORTS MOMENT: 2002 NC.
COLLEGE FOOTBALL PLAYER: Dane
NFL TEAM: browns, bears
NHL TEAM: Red Wings
NBA TEAM: Cavs, I guess
MLB TEAM: Tigers
Recent Activity
I did the same thing. Lol. I figured Eddie's Overpriced and Mediocre Grill would be the perfect dive for DJ and his mediocre son?
Isn't there a place in eastern Ohio called Mingo Junction?
C'mon man. It's the USA Today.
And so was the honorable Lou Holtz.
Let Bo and Kelly get into a cage and fight to the death. Whoever wins gets the job.
Kelly already has the job. What's the incentive for him to get in the cage? Even HE can't be that stupid.
I hate defending that team, but I think a little consideration needs to be given to the fightin' Irishmen for their SOS, which is usually pretty strong.
Still bad stats for them, though.
Cautiously optimistic for next season,
Kind of off subject; was just wondering: has anybody ever been "cautiously pessimistic," for anything? I think I'm actually halfway between cautiously optimistic and cautiously pessimistic.
I guess that would make me "cautiously meh?"
Curious as to why Macaulay Calkin is in the header photo?.?
Don't know if your being serious or not, but I was wondering, as well. Isn't it J. Burrow?
THAT is fu king hilarious!
"Courageous," is 18 years old in Vietnam. Putting on a controversial t-shirt is in no way courageous. Who is this kid taking advice from, Jim Brown? That didn't work out too well for M. Clarrett.
Fu king awesome!
Please do not call this kid "courageous." He may be brazen, brash or bold, but courageous.
I am always amazed by people calling this "corageous." I think there are young men and women in our military over in Afghanistan that are "courageous." Wearing an inflammatory t-shirt to a sports camp is NOT courageous. Next you'll be calling him a hero.
"Exhibiting personal responsibility is easier said than done..." WAT?!
Yay!!!! What do we win?
Im amazed somebody actually paid $ for a "shake weight."
Cesar Millan, The Dog Whisperer, says you should NOT stick your hand out to pet a strange dog, as some dogs will view that as an aggressive move/threat, and may bite you. Instead, ignore the dog, do not make eye contact, but allow the dog to sniff your butt so they get to know you before attempting to pet.
Fu king hilarious! Trevon Grimes. Lol.
Who determines what's petty and what is justified?
Sorry, but that comment reminds me of the, "those who remain will be champions." Was it Hoke, the Booger Man or RichRod?
I agree. We should be honored they're so afraid of OSU. They didn't mention TTUN.
Don't know if anybody mentioned it, but could it be because of General Sherman?
I dunno...THE Ohio Turnpike, which I drive daily(especially the western end), is pretty damn boring.
I guess the lesson is: Michigan coaching puts 100+ lbs. on a body. Just look at Mattison.
And it's a really good thing that the writer from cleveland.com isn't coaching at OSU. He probably feels the same way about the Browns.
Cant we just transfer our Hoke Fat Jokes to Mattison? We're not doing anything illegal?