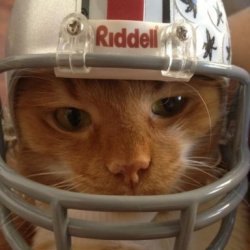 buckeyedude
---
Toledo, OH-IO (via Holy Toledo)
MEMBER SINCE August 30, 2010
Favorites
SPORTS MOMENT: 2002 NC.
COLLEGE FOOTBALL PLAYER: Dane Sanzenbacher
NFL TEAM: browns, bears
NHL TEAM: Red Wings
NBA TEAM: Cavs, I guess
MLB TEAM: Tigers
Recent Activity
That picture tough. Lol. Miami player grabbing Tate's butt prolly thought he was playing for Clemson.
The same could be said for Maurice Clarett. Thankfully, last I heard, he got his act together.
I haven't been reading a lot on this because I knew it would be a clusterfuk.
But in my opinion, this was the plan all along from Warren and the others. They were waiting for the PAC 12 to cancel to give them an out. Warren and the B1G presidents thought(IMO) the dominoes would fall for the rest of the leagues after they cancelled the B1G's season.
Boy, were they wrong!
I agree 100% with your comments, but you've NEVER been in a fight? C'mon, man!
There is a lack of leadership at the B1G. I am all for even a partial B1G season.

But now they want to start the football season in the middle of flu season? WTF? They remind me of the Keystone Cops or Three Stooges.
The damage to the B1G for not having a season will take years to undo.
OSU and Michigan in the Big 12? I could get used to it teal easy.
I'm wondering if Justin Fields is regretting transferring to the B1G, now? This is going to kill recruiting for years to come. Especially with kids from the southeast corner of the USA. They'll think we're not serious about football.
Always faithful to the Buckeyes, but since they aren't playing, maybe it's time to have another team to cheer for. I have cousins that graduated from LSU. Maybe that's the way to go? Thanks, commish.
Sometimes you don't realize what you have until it's gone.
The effect of the cancellation is going to really hurt B1G recruiting. CFB is a near-religion down south, these kids aren't going to think the B1G and PAC 12 are serious about it.
Sorry for the double post.
Just my opinion, but I think playing a spring season is foolish. All this is going to KILL B1G recruiting overall because these kids want to play and the ACC and SEC aren't going to cancel.
Maybe we could join the Big 12? Just a thought.
BuckInNashville, I used to be in the camp "I hope TTUN loses every game," but I have slowly, due to their consistent crappiness, changed my stance to hoping they have a respectable season so that they can help our SOS somewhat.
They've been bad for so long, that may be too much to ask.
That generation, the "Greatest Generation," would be appalled at the fuss we're making over a cold virus. It is a very valid comparison; nothing stupid about it.
Did you read the entire article?
Frankly, I miss the days of Holtz taking May's lunch.
No MACtion this year? Seriously though, this sucks for them.
Lou Holtz has some comments about all of this coronavirus stuff. He says, among other things, "How can we have a football season if they don't even want to go to school?
https://www.foxnews.com/media/lou-holtz-college-football-coronavirus-big-ten?fbclid=IwAR1PwsLFmLcm5FzBQLkUrJ_2b8zZPrHqbQCErC4YnmwXKLS0vugGYyHhsQs
Good answer,!
Good morning fellow Buckeye fans. I'm heading to Columbus to visit for the weekend with my 29 year old daughter. Any ideas of things to do? I know so much stuff is closed right now. Thanks in advance! Congratulations, Kevin! You guys make a cute couple! Maybe I'll crash your wedding?
I agree, but I believe diversity of thought also is a virtue. (This is not a comment based on any recent events)
The WHO now says asymptomatic transmission is very rare. They thought others wise for awhile.

The whole economic shutdown was based on this now known to be erroneous assumption. I wonder if we're going to now be told that social distancing and masks are unnecessary? Somehow I think we'll still be required to wear masks for the next three years or until a vaccine is developed, in order to have the pleasure of shopping at Costco or Menard's.
And only 20,000 fans allowed in Ohio Stadium at a time.
It's summertime and predictably Im seeing UM fans dusting off their ugly UM paraphernalia up here in the 419. It's their favorite time of year. It's that time of year when UM recruits, with all their false bravado, make false predictions based not on facts but emotion. It's the time of year when UM fans and B1G prognosticators ask themselves, "could this be THE year for UM(?)," only to be followed up with a question from Urban Frank Meyer, "Michigan's year for WHAT?"
Cessation of violence would provide a better environment for conversations.
I support peaceful protests. The violence is unacceptable.
Agreed. What happened to George was unacceptable, horrible, disgusting and the cop has been brought up on murder charges, as he should. I believe most Americans of every race were appalled by the death of Mr. Floyd.
But looting and more violence is unacceptable as well and is not in any way honoring George Floyd or making it any easier to "have a conversation" about race relations. There can be no honest conversation until the continuing violence stops. I think the anarchists are hijacking the peaceful protests, unfortunately.