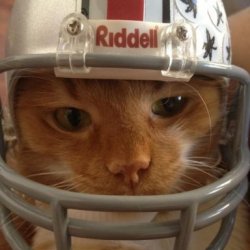 buckeyedude
---
Toledo, OH-IO (via Holy Toledo)
Member since 30 August 2010 | Blog
Favorites
SPORTS MOMENT: 2002 NC.
COLLEGE FOOTBALL PLAYER: Dane Sanzenbacher
NFL TEAM: browns, bears
NHL TEAM: Red Wings
NBA TEAM: Cavs, I guess
MLB TEAM: Tigers
Recent Activity
You mean they didn't take the Buckeye Bus to NYC?
I just want to say how proud of the basketball Buckeyes, I am. I actually look forward to their next game, who(m)ever they play. I haven't said that in a few years.
You guys are ruthless. I'm glad I could provide so much entertainment for y'alls. ;)
I knew somebody was going to jump all over that.
His heart is in the right place, even if his head quite isn't.
Absolutely love that movie. Instant classic.
Keith Jackson was, to me, another reason why I exclusively watch college football and not the sterile, professional version. His voice will live in infamy.
I'd never heard that. I had always heard Keith and Bob were pretty good friends? Maybe the truth is somewhere in between?
If he would have stayed with his Notre Dame commitment, he'd have one year left of lacrosse.
If that hit were to happen today, we'd likely have two players ejected.
He was buds Bob Greise, who's son played QB for Michigan. I heard him unapologettically make negative comments about OSU, occasionally. I think that he thought UM got shafted in 1973 when Ohio State went to the Rose Bowl instead of UM. He was no fan of Jim Tressel. I think you may be right about WWoS.
Sad. Although I think he kind of hated on Ohio State, I still fondly associate him with the voice of the Rose Bowl and ABC's "Wild World of Sports" and "the agony of defeat." Whoa Nellie!
I wouldn't read too much into the fact he only has three stars.
Loving or loving?
Is there a trophy for that?
Good luck, but what happened, man?
Agree 100%, SLVRBLLTS. If baseball and football were no more, and I had to choose another sport, it would be hockey first, then Yahtzee second.
I travel a lot for my work in the country, and through small, medium and large towns. The baseball fields are mostly empty. Back in the 1970s when I was a kid, there were always kids throwing and hitting a baseball at nearly every park. Sadly, I think baseball is a dying sport. And I think football is dying a slow death, as well, between the recent controversies, concussion and targeting issues..., although not as fast as baseball. DJ is 100% correct, I believe.
There will come a time when soccer will surpass all sports in America as the most popular; just not in my lifetime. But it's trending that way, it seems.
There isn't going to be any scoreless quarters for the 2018 Buckeyes.
Loved the article on Taylor Dungjen, Toledo Blade reporter turned Toledo cop.
People make fun of Toledo all the time. I've lived here 53 years, and it is a very nice city, but like any other, some areas have high crime and gang wars. It's not much different than Detroit, Cleveland, C-bus, Cincinnati, etc., in that regard.
We have a GREAT museum and zoo, great metroparks and great minor league teams(Walleye(hockey) and Mud Hens(baseball). We're right on Lake Erie with great views, fishing, boating, partying(when there isn't a huge summer algae bloom, LOL) in the summer; hockey and ice boating, ice fishing in the winter, which are all great diversions for me until Ohio State Buckeye football season. :)
What does awwwwwwl mean, Basil?
The national anthem was awesome!
Holy cow! Brazil is a long way to go for a steak!!!!
I watched the national anthem, the best part of the game, and then watched the movie "American Made." Great fu king movie, BTW.
Like the Ohio boys. Less likely to flip.