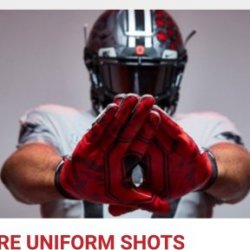 Buckeyedrw23
---
MEMBER SINCE November 06, 2017
Born buckeye and raised in the wilderness of that state up north
Recent Activity
Thank you JK, you are a legendary buckeye! Now go tear it up on Sundays!
A win is a win but the poorest game calling in the Day era. Something like 57 runs and 22 passes, very conservative! On to Scum week, let's open it up for a 70 spot on Hairball this year!
Wisc and Penn St will be here soon enough. I hope the team sets focus on the next best team we play, Northwestern. No mental side trips to Iowa City or Purdue!
I was going to post my opinion but decided to get into the opinion transfer portal and post somewhere else!
This season started as a goat rodeo and is going downhill! I have been a buckeye fan for over 50 years and I did not think it could get any worse that the 1990s. Poor coaching and overrated players that worry more about their draft stock than playing as a buckeye. I agree with Woodrow, give us the hungry 3 stars or coach these 5 star to carry on the proud buckeye tradition!
Why didn't booger play for hairball, only seems fitting! The BCS was less political than what is going on now, never thought I would say that! So if we would have not made the trip to Iowa City, played 8 conference games instead of 9 and played Mercer we would be in the playoffs. Wow, hope SEC gets THUMPED! Go Baker Mayfield, never thought I would say that either!
Great stuff Ramzy! I have been lucky enough to be on this earth long enough to see Woody, Earle, John, Tress and Urban. During the Cooper days living in that state up north, I can't even tell how bad the following 364 days felt after a Buckeye loss to SCum. But now I cherish each win and I never take the game for granted. I love the bucks win or lose, but I have to say being in the hunt each year and a win over SCum is icing on the cake.