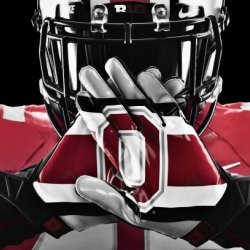 buckeyedexter
---
MEMBER SINCE July 05, 2012
Recent Activity
I really like his podcast. He's a better podcaster than a receivers coach.
I just listened to it, it's a pretty good podcast.
Saints definitely got robbed. Not sure if it's just incompetence or something more, but if that happened to my buckeyes I would have broken some shit. I don't think I've ever seen such a bad call cost so much.
Wow, I'm even more impressed with Dwayne than before. He really knows his stuff.
His QB ran for 407 yards and 10 TDs this year, but prior to that it doesn't look like his QB ran much at all.
D is playing better! Only 3 point from a conference champ over 3 quarters.
I'm a Tom "Strip Club" Herman fan this weekend.
Any of those tweets mention the address of that massage parlor? Asking for a friend.
8 tackles in 36 snaps is a lot, I think Borland will be his old self in no time.
Their DE's are the size of linebackers, their LB's are the size of safeties, and 169 lbs CB? They are going to get bullied.
Young getting past Munford so easily has me worried.
My idea of fun has always been getting drunk with friends. Which is pathetic, really.
I love getting drunk with friends! It's so much fun!
One thing I've noticed is if I get to drunk and have even a slight hangover the next day, I really crave junk food, and eat so much crap. So I try to make sure I stop around 3 or 4 drinks to avoid all of the bad food that comes along with drinking to much.
After the Michigan game Haskins cemented himself as the starter. All the "open competition" and the OR's on the depth chart are just to keep the back-ups engaged and the keep pushing the starters.
The play-by-play of the mop dude was hilarious!
If they played in the spring I think they would do better, competing against baseball instead of the NFL for viewers.
Every year a few kids transfer or leave do to medical or disciplinary issues between now and the beginning of the season. If we only signed 85 in Feb, we would only have 81 or 82 players by the time the season starts.
So going forward I'm going to call it not-undersigning instead of oversigning.
That's big! They could even rotate him in at DE where we are thin if they needed too.
I also have playstation vue and netflix and love it. But be sure to also buy a digital antenna, because you can't watch CBS or NBC live. You can get the antenna on amazon for about $25.
I think Borland and Harrison are locks, and the third spot goes to the winner of Booker, Jones or Browning.
Go Saints! They have been my team of late with so many buckeyes.
Haskins really impressed me coming off the bench of the Michigan game. If Martell is able to beat him out for the starting job then we really have someone special.
My "friend" who's 44 hates Penn State more than Michigan, because the 90's where so long ago and thinks the rivalry is a little forced.
We haven't gotten beaten so bad by a team we should have handled since the 98 Michigan St game. Sucks, but it happens. Better than getting beat by Appalachian St.
I saw him in the practice photos, so that's a good indication the "rumors" aren't true.