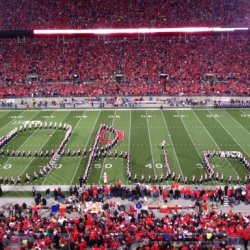 BuckeyeDevil
---
Findlay OH (via Cambridge OH)
MEMBER SINCE February 01, 2014
Long time OSU fan-attended my first OSU football game which was against Michigan in 1982. Former season ticket holder for basketball way back in the Perry Carter/Treg Lee days. I go to basketball and football games now as budget and schedule permit. My daughter attends the same high school that Aaron Craft attended so we made it a point to see him play in person.
Favorites
SPORTS MOMENT: Watching Anthony Carter get crunched in the 1982 Michigan game.
COLLEGE FOOTBALL PLAYER: Anyone who helps us beat Michigan
COLLEGE BASKETBALL PLAYER: It was Aaron Craft
NFL TEAM: Cincinnati Bengals
NHL TEAM: Don't care about it-let Canada have it
NBA TEAM: Boston Celtics
MLB TEAM: Cincinnati Reds
SOCCER TEAM: Why anyone cares is a mystery to me
Recent Activity
No self respecting man shows up looking like that
Is a 2 OT home loss to a 2-3 team playing part of the game with a 3rd string QB as inexcusable as Ohio State's recent tragedies at Iowa and Purdue? I think you can argue that one way or the other.
But one thing is sure: if GA runs the table (I don't think that happens) and wins the SEC, there is no way they will be left out of the CFP. No matter how bad this loss is, GA and the SEC runner up would likely get in.
Sounds like there are multiple lineup possibilities.
I am usually not a big fan of 4 guard lineups due to the deficit it can lead to rebounding and even defensively. But used wisely, I think it can create some havoc and all sorts of mismatches offensively. If it gives opposing teams a lot more to think about, all the better. And it has worked out ok for Jay Wright and Villanova.
DBU
DLU
DBU, DLU, etc.
Really, the only position where we haven't had much success in the NFL is QB. I mean, our most successful QB in my lifetime at least was Mike Tomczak. He was respectable as a back-up and P/T starter but certainly not a HOF type player.
Kind of feel for White. Gotta wonder about his mindset getting less than 100 snaps through the first 5 games. And how many of them have been really meaningful?
If anyone still wondered if Day knew what he is doing, I think the question was answered last night. Bringing Hafley, Mattison, and Washington in has transformed the defense in a short period of time. And if anyone thinks Day isn't intensive, they were wrong. He was on the sideline urging that team on when they were up by 41 with the look of a crazed man.
Frost and the fan base know they are a long way from being the top team even in the west, let alone the league. But Nebraska and the fan base are first class. The way that crowd urged them on in the second half when the issue had long been decided was impressive.
I hated to see them join the B1G because they were my second favorite team in college football. But I do hope that they continue their upward trajectory to bring more credibility to that side of the league. They can win every game as far as I am concerned except when they play Ohio State. And if they ever represent the league as champions, I will have no trouble hoping they win it all.
Long way to go this season. But that first half is the best half of football from an Ohio State team that I have seen in a long time.
I always thought Dallas Lauderdale was a little under used and under appreciated. I could handle that comparison but it looks like Key might be a little more offensive oriented than Lauderdale who I always thought was a bit more defensive minded. I like that he thinks that this is the place for him. He wants to be here and that says a lot to me. Who knows how he might move up that ladder from 158?
If they had an O-line they would be letting Haskins play and learn this year.But there is no sense in letting a first rounder get killed before his time
The likelihood of him ending up in Columbus is pretty "slim"
I think he will end up around 210 by the time he finishes high school which would be a decent weight for his kind of game
Thad deserved the time given to him to right the ship. I stayed pretty neutral during the downward trend in basketball. Yes the last few years were difficult to endure, but people quickly forgot his accomplishments and how he resurrected Ohio State basketball. It sadly didn't work out for a good and decent man as well as coach.
Let's face it, he was a bad half away from a Final 4 appearance against Wichita State and a bad draw against UK in 2011 from going to an Elite 8 (but I still don't know how they lost to UK that year). I have always felt that beating Wichita State would have set the program on a different trajectory, but instead that was the beginning of decline.
There aren't many that can say they ran an above board program without a sniff of impropriety but still achieved great things. Thad was one of the few.
I have one slight complaint, or maybe it is a question.
What happened to throwing to the TE this week?
The season is not lost in September with a marginal win like they had against Army. They were darn lucky that Army made some gaffes but in our championship season with Tressel we were lucky do escape Cincinnati that year.
The thing that amused me is that their players and fans reacted like they had just won a huge game. That was embarrassing. Come on. You beat Army, a one dimensional team that could have easily won the game had they not thrown a pick up 14-7 inside the 10 yard line. Had Army ran the ball and kicked a FG that game would have been over.
I got to see him play a few times and he always played hard. I think it is good when former players end up back at OSU in some capacity.
Wasn't it about as expected for the first game? There was the good, the bad, and some ugly.
There were some really good runs and some good pass protection. I saw Dobbins with nowhere to go quite a few times after the first quarter. And Fields took some big hits.
But I think we forget that Lane Kiffin, for all he is and isn't, is a pretty smart guy who knows some football and he was able to give Ohio State some issues to deal with during the course of the game and moving forward.
No time for panic, but there is a lot of work to be done.
This isn't even a contest unless voters acknowledge that an average QB could put up big numbers for Clemson given their ridiculously easy schedule. If they vote with their heads and Tua puts up good numbers, he has a chance. Otherwise, this is Lawrence's to lose.
Sure we showed interest in other backs. You have to keep all options on the table even if it means other recruiting targets getting butt hurt.
But I wonder if any of this has to do with last season with a huge passing attack and the obvious emphasis of Coach Day on the passing game. Ohio State is moving to more of a passing offense. Not to say that the run will not be important but it isn't looking like we are a run first offense.
Agree totally. Last time I checked, Alabama was the the type of program, at least on the field, that surpassed all other programs for the past decade. Saban wouldn't offer him a scholarship if he wasn't plenty capable of playing at some point in his career. I think it is great offer and I think Day has done a banner job in recruiting.
What was the criteria for the county players? Guernsey County is wrong. Terry White was the most recent player from that county from the class of 1983, even though he was only there for a couple of seasons.
I can see Urban sitting out a year or two and going to Notre Dame once they finally figure out that the Brian Kelly experiment isn't working out
Just what you want, an Ohio kid who is top 60 nationally with 2 years of high school to go. Coach Holtmann continues to impress and watch out B1G and the nation.
If Coach Holtmann keeps up this pace, teams in the B1G will be Sueing for peace.